Boppin' to Bollywood
At this year's BVN's diversity assembly, students experienced numerous cultures through different art forms, including poetry and dancing. The assembly opened with a traditional Bollywood dance, organized by junior Ashmika Behere.
Behere, who has been dancing and choreographing Indian dances for years, was excited to share her culture with her fellow peers.
"I was never embarrassed," Behere said . "I mean, it's your culture and I feel like one should never be embarrassed by their culture…it was just really fun."
The dance didn't just inform the audience about culture, either; the dancers were also more informed about various cultures within South Asia. Junior dancer Mira Bhagat, isn't very involved with her family's culture and was exposed to more traditions as she practiced with the other girls.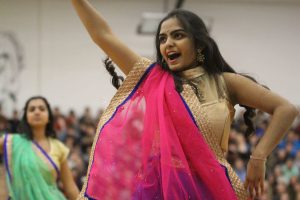 "[My family] celebrates the basic holidays," Bhagat said . "We don't really go to the temple and pray, and we don't really watch Bollywood movies or listen to Bollywood songs. I think I did [learn a lot]… I learned like five new songs that I'd never heard of before. We talked about the different food they have, the different languages that they speak."
For Bhagat, the dance was difficult to learn because she had danced very little before the performance.
"To me, yes [the dance was hard]," Bhagat said . "Because everyone else around me dances a lot outside, but the last time I danced was two years ago. [However,] with more practice I finally got it."
However, Behere has been dancing since she was five years old, therefore  dancing and choreographing didn't pose a massive problem for her.
"I'm really familiar with [choreographing]…I've choreographed multiple dances for my family and family friends for when they go back to India," said Behere. "I have a system down, so it wasn't really difficult…normally when I choreograph, I do it for one or two people, not seven. A lot of people in the dance had never danced before, so I'd say the hardest thing was choreographing it in a way so that it wasn't that difficult but still looked nice and showed actual culture."
Despite participating in the assembly and having a club dedicated to diversity at school, Behere still believes that some BVN students remain ignorant of other cultures.
"Generally, with the diversity club and assembly, people are really respectful and appreciative of other cultures and do a good job of respecting and appreciating them, but there have been times when I've definitely seen other people be disrespectful and ignorant," Behere said. "With the election and the xenophobic tendencies that went along with it, I definitely saw a lot more of that in school this year and that was kind of disappointing."
However, Diversity club, which organized the assembly, is open to students of all ethnicities in order to share various cultures to students who are unaware of them.
"I know some of my friends that I talk to are like, 'I'm white—I can't go to diversity club!'," Behere said. "But obviously that's not the point. So I would really just encourage more people to go [to diversity club]. Or the Asian American club—you don't have to be Asian to be in it. Honestly just going to the clubs and trying out new things is definitely something I would encourage.