Debate Prepares For the Postseason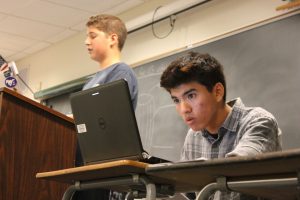 As second semester begins and BVN settles back into its routine, the debate team is preparing for its postseason tournaments: the Debate Coaches Invitational (DCI) and Novice State this weekend, and 2-Speaker and 4-Speaker State the following weekend. At the DCI, Novice State and 2-Speaker State, teams of two switch back and forth between affirming and negating this year's resolution, which is "Resolved: The United States federal government should substantially increase its economic and/or diplomatic engagement with the People's Republic of China." At 4-Speaker state, two sets of partnerships, one affirming and one negating the resolution, compete as a team.
Attending postseason tournaments like the DCI and State requires debaters to meet more rigorous requirements as opposed to tournaments in the fall season. Eleanor Mendelson, a junior and third year debater who will be attending the DCI and 2-Speaker State, described the necessary qualifications for both DCI and State.
"The DCI and State are both pretty prestigious," Mendelson said. "You qualify for them in different ways. You get to [the DCI] by doing really well at some tournaments in the regular season, and [with] State, you have to be picked by your coach."
According to senior and fourth year debater Noora Batrash, who will be competing in the DCI and 4-Speaker State, the environment of postseason tournaments also varies from that of the regular season.
"A lot of newer arguments are happening in the postseason," Batrash said. "[There is] a lot more competition. Sometimes you'll see partner repairs to maximize competitiveness. For example, schools like Lansing have changed their teams around just because it seems to matter more in the postseason."
BVN has a school record of seven teams qualified to compete at the DCI this weekend in Wichita, as well as four teams competing at Novice State. Next weekend, 14 members of the Varsity squad will compete at the State tournament at Blue Valley Southwest. The team has been preparing extensively for these upcoming tournaments.
"It's been pretty intense," Batrash said. "Our postseason technically started with the CFL [Catholic Forensic League] Qualifier, which we started prepping for after Thanksgiving, and it has just been constant work every single day, [with] practice rounds continuously [and] a lot of coaches coming in."
Mendelson also noted the increased workload as the team prepares for its postseason.
"We spent a lot of time over winter break writing new arguments to use at both the DCI and State," Mendelson said. "In the weeks leading up to both of the tournaments, we do a lot of practice rounds after school. Normally, [my partner and I] would do one practice round per week, but this week, preparing for the DCI, we're doing three. Plus, we were at school a lot of the day on Monday and Tuesday before the semester actually started, so it's a lot of work."
Although in Kansas, policy debate tournaments are only available in the months of February to May for those who qualify to nationals, all North debaters can still compete in different speech events in the meantime.
"There are lots of different speech and debate events that happen during the spring," Mendelson said. "The ones that I do are congressional debate and public forum debate and extemporaneous speech."