K-Pop, Lock and Drop It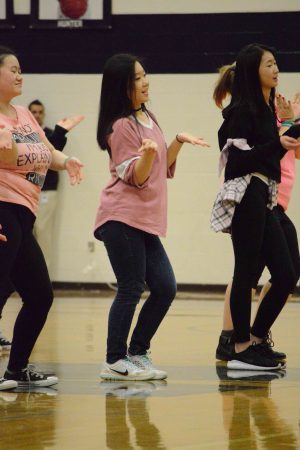 This year at the Diversity Assembly, there were a variety of performances, including a Bollywood dance, an Irish dance, spoken word poetry and a performance from the K-Pop club.
Senior Subin Park, the president of K-Pop club, has been dancing to Korean Pop music since she was in the third grade, and has performed various times for talent shows and for the past two Diversity Assemblies. In Park's opinion, the club's performance this year went well.
"I think [the dance] was really successful," Park said. "People really liked it, like it was the loudest cheer I've ever heard in my life when I've performed, and it was amazing. I'm just really shocked and thankful for how the BVN community accepts diversity and how people are so excited to see it."
According to Park, there were a few differences between the club's first performance last year and their performance this year.
"First of all, the number of people who were performing [this year] doubled, so that's really good," Park said. "There were more people involved, so it was easier to prepare everything. Last year, we were kind of scared because it was our first year doing it, but then after the crowd's reaction and all of that, we were really excited to perform."
Junior Tory Fortunato has been a part of the audience for both performances. Fortunato also identifies as a K-Pop fan; however, she is not a member of the club.
"I usually just don't have time in my after school schedule to go to the meetings," Fortunato said. "I used to be more of a fan [of K-Pop music] last year, I've just toned it down because I've gotten busy and I don't have a lot of time to watch all the videos and stick with the fandom. I'd say I'm still a pretty big fan."
Even though she is not a member of K-Pop club, Fortunato appreciated the performance.
"I thought [the dance] was great," Fortunato said. "I mean, K-Pop dances are not easy, and I know that they practiced a lot and they practiced really hard. They did a really great job and it was very clean. I applaud their efforts because I would not be able to do that."
Fortunato also feels as though the other audience members enjoyed watching the club's dance.
"I feel like everybody liked it," Fortunato said. "I feel like there may have been some people who exaggerated how much they liked it, but I feel like there were a lot of people who were like 'that was a really cool performance – I hope it happens every year in Diversity Assemblies from now on.'"
In addition to the positive audience reaction, K-Pop club also received attention for the videos of both performances that they uploaded to YouTube.
"We posted our video on YouTube, and we actually have a BVN K-Pop channel," Park said. "We have like 46,000 views on last year's video, so that's amazing. On this year's one, we already have like 4000 [views], it's reaching 5000, so we're really excited. A lot of feedback is from the comments, and they really liked it, but there are also haters sometimes."
Though not everyone has responded positively to the performances, Park and her fellow club members have developed strategies to deal with insulting comments.
"We mostly ignore [negative feedback]," Park said. "We think that, if there are a lot of people who love us, there are also equally a lot of haters, so we think that's a good thing. We don't really care."
To watch K-Pop club's performance, click here.