Summer Rewind
Students reflect on summer by sharing about their favorite music, movies and media from summer 2016.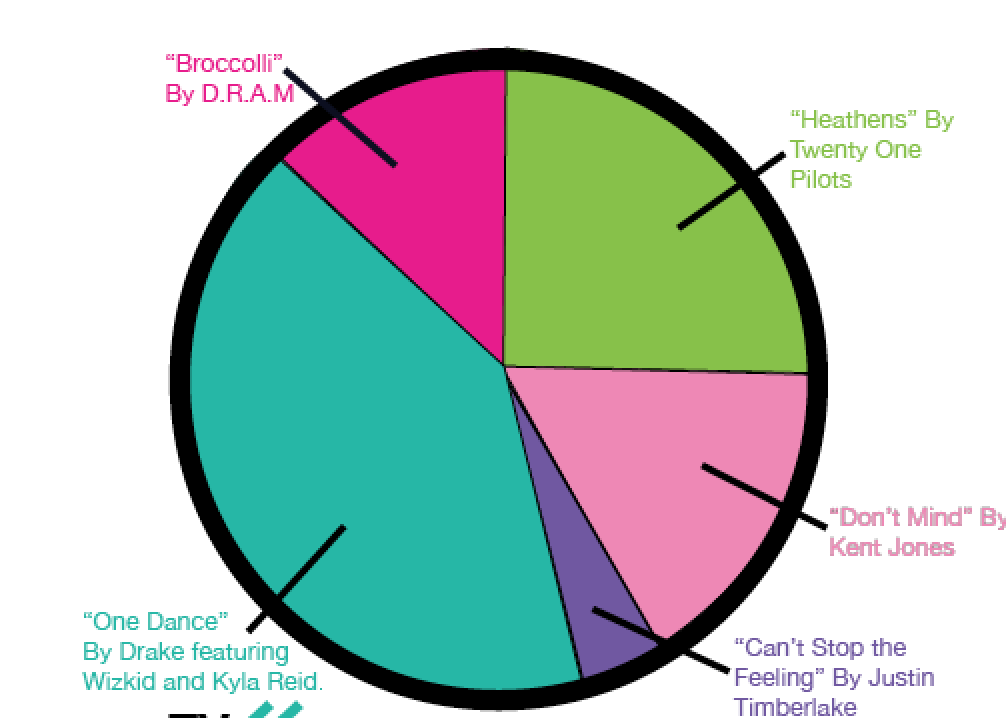 Music:
Every year, one song is declared 'song of the summer'. In 2014, the 'song of the summer' was "Happy" by Pharrell Williams. In 2015, it was "Uptown Funk" by Mark Ronson featuring Bruno Mars.
Sophomores Abby Sublett, Lori Mitchell and Danny Nam agreed that the song of this summer was "Broccoli" by D.R.A.M. However, freshman Mckenna Harvey said the hottest song was "Alexander Hamilton," from the musical "Hamilton" by Lin-Manuel Miranda.
According to a survey of students regarding their summer favorites, the most listened to song this summer was "One Dance" by Drake featuring Wizkid and Kyla Reid.
Netflix:
Some students this summer found themselves glued to their screens, binge-watching series after series on Netflix. Students spill their Netflix favorites from this summer.
"My mom had to drag me out of bed because she thought I shouldn't be watching so much TV everyday," Harvey said. "She was probably right, but I still started and finished all nine seasons of 'The Office.'"
"This summer, I started 'The Walking Dead,' 'Game of Thrones,' 'Bob's Burgers' and 'Jane the Virgin,'" junior Emma Ariagno said. "I finished all of them. It was probably one of the most productive summers of my life."
"This summer I was completely obsessed with the show 'Stranger Things,'" senior Oscar Chase said. "It's definitely one of my favorite shows of all time."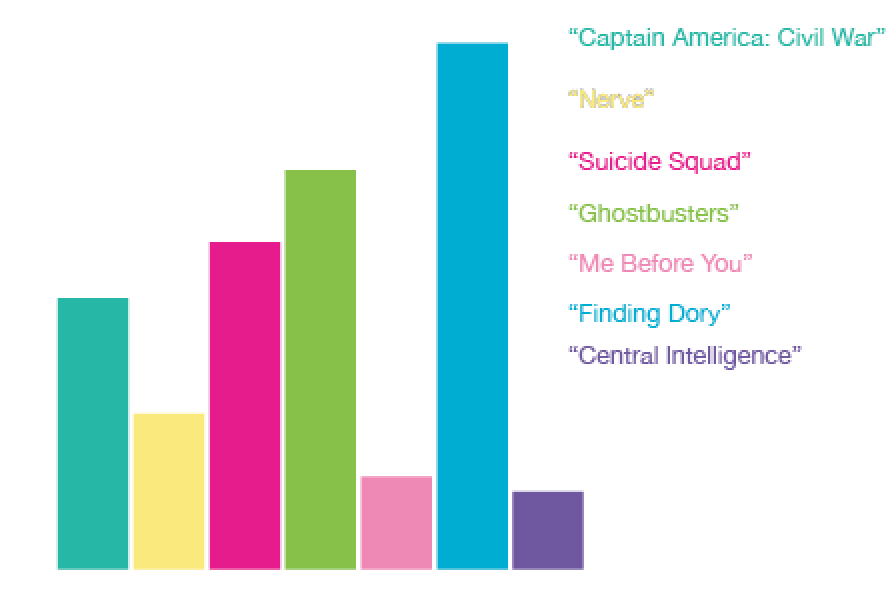 Movies:
The most talked about film on social media this summer was "Suicide Squad" starring Will Smith, Margot Robbie and Jared Leto. While a few self-proclaimed 'super-fans' say that the movie was Oscar-worthy, many say that the movie tanked.
"If you're a fan of the comics and you see the movies, you'll be disappointed," sophomore Johnny Bordeau said. "If you haven't read the comics, you'll think it just didn't live up to the hype."
Another major box-office hit this summer was "Finding Dory." The film's prequel, "Finding Nemo," came out in 2003 and is still one of the highest grossing Pixar movies ever. It seems as though they have not lost touch with their fans as people have been waiting 13 years to see the sequel. "Finding Dory" was the number one movie this summer according to the students surveyed.
"After seeing the movie twice, I can honestly say it was worth the wait," junior Molly Hendrick said. "My favorite character by far was Hank the octopus. It was just an amazing movie!"
"I cried a lot," freshman Olivia Humphrey said. "They were definitely happy tears though. It was just so cute!"
TV
Another Mustang favorite this summer was the reality TV show "The Bachelorette." This season, JoJo Fletcher ended up with Jordan Rogers, upsetting an entire fanbase that claimed he was 'just in it for the fame.'
"This season of 'The Bachelorette' was the most exciting one in Bachelor history since season 13 of 'The Bachelor' when Jason dumped Melissa for Molly on 'After the Final Rose'. said Harvey
One of the top trends on Twitter this summer was the Olympics in Rio, Brazil. According to TopEndSports.com, the most watched Olympic sport this year was gymnastics, as opposed to the past few years where it had been track and field.
"The sport I watched the most this summer Olympics was soccer," junior Jordan Taylor said. "It's because I've been playing soccer for over 12 years now. I love it more than anything."