Calla Tries Your Holiday Recipes
Cara Spratlin's Monkey Bread 
There's nothing else quite like waking up Christmas morning to the sweet smell of monkey bread topped with sugar and cinnamon. Although incredibly sticky, this recipe is sure to become one of your new favorites during the holiday season. Before I started, I expected it to be very difficult and did not expect the end result to turn out as good as it did. The dough can be a little tricky to make; when I attempted to knead the dough it probably took me around ten minutes to get the right consistency. But overall, Spratlin's recipe is super easy to follow and creates a spectacular holiday dish. Try something new this holiday season with Spratlin's monkey bread recipe. 
Ingredients:
For the Dough-
1 and ½ cups whole milk, warm
½ cup unsalted butter, melted
¼ cup sugar
4 and ½ tsp. active dry yeast (2 standard packets)
½ tsp. salt
5 cups all-purpose flour
For the Cinnamon-Sugar Coating:
½ cup unsalted butter, melted
¾ cup granulated sugar
¾ cup brown sugar
1 and ½ tbsp. ground cinnamon
For the Sauce:
¼ cup unsalted butter, melted
½ cup brown sugar
½ tbsp. ground cinnamon
Icing:
1 and ½ cups powdered sugar
2 tbsp. whole milk
1 tsp. vanilla extract
¼ tsp. salt
Instructions for dough:
Melt the butter in a saucepan over medium heat or microwave in 15-second intervals.

Add the milk and microwave in 30-second intervals or cook in the saucepan until it's just lukewarm, not hot. 

Pour the milk and melted butter into a large bowl or the bowl of a stand mixer, stir in the sugar and the yeast and let sit until the yeast is dissolved and slightly foamy.

Stir in the salt and flour and mix until a dough is formed. When measuring the flour, loosen it up in the bag to fluff it up then lightly spoon it into your measuring cup and level it off with the flat side of a knife. Start with 5 cups of flour, if the dough is too sticky add 1 tbsp. More.

Knead the dough for about 5 minutes in the stand mixer fitted with a paddle attachment or knead with your hands on a lightly floured surface. To knead with your hands, take the dough and push it away from you with the palm of your hand, then pull it back towards you and repeat. The dough should be soft, not too sticky.

Bake the dough at 400 degrees for 15 minutes and continue to check on it. 
Caroline Karpenko's Loaded Hot Chocolate
This holiday season, try switching up your regular hot chocolate for Caroline Karpenko's extravagant holiday hot chocolate. Loaded with sprinkles and whipped cream, this recipe is a perfect balance between sweetness and chocolate. It's super easy to make and you can individualize it to your liking. 
Ingredients:
2 tablespoons mini semisweet chocolate morsels
1 tablespoon rainbow sprinkles
1 mini donut
1 large marshmallow
1 donut hole
1 milk chocolate truffle
  1 envelope (1.38 oz each) Swiss Miss Milk Chocolate Hot Cocoa Mix
  1 cup hot water or milk
  Reddi-whip Whipped cream 
Instructions
Place 10 mini chocolate morsels on a plate. Place remaining mini chocolate morsels on a microwave-safe plate. Microwave 30 seconds; stir until melted. Dip the rim of a mug in melted chocolate. Pour sprinkles onto the plate with reserved mini morsels. Dip the rim of the mug into sprinkles until they adhere. Refrigerate for 10 minutes, until chocolate is set.

When chocolate is set, cut a thin slice out of the mini donut and place on the rim of the mug. Thread marshmallow, donut hole, and truffle onto a short skewer and place skewer in the mug.

Empty cocoa into the mug. Pour in hot water or milk and stir until dissolved. Top mug with a whoosh of Reddi-Wip and enjoy!
Leah Helfer's Candy Cane Bark
Try Leah Helfer's extremely festive and delicious candy cane bark recipe for a new staple in your holiday season. Personally, this was my favorite recipe to make and eat. There is no baking involved, making it the perfect treat to make on short notice for any given celebration or as a gift. If you aren't a fan of white chocolate you can easily substitute it for your preferred choice. With only 4 ingredients and 4 steps, this super simple and super delicious recipe is bound to become your new favorite!
Ingredients 
12 ounces semisweet chocolate chips or chopped semi-sweet chocolate
16 ounces white chocolate chips or chopped white chocolate
1/2 teaspoon peppermint extract
3/4 cup crushed candy canes
Instructions 
Prep time: 10 min cook time: 5 min chill time: 30 min servings: 16
Place the semisweet chocolate chips in a medium bowl and microwave for 30 second increments until melted. Stir until smooth.

Spread the chocolate into a roughly 9″x 13″ rectangle on a piece of parchment paper. Place the chocolate in the fridge for 15 minutes to set.

Place the white chocolate chips in a medium bowl and microwave for 30 second increments until melted. Add the peppermint extract and stir until smooth.

Spread the white chocolate over the semisweet chocolate layer. Top with candy canes. Let harden in the fridge for about 20 minutes, then break into pieces and serve.
Annika Zmijewski's Pecan pie
If I am being honest, I was not exactly looking forward to making this recipe. I have never been a huge fan of pie, or pecans, but I decided to give it a try. The process of making it did not increase my hopes. Making pie crust was extremely tedious, and I was constantly checking the oven to make sure it didn't crack. The pie filling was a little easier, and not as stressful, but the jello-like substance did not look very appetizing. When I finally finished the process of baking the pie and finished letting it cool, I was very surprised to have actually liked it. The pecans and filling definitely balance each other out, and the pie was not overly sweet but not too dry either. Even though the process was tiring and I was constantly worrying about overcooking it, the end result definitely made it worth it and I am looking forward to sharing it this Thanksgiving with my family. 
No matter what you're celebrating this holiday season, this is the perfect versatile treat for any occasion. 
Ingredients
Crust- 
2 ½ cups all-purpose flour, plus more for rolling out the dough
2 tablespoons of sugar
1 teaspoon of salt 
8 tablespoons vegetable shortening, cut into ½-inch pieces and chilled
6-8 tablespoons of ice water
Filling:
6 tablespoons (¾) stick unsalted butter cut into 1 inch pieces
1 cup of brown sugar
½ teaspoon of salt
3 large eggs
¾ cup light corn syrup
1 tablespoon vanilla extract
2 cups of pecans
Instructions
Pie crust:
Preheat oven to 475 degrees

Process the flour, sugar, and salt in a food processor until combin

ed. scatter the shortening over the top and process until the mixture has the texture of coarse sand, about 10 seconds. 

Scatter the butter pieces over the top and, using short pulses, process the mixture until it resembles coarse crumbs, about 10 pulses.

Transfer the mixture to a bowl.

Sprinkle 6 tablespoons of the ice water over the mixture. 

Stir and press the dough together, using a stiff rubber spatula until the dough sticks together. 

Add more water if the dough does not stick.

Divide the dough into two even pieces and flatten each into a 4-inch disk.

Wrap the disks tightly in plastic wrap and refrigerate for 1 hour. 

Let the chilled dough soften slightly at room temp before rolling it out and fit

ting it into a pie plate. 

Bake for 8-10 minutes to partially bake it.
Instructions 
Filling: 
After removing the partially baked pie crust from the oven, leave the oven rack at t

he lower middle position and reduce the oven temperature to 275 degrees (crust must be warm when filling is added.) 

Melt the butter in a heatproof bowl set in a skillet of water maintained at just below a simmer. Remove the bowl from the skillet and stir in the sugar and salt until the butter is absorbed.

Whisk in the eggs, then the corn syrup and vanilla until smooth.

Return the bowl to the hot water and stir until the mixture is shiny, hot to touch, and measures 130 degrees on an instant-read thermometer. 

Remove from the heat and stir in the pecans. 

Pour the pecans mixture into the warm, partially baked crust. Bake until the filling looks set but yields like jell-O when gently pressed with the back of a spoon, 50 to 60 minutes. 

Transfer the pie to a wire rack and cool to room temperature before serving.
Leave a Comment
About the Writer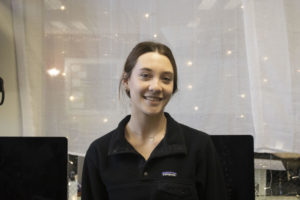 Calla Jordan, Web Editor
Calla Jordan, Web Editor

Calla Jordan is a senior...