A Kansan Lense: A Conversation With Rep. Sharice Davids
Getting to know the congresswoman who represents our interests in the political pipeline from state to nation while discussing policy, growth and the future.
On March 3, BVN Broadcast's Wyatt Baehr and I had the opportunity to sit down with Representative Sharice Davids. First elected in 2019, Davids represents Kansas's third congressional district in the House of Representatives and is now four months into her third term. Over the course of our conversation, we learned more about Davids as a person, representative and Kansan.
The daughter of a veteran, Davids was born in Frankfurt, Germany. Though now recognized for her legislative and political career, she didn't imagine herself to be a politician in her youth – until she eventually moved to Kansas. 
"I didn't grow up thinking I was ever going to run for office, and certainly didn't think I was going to be in Congress or anything like that," Davids said. "Settling here in this area after [my mother] got done with being in the army was really pivotal for me."
After moving to Kansas, Davids pursued an education in the local area while working several different jobs until she eventually attended Cornell University to earn her Juris Doctor. 
"I was a bartender, I worked at Sonic, I worked at Domino's … I did a bunch of different things. When I got done with my bachelor's degree at UMKC, I got into Cornell for law school and it changed the trajectory of my life," Davids said. 
Davids took a particular interest in development, and as she worked with various communities, she realized many citizens do not have a clear understanding of the political systems that impact their lives. 
"I ended up doing community and economic development work with tribal communities. While I was doing that, I learned a ton about the federal government and realized very few people knew about the federal government," Davids said.  
A growing realization of her love for infrastructure and policy work pushed Davids to apply for a position as a White House Fellow, which led her to spend a year in Washington D.C. before moving back to Kansas and running for Congress. When elected, she made history as the first openly LGBTQ+ Native American woman to serve in Congress. According to Davids, she works with representatives who are diverse in a multitude of ways, beyond just demographically.
"When I use the word diverse – especially when I'm talking about congress or policymaking – [what I mean] is the diversity of the class that I was sworn in with," Davids said. "It was very diverse in terms of race and ethnicity, there were more women and people of color and LGBTQ+ folks that got elected and sworn in … but there also was a diversity of backgrounds. There were more people who like myself didn't gear [their] lives to be in Congress." 
Davids said this diversity has helped catalyze further recognition of more nuances and perspectives in the policymaking process. 
"I think that diversity of thought and experience … bring in the recognition that we don't know everything," Davids said. "Questions shouldn't just be 'how does my different experience contribute to this conversation on coming up with better policy?' It's also, 'how does my different experience help me recognize that there are still people who haven't been included in this conversation?'"
These perspectives are beginning to be recognized more during a period of growth and change for the nation, according to Davids. 
"We're just in this very, what I think of as actually a growth period for our entire country. The United States is a couple hundred years old and we've had some tumultuous times before … Now we have grown a ton and we have a lot more people and shifting dynamics, and I think that that has impacted our country's political psyche," Davids said. "I think of us as being like teenagers. We're trying to decide, we're kind of lanky – democracy is an experiment. We always talk about the great experiment of democracy, and we're in a time right now where we're trying to figure that out."
This formative time for the nation is often influenced by policy making, a process that Davids said can be much more effective and productive than the majority of Americans might believe. 
"I think there are more people who are actually interested in us doing our jobs in congress than it might appear," Davids said. "You don't see the consensus building that happens on some policies as much as you see the disagreements and headbutting that happens on other[s]. I'm not saying there aren't issues, there are. But … turns out representatives are humans." 
Davids touched on the importance of human connection, both in Congress and towards constituents. This idea has translated into her commitment to keeping her office accessible in terms of constituent services.
"People are usually calling our office because something has gone wrong. So the work that [our team does] and what the legislative folks do out in D.C. [is] make sure that we understand … the policy priorities of the folks in the district," Davids said.  
According to Davids, although constituent services have been included in her priorities since her first term, other priorities have joined the list in order to reflect the needs of new constituents as a result of redistricting. 
"My policy priorities have in some ways shifted this time. I'm at the beginning of my third term and my approach hasn't changed but the district is different than it was when I got elected," Davids said. "The Kansas third [district] went from a mostly suburban and partially urban or more densely populated district to being slightly more rural … so I got onto the agricultural committee." 
In addition to prioritizing needs for new residents through advocating for the Farm Bill, Davids has also emphasized the importance of ensuring that federally empowered resources benefit Kansans. 
"We've passed some really big pieces of legislation in the last couple of years [such as] the Inflation Reduction Act, the Bipartisan Infrastructure Bill and the CHIPS and Science Act which will hopefully boost domestic manufacturing," Davids said. "Implementing those is going to be a really big part of the work that I'm doing to make sure that the resources from those big bills are making their way to Kansas."
Davids views transparency and open communication about policy as a key component in her work. 
"I think that talking about the successes is absolutely important, and acknowledging the places where we still have a lot of work to do is also important," Davids said.  
When discussing the future of the third district and the youth who may lead it, Davids spoke about the essential role that personal efficacy plays in the political sphere. 
"My biggest thing has always been doing what makes you feel like you're thriving. Thriving doesn't mean happy, sometimes thriving can feel like you're the only person waving your arms saying 'hey there's something going on here and I need people to know about it,' but anytime you're doing something that makes you feel like you're thriving, you're probably having a good impact in your community," Davids said. "For people who are interested in the political space – whether it's local, state, federal – never underestimate the power of just reaching out … it can make all the difference in the world." 
For a video of the interview, go to BVN Broadcast's youtube channel: link
Leave a Comment
About the Writer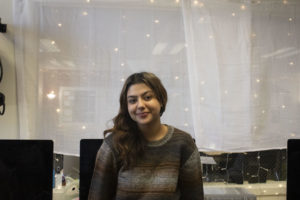 Arshiya Pant, Editor in Chief
Arshiya Pant, Co-Editor-in-Chief

Arshiya Pant is...