Abi's Closet: Winter to Spring Fashion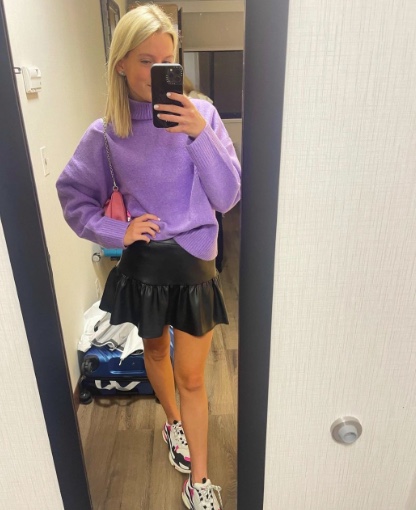 Spring: It's close enough to summer in the sense that half of our wardrobes can be incorporated into our daily outfits. However, it is most definitely not winter due to the fact that it would be nothing short of ringarde to show up to an event in faux fur, post-faux fur season. As if! It is that awkward period where you find yourself wondering, "Is it too soon for biker shorts?" It's time to invite the colors and discard the neutrals. Think "Emily in Paris." That's our color palette for this upcoming season. 
Transitioning from winter to spring fashion can be demanding, but in order to stay snazzy this season, follow the steps below!
Step 1: Say Goodbye to the Neutrals. 
If spring had a color palette, it would consist of pastels and bright colors. Base your spring style on a bouquet of flowers. Neutral colors are winter's personal sidekick. Spring, on the other hand, could incorporate a casual color but must have accent colors that are fun and spunky to level up the look. If you are wanting to stick to the neutrals, make sure that you keep it monochromatic in order to maintain a classy outfit. 
Step 2: Invite the Legs back. Heck yes!
Like my late grandmother always reiterated, "If you got it, flaunt it." Clothing items that accentuate the legs during spring can be nothing short of iconic. For a casual night out, invite the mini dress back into your wardrobe along with a statement sneaker that can really make the outfit pop. In my personal opinion, having a bright color in your outfit can change the whole vibe drastically. 
Step 3: White? Possibly. 
White jeans are still summer's best friend, but some spring occasions can call for a solid pair. Personally, white jeans are a piece that I tend to wear more toward the end of the season. If the weather is just right and you're feeling spontaneous, white jeans can really be a statement. White tops, on the other hand, can be a little more difficult to style. I recommend not wearing white tops just yet, as it is still very early.
Step 4: Tank tops? Probably not. 
Let's not invite tank tops, or crop tops for that matter, back into our wardrobes just yet. Tank tops and every clothing item that falls under that umbrella should stay in the summer category. Crop tops are personally not flattering on my physique, but kudos to those who can rock them! When in doubt, choose the oversized tee shirt!
Step 5: Accessories
When putting an outfit together, having a statement accessory really brings the whole outfit together. Recently, headbands have really been eye-catching. If the outfit has two different colors, add a headband that matches with one of the complementary colors, specifically the pants. It adds contrast. 
Stay spunky this season. These are all my personal opinions and whatever you choose to wear will be nothing short of iconic! Happy Spring!
Leave a Comment