Approaching Pressure
The pressure is on as students cram before finals. With mid-term finals approaching, many students are feeling the weight of tests and workload. The Blue Valley School District is known for having impeccable students and teachers, being the top school district in the Kansas City area. With a total of 20 AP courses offered at Blue Valley North, around 52% of students have enrolled in at least one of these classes. 
But school such as Blue Valley North comes with the pressure to meet higher expectations. In a poll of 200 students, 98% of people agreed that they have felt academic pressure at BVN. Senior Steven Golfinopoulos is enrolled in the Global Business CAPS class. He shared his personal experience with the pressure he's been under at Blue Valley North. 
"I have felt some pressure from being at BVN, and I believe that it is one of the top public schools in the country so the pressure to perform piles on. However, I have some really supportive friends so they're nice to reach out to for a distraction," Golfinopoulos said.
After high school, Golfinopoulos plans on joining the welding program at JCCC and furthering his education in business at the University of Kansas. For students who are interested in taking a different career path, there are numerous resources available that are provided by the district. BVN counselor Catherine Bosch discusses the work that the counseling team has been doing and how they are trying to better prepare students for life outside of high school.
"The Blue Valley School District is looking at changing some graduation requirements to make it more applicable for the real world. When it comes to enrollment, even the counseling department is trying to make sure that students are enrolling in classes that they're interested in, and those that will impact them," Bosch said.
The district is starting to address many of the pieces that students feel are missing in their education. They are trying to have students take more engaging classes, but also have them fully understand the materials.
"I think that a lot of people put pressure on themselves to get all A's and they don't necessarily think about actually learning the content, but just think about getting a good grade," Bosch said. "So what a lot of teachers are doing is trying to get away from focusing on just the grade and instead trying to get students to actually learn the material." 
Blue Valley North also has classes based around college preparation and finding career paths such as AVID. AVID is a class that is offered for each grade level. There is an application process to get in, as well as a referral from the middle schools to find students that will be a good fit for the program. AVID teacher Laura O'Connell is the current teacher for the 2023 graduating class and explained what avid is trying to achieve. 
"A lot of what AVID focuses on is the study skills and resources that are necessary in high school in order to be successful in a secondary setting later on, and therefore also provide resources to help students get into colleges and universities," O'Connell said.
Golfinopoulos and many others wish that the same class could be available for all students who would benefit from it.
"As someone who struggles with academics sometimes it can be discouraging to hear about all the opportunities that people are experiencing," said Golfinopoulos. "I feel as though we're not presented with trade jobs enough at BVN. I plan on getting a trade job and there feels to be some sort of odd stigma against it." 
Junior Audrey Branner is planning on going to college after high school and shared her opinion on college prep classes like AVID.
"I do personally feel like those types of classes like avid should be available for everybody, especially since college is very pushed on you at Blue Valley North," Branner said.
Branner is enrolled in Honors Algebra and AP Environmental Science this school year and shared how she has figured out what type of classes work for her and what limits she has set for herself.
"I don't usually take hard AP classes because I know what my limits are. I don't freak out about not getting an A because I know that's just how much I can handle and I still feel good about that. I feel like my grades stay at a good rate, and that I'm at a level that works for me," Branner said.
The district is trying to show the importance of enrolling in classes that cater to students' interests and not pressure students to take harder classes. Whether students are wanting to go to college or follow another path, Blue Valley has a multitude of resources to help them figure it out.
Leave a Comment
About the Writer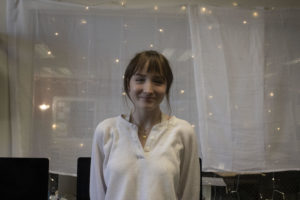 Audrey Kohnen, Staff Writer
Audrey Kohnen, Staff Writer

Audrey Kohnen is a senior...