At What Cost?
Students share their perspectives on college tuition and the effect it has on their application process. 
Many students aspire to attend college after high school; however, many of those aspirations are shot down when they are met with intimidating tuition costs and the fear of crippling debt. The concern of not being able to afford college can often contribute to students' already-high stress levels during their senior year.
As students start applying to colleges, there are many different factors to consider. These include the campus, majors, student life, teacher-to-student ratio and tuition costs. Senior Ataya Benson decided to attend Rockhurst University largely due to its costs.
"The expense of college has quite an impact on me because I have to purchase books, scrubs and any other materials I need for simulation labs or activities we do in class, along with just general tuition," Benson said. 
Benson has wanted to major in nursing since she was a child, and specified that she looked into colleges that have the qualifications she needs for a job. According to Benson, the fear of debt after college contributed to her decision.
"I am most likely going to attend Rockhurst even though the KU medical program is significantly better because of the cost of the program and living expenses," Benson said.
According to "U.S. News," the average amount of student debt hovers around $30,000, while the cost of college tuition and fees continues to rise, having doubled over the last 20 years. 
The inflation of tuition costs affects enrollment in certain colleges. According to Benson, she doesn't apply to schools she's certain she can't afford, even if they offer a better program for her career interests. 
"If I believe I don't have enough money to afford the college, I don't even waste my time applying," Benson said. 
Student loans have a significant presence in the lives of many Americans, especially given the recent rise in inflation. National student loan debt was almost $1.6 trillion in the second quarter of 2022. This knowledge affects high schoolers' mentalities toward college applications, instilling fear in many, including Benson.
"I am terrified of debt after college," Benson said. 
According to the Association of Public Land Grant Universities, on average, it takes graduates 20 or more years to pay off their college debt, impacting their career choice as well as their quality of life.  
Senior Brady Fisher is planning to attend KU and major in child psychology. Fisher offered a different perspective on the correlation between tuition and major choice.
"Expenses didn't really affect my major much because I have two scholarships for KU," Fisher said. "In-state tuition also helps."
However, tuition drastically influenced the schools Fisher applied to, including his "dream school," Vanderbilt University. 
"Even if I did get accepted, I couldn't go [to Vanderbilt] because student aid only covers $30,000, and tuition is $85,000 a year, even after applying for scholarships," Fisher said. 
Fisher elaborated on his feelings towards the disappointment that college tuition can often bring. 
"Not being able to go [to Vanderbilt] because of the cost really pissed me off because I've wanted to go there since I was a sophomore in high school," Fisher said. 
The question every incoming student asks is, "why is college so expensive?" Tuition-driven schools have to raise tuition to keep up with their own costs, along with nationwide inflation. These costs cover a wide range of areas including instruction, academic support, student aid and research.
The government has acknowledged the issue of student debt in the past in an attempt to make change. In order to decrease the burden of debt after COVID-19, the government instilled many policies to put a pause on the collection of defaulted loans. One of these included the Coronavirus Aid, Relief and Economic Security Act (CARES Act) which originally waived interest and halted loan collections in September 2020. The CARES Act will end this year, leaving some students with the choices of taking debt or dropping out. 
Benson acknowledged the effects that college debt could have on her future.
"Debt would completely change my life after college," Benson said. "If I had debt in the future, I probably wouldn't be able to travel, move to my own apartment or do things that are outside of my budget. I would be so focused on paying that money off, I wouldn't really be able to focus on myself."
An additional aid for struggling current college students and graduates is Biden's debt relief plan. This outlines that those who earn less than $125,000 a year or are in households with a combined income of less than $250,000, are eligible for up to $10,000 in debt cancellation. An additional $10,000 of student debt will be erased for those who received federal need-based aid during college.
However, according to CNBC, this plan is currently under tight observation and debate, facing criticism from many opponents. As the Supreme Court reviews the constitutionality of this Biden's proposal, his debt relief plan will be stalled. By Jan. 4, Biden will present his case, and the court's decision affecting thousands of college students will be made around a month later. 
"These plans being canceled makes it a lot harder on future college students," Fisher said. "Knowing that they have to pay for college with little to no help takes away the idea of going to their dream schools."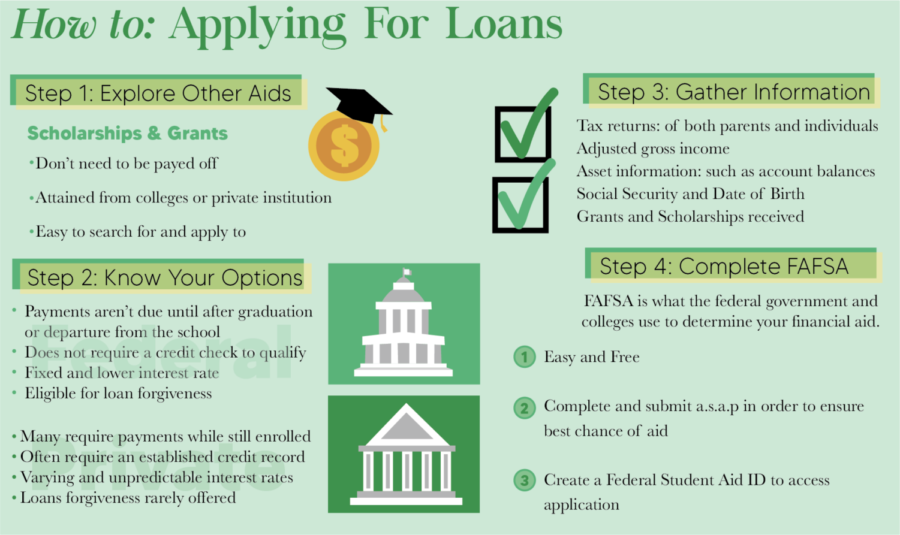 Leave a Comment