Behind the Float
This past week at Blue Valley North was homecoming week, and a large part of that is the creation of floats for the homecoming parade. This year's theme is "There is no place like homecoming," based on the film "The Wizard of Oz," but what does it take to make a homecoming float great?
As leaders and planners of homecoming, Student Council puts time and effort after school into creating the parade floats. 
"We had a meeting on Sunday and we [StuCo] were there for about four hours working on the float StuCo floats," Sophomore StuCo Representative Alayna Hall said. 
Not only does planning, building, and creating the float take a long time, but it also takes teamwork. According to Hall, making a good float requires teamwork and collaboration from everyone involved.
"For the most part, everyone is putting in equal time," Hall said, "We have all equally worked on the floats together… I mostly did a lot of the spray painting and cardboard building, and a lot of other people were working on what they wanted to wear and others on the many smaller details."
Another aspect of creating a successful float is creativity. Each year BVN has a different homecoming theme. To be successful and win the float competition, the floats must follow that theme.
In many past years, the French group (that doesn't have a float, but rather walks as a group) have been successful and has won the top prize multiple times. However, according to them, they wanted to go all out this year.
"We have won several times before, so it is a possibility that we win this year," French teacher Madame Dickerson said." I think it depends on if everyone is able to come, we have some really good stuff planned."
Being part of a homecoming parade float brings people together. Whether it is students and staff in our school or families in our community, the homecoming parade is an event that students, staff, and parents look forward to. 
"I just think that it is a really good way to get people to participate in the parade, who might not participate otherwise. It is really great," Dickerson said.
Leave a Comment
About the Writer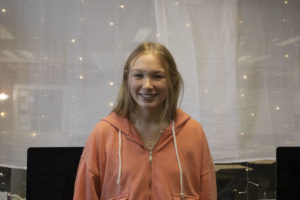 Anna Sandage, Social Media Editor
Anna Sandage, Social Media C0-Editor

Anna Sandage...