Benny's Baseball Soapbox
That all-too-familiar scent of October baseball is entering the noses of fans worldwide. It's (finally) the MLB Postseason, and thanks to the new wildcard system implemented this season, there are 12 teams who have made it this year. With new opportunities for a postseason run, the variety of teams in this year's playoffs is great. At the end of the day, however, only one team will reach the mountaintop. 
So of these 12 teams, which team has the best chance of winning it all? Who deserves it the most? Who's lucky to even be there? Divided by league and position standings, here are my predictions for the 2022 MLB Postseason.
AL
Houston Astros (AL West)
The best team in the American League obviously has a lot of expectations this postseason. Last year's pennant-winning club is just as dominant this season, with stars like Yordan Alvarez, Jose Altuve, and rookie Jeremy Peña shining bright. Pitching comes easy to this team, with perennial AL Cy Young frontrunner Justin Verlander and breakout stars Framber Valdez and Christian Javier. I expect this team to go far in the postseason, maybe even running it back to the World Series. Their run differential is far above any other AL ballclub, and most of their players from last year's World Series run have stuck around (with obvious exceptions) However if they fall to another team, I expect them to fall hard.
New York Yankees (AL East)
Although the Yankees' season has been defined by the historic home-run chase of Aaron Judge, it's not as if the Yankees are made up of ONLY Aaron Judge. Their offensive production has been outstanding, along with their incredible pitching staff and bullpen. Breakout stars such as Nestor Cortes Jr, Matt Carpenter and Gleyber Torres have made the Yanks the best team in the AL East. That being said, Judge could definitely carry this team to the World Series if he tried. In my opinion, he's already dragged them to the postseason. "America's team" has a good chance this postseason. I expect them to go reasonably far, although the World Series might be out of reach.
Cleveland Guardians (AL Central)
Almost nobody saw this team going this far or doing this well this year. The AL Central's team hasn't been unstoppable, but for the feisty AL, they're definitely holding their weight, and then some. The dominant Andres Gimenez and breakout rookie Steven Kwan accents the power of Jose Ramirez and Amed Rosario wonderfully. The rotation has been deadly this season, including breakout aces Triston McKenzie, Cal Quantrill, and Shane Bieber. It also doesn't hurt to have the best bullpen in the American League. In the postseason, I see them reaching the ALCS, but most likely losing to another much better division winner.
AL (Wildcard)
Tampa Bay Rays (AL East)
The smartest MLB team in the league once again reaches the postseason, and for good reason.  Led by AL Cy Young candidate Shane McClanahan, Drew Rasmussen, and Jeffrey Springs, Tampa has one of the most underrated pitching rotations in the league, Their hitting has been very good, with powerbats Yandy Diaz, Randy Arozerena, and Isaac Paredes averaging an outstanding OPS+ of 129, combining for 361 hits this season. They've had a rough patch leading into the postseason, but they still have a small chance of turning it around before the Wild Card series. I see the Rays slowing down in the postseason.
Toronto Blue Jays (AL East)
The Blue Jays aren't as offensively dominant as they were last season, but that's not to say they aren't fantastic when hitting. Toronto has created one of the best, most balanced lineups in baseball. Vladimir Guerrero Jr, George Springer, and Alejandro Kirk make up their best three hitters, all of whom are great fielders as well. Pitching has been strong this season as well, with stars Alek Manoah, Kevin Gausman and Ross Stripling holding down the top spots in the rotation. I don't see Toronto imploding once they're in the playoffs, but they don't have a good chance of going very far, especially with their somewhat lax offensive production compared to last year.
Seattle Mariners (AL West)
Mariners fans have waited long enough- their 21-year playoff drought is over and it feels like it could be their year. With a much better and more balanced team this year, the M's could be dangerous this postseason. Pitching has been phenomenal for Seattle, adding several key pieces over the season like Robbie Ray, Luis Castillo, and Logan Gilbert, along with calling up rookie George Kirby, which has proved important for the ball club. Julio Rodriguez should also be mentioned, as his performance as a rookie this season rivals some of the best to ever do it. Back from injury, his presence will be a large factor in their playoff run. Their team culture and excellent performance could propel them past the Wild Card series, and possibly farther.
NL 
Los Angeles Dodgers (NL West)
A 110+ win season doesn't happen often , and it is a clear sign that the team who achieves it is the very best. WIth the highest run differential in the MLB and multiple All-Stars in their lineup, the Dodgers seem unstoppable. Freddie Freeman, Mookie Betts, and Trea Turner have nothing more to prove with their performance this season. Especially Freeman, who quietly leads the NL in multiple hitting categories, has turned this team into a powerhouse. Their pitching has been dominant this year, with the best bullpen in the NL, and multiple Cy Young-caliber pitchers in their rotation including Tony Gonsolin, Julio Urias, and future Hall of Famer Clayton Kershaw. I don't see this team NOT getting very far. The Dodgers are my personal pick for the NL Pennant this season.
Atlanta Braves (NL East)
Last season's World Series Champs have made it back to October baseball, and with an even bigger presence. Their lineup and Rotation are even more dominant this year, adding rookie stars such as Spencer Strider, the best NL rookie pitcher and an undisputed ace, and Michael Harris II, a power-speed threat who is the best NL rookie batter. Apart from their rookes, their team is incredibly balanced and powerful, led by all-star catcher Austin Riley, who's putting together an MVP-caliber season, and Max Fried, who's putting together a Cy-Young caliber season. I see this team going very far in the postseason, possibly back to the World Series if they can get past the mighty Dodgers.
St Louis Cardinals (NL Central)
The best squad in the admittedly weak NL Central, the Cardinals are far from weak themselves. Their best players are among the best in the league, with Paul Goldschmidt and Nolan Arenado having the best seasons in their respective careers. Their offensive performances have been accented nicely by the other hitters, with breakout stars Tommy Edman, Brendan Donovan and future Hall of Famer Albert Pujols having offensive seasons better than most. Their rotation and bullpen have been extremely solid as well. I see this team doing well in the postseason, but the World Series may be out of reach. (It would be nice to see Pujols win one more, though.)
NL (Wildcard)
New York Mets (NL East)
The Mets have reached 100 wins this season, the first time this franchise has done so since 1988. Their hitting has been great this year, with slugger Pete Alonso smacking 40 HR, and contact hitter Jeff McNeill hitting to a .326 BA and a .382 OBP. The acquisition of Max Scherzer has been worth it as well, as he's led their rotation in almost every category on route to a 2.61 FIP and a 10.7 SO/9. Their bullpen has been dominant, in particular their closer, Edwin Diaz, who has proved himself to be the NL's very best closer, notching 32 saves to the tune of a 1.31 ERA and an unreal 17.1 SO/9. Overall, however, the team isn't very balanced, relying on the performance of individual players rather than a team. I see this team going past the wild card, but most likely losing to a more well-rounded team.
San Diego Padres (NL West)
This team has been quietly good all season, on the backs of a balanced lineup and solid rotation. Sadly, their performance was overshadowed by their star Fernando Tatis Jr's positive PED test. Manny Machado, the All-Star third baseman, has been putting together an MVP-caliber season, with a 159 OPS+, .296 BA and 32 HRs. Their pitching core has been great as well, with Yu Darvish, Blake Snell and Joe Musgrove combining for excellent performances all season. Plenty of people have unfairly overlooked this team, however I don't believe they're good enough to beat the New York Mets in the Wild Card series.
Philadelphia Phillies (NL East)
The NL's "Cinderella story", the Phillies have made it to the playoffs after 11 years. This comes directly after the Seattle Mariners broke their 21 year long curse, which was the longest playoff drought in US sports. Aside from that, this team is very impressive. WIth stars Aaron Nola, Zach Wheeler, and Ranger Suarez holding the top spots in the rotation, and relievers Seranthony Dominguez and Jose Alvarado having outstanding performances coming into October, pitching for the Phillies has been top-notch. At the plate, J.T. Realmuto, Bryce Harper and Kyle Schwarber have all had good seasons so far, although their overall offensive performance has been a little subpar for a playoff team. IN all honesty, I don't see the Phillies going very far in the postseason this year.
The AL and NL Wild Card series will be held from Oct. 7-9, officially starting the MLB Postseason. Who will win the Wild Card series? The Division series? The Pennants? The World Series? Only time will tell.
Leave a Comment
About the Writer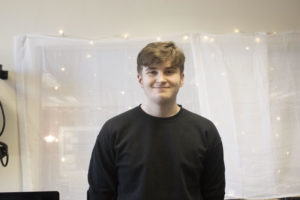 Bennett Palmer, Copy Editor
Bennett Palmer, Copy Editor

Bennett Palmer is a...