Benny's Baseball Soapbox: Picks for Rookie of the Year
With over one half of the MLB season over, it is getting closer and closer to the time in which awards are given out to the most deserving players in baseball. One such award is the MLB's Rookie Of The Year award, given out to the most valuable rookie player in each league. As the playoffs draw near and as rookies' talents are on full display, we will be looking at my top 3 candidates for ROTY in each league, analyzing what they have already done, how I think they will play for the rest of the season and why they deserve the award.
For the American League, my top three candidates would have to be C Adley Rutschman (Orioles), OF Julio Rodriguez (Mariners) and OF Steven Kwan (Guardians). For the National League, my top three candidates are P Spencer Strider (Braves), CF Michael Harris II (Braves), and 2B Nolan Gorman (Cardinals).
Adley Rutschman – As a switch hitting catcher, Rutschman's role on the Orioles can't be understated. The 2019 #1 overall pick has made an immediate impression in Baltimore. It doesn't hurt that he has a 133 OPS+ in only 74 games, in addition to hitting 8 home runs and leading his team in OBP and OPS. His defensive skills at the catcher position shouldn't be overlooked as well, as he's been great behind the dish at blocking and framing. He also leads his fellow catchers on the team in putouts, with almost 460 in his first 74 games. By The stats, Rutschman is a good pick, but with Baltimore's performance, he's an excellent pick. The team has thrived since his arrival, and it is definitely thanks to him. There is a good case for Adley being not just the best rookie catcher in the league, but the best catcher period.
Julio Rodriguez – Julio is a freak, straight up. At just the age of 21, he is top of the league with 23 stolen bases, with a 132 OPS+, 20 HR and 63 RBIs in his first 104 games. His IQ is that of an old veteran, his athleticism is that of a mighty gazelle. Leading all rookies in home runs, RBIs and WAR, he definitely has the counting stats and appeal to reach a wide audience. Since his arrival, Seattle has been a playoff hopeful city, sitting close to or in the wildcard race. He was elected to the All-Star game at just the age of 21, putting on a show in the Home Run Derby, where he finished second behind superstar Juan Soto. Julio is a fan favorite in Seattle and across the MLB, and it would make sense for him to be chosen as ROTY.
Steven Kwan – Talk about being hot at the plate! Steven Kwan came out of nowhere as a small prospect, to become one of the best hitters in the league.  He leads all rookies in hits, holds a 3.9 WAR and is batting .299 over 108 games. As a college teammate of Adley Rutschman, it is strange how these two are top of the ROTY voting list, but it is not surprising that Kwan is good at getting on base. Early in the season, Kwan held an impressive 18-game hitting streak, batting near .350 and putting his name on the map early. Although he might be a dark horse candidate, his contact hitting and outfield defense could make a good case for ROTY.
My personal pick for ROTY in the American League this year is Julio Rodriguez. Although I might be a little biased as a Mariners fan, it is clear that Julio is the most valuable player on this list. Rodriguez has already achieved a 20/20 season, becoming one of the fastest and best hitting outfielders not just among rookies but among all MLB players. It doesn't hurt that he was an All-Star and is the Vegas betting favorite for the award. Although Rutschman is carrying his team to the playoffs, you could say the exact same about Julio. His value on the Mariners team has made them a contender for the first time in over two decades.
Spencer Strider – Strider is making his case not only for ROTY, but NL Cy Young as well. His stuff is some of the nastiest we've seen in a long time, and his power pitching as a starter is only matched by aces like Sandy Alcantara or Jacob DeGrom. He's pitched his way to a 2.87 ERA, notching 8 wins and 158 Ks and leads all rookie pitchers in WAR and strikeouts. He's definitely gained the attention of the pitching community, thanks to his signature mustache and quadriceps, gaining him the nickname of "Quadzilla."
Michael Harris II – A surprise candidate in the ROTY race, this Braves outfielder has put on a show as of recently. Harris is hitting nearly .300 with an .860 OPS, along with his superb talent with the glove. His power is nothing to scoff at either, hitting 13 home runs along with a solid 15 stolen bases. A dark horse ROTY candidate for sure, but if he keeps up his pace his chances for the award could rise.
O'Neill Cruz – As a 6'7" shortstop, Cruz is hard to miss. He's an alien athlete, already breaking records as a rookie. Cruz recently broke the record for fastest exit-velocity hit in the Statcast era, fastest thrown ball by a shortstop in Statcast era and having one of the fastest sprint speeds in Pirates statcast history. Despite his insane records, Cruz is quite inconsistent, hitting only .199 and smacking 40 hits in 201 at-bats. WIth time, however, his talent can be controlled and he might be a future MVP.
In the National League, my pick for ROTY is Spencer Strider. Although he isn't the typical ROTY, he does have a great chance in my opinion. His pitching talent is already showing, and the performances he has already had make a great case of the ROTY. 3.2 WAR as a pitcher is great for a veteran, but even more outstanding as a rookie. Strider's talent is good enough for not only the ROTY, but to also be one of the best pitchers in the entire league. 
These are my picks for the ROTY. Maybe my picks will change as the season continues, but for now, this is who I believe has the best chance at winning the award.
Leave a Comment
About the Writer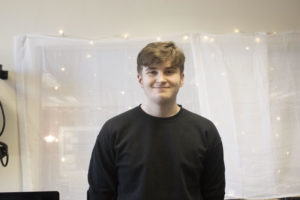 Bennett Palmer, Copy Editor
Bennett Palmer, Copy Editor

Bennett Palmer is a...