Benny's Baseball Soapbox
The baseball world has been hit with multiple bombshells this offseason. Massive trades, huge signings and decisions from the commissioner have sent shockwaves through the MLB landscape. So, what happened? Here's what each team got busy with this offseason. 
AL EAST
Baltimore Orioles (C+)
Signed former Rangers and Yankees slugger second baseman Rougned Odor to a one-year contract
P Isaac Mattson, P Zack Burdi, IF Rylan Bannon, OF Yusniel Diaz and P Alex Wells called up from minor leagues
Although many were called up to the big leagues, no real deals or signings were made in the Orioles' favor.
Boston Red Sox (B+) 
Outfielder Hunter Renfroe was traded for Jackie Bradley Jr.
Signed Veteran pitcher Rich Hill, Former Mariners ace pitcher James Paxton and pitcher Michael Wacha
Veteran pitchers are needed for a playoff team, and the addition of Hill and Paxton will positively affect the already good rotation. 
New York Yankees (F)
Nothing major has been done, other than the previously mentioned Rougned Odor trade to the Orioles
For a team with so much money and influence, they have done jack squat this year. Yankees fans are rightfully mad, but once the lockout finishes, they may make a large splash in free agency. But who knows?
Tampa Bay Rays (A-)
Traded star Joey Wendle to the Miami Marlins
Signed former Cy Young award winner P Corey Kluber
Emerging superstar Wander Franco signed a 12-year, $223 million contract
Putting trust in such a promising young talent like Franco is a great idea. This is no surprise from the smartest front office in the league, whose outlook on free agency made them contenders overnight. Kluber, a former Cy Young winner, is a good signee, although he is past his prime.
Toronto Blue Jays (B)
Signed Giants ace pitcher Kevin Gausman and reliever Yimi Garcia
Losing their best pitcher in the last ten years to free agency was a big loss but the addition of another ace from the NL might soothe the hearts of Blue Jays fans. Their hope is now all in Vladmir Guerrero Jr.'s hands.
AL CENTRAL
Chicago White Sox (B+)
Signed star reliever Kendall Graveman from the Astros, adding to a stacked reliever core of Craig Kimbrel and Liam Hendriks
Great bullpens mean great teams. These players might be the best closers of the last few years, and now they are all on one team, which was already stacked with starters like Giolito, Rodon, and Lynn. Good things are soon to come.
Cleveland Guardians (A-)
Changed team branding in the offseason to the previously mentioned Guardians
Signed catcher Sandy Leon
Although it has been controversial, a name change finally happened. Now known as the Guardians, (which in my opinion is ten times better than "Indians") they have signed a new catcher and have made steps to boost their reputation for the first time since 2016.
Detroit Tigers (A)
Signed superstar infielder Javier Baez from the Mets to a 6-year deal, P Eduardo Rodriguez from the Red Sox to a five-year deal, and resigned first baseman Jonathan Schoop for two more years.
Traded for catcher Tucker Barnhart from Cincinnati for Nick Quintana
An obvious point to bring up is the signing of star shortstop Javier Baez and former Red Sox ace Eduardo Rodriguez. These huge signings show the MLB that the Tigers are no longer okay with mediocrity. Fans should be prepared for a lot of fun this year.
Kansas City Royals (B-)
Resigned center fielder Michael A. Taylor for two more years.
Changed uniforms for a more modern design.
Gold Glover Michael A. Taylor is a good re-sign, but what earns this B- rating is the uniforms. In my humble opinion, they look really clean and pull off the classic Royals look.
Minnesota Twins (C+)
Signed pitcher Dylan Bundy to a one-year deal
Dylan Bundy is a good pitcher, but this isn't going to burst the MLB bubble. This has been a very slow offseason for the Twins. No question.
AL WEST
Houston Astros (B+)
Resigned veteran ace pitcher Justin Verlander to a two year contract, after a year long hiatus from the MLB
Signed pitcher Hector Neris for two years
Verlander has returned! I don't believe his return will bring him another Cy Young, but I believe the Astros have an even better chance of winning the World Series this coming season.
Los Angeles Angels (A)
Signed pitchers Michael Lorenzen, Brain Moran, Aaron Loup and most notably, Noah Syndergaard
Along with their new draft picks, it's clear the Angels know what they need. Pitching. Last year, the rotation was the worst in baseball. Now, they have a generally good pitching staff and new pitching prospects coming through their system. They want Mike Trout and Shoehi Ohtani to win.
Oakland Athletics (C+)
Traded for P Brent Honeywell from the Rays
Signed 2B Tony Kemp and 2B Chad Pinder
Good signings and trades. Just good though, nothing more, nothing less.
Seattle Mariners (A)
Star third baseman Kyle Seager retired after 11 seasons
Signed 2021 AL Cy Young Award Winner Robbie Ray to a five-year contract
Traded for second baseman Adam Frazier from the Padres
The signing of the AL Cy Young Winner is superb pickup, for obvious reasons. Adam Frazier as a nice bat in the lineup is good too.
Texas Rangers (A++)
Superstars Corey Seager, Jon Gray, and 2021 MVP candidate Marcus Semien to massive deals, totalling almost $562 Million dollars in contract money
Traded for pitcher Spencer Howard from the Phillies
This is, without a doubt, the best offseason for any team this year. Hundreds of millions of dollars spent on good investments of players in Seager, Gray, and Semien.
NL EAST
Atlanta Braves (A)
Signed SS Orlando Arcia, P Kirby Yates, C Manny Pina to two-year contracts
Resigned ace pitcher Charlie Morton and catcher Travis d'Arnaud
Atlanta is a city of champions once again! They knew what they had to do, and resigned their stars. Whatever happens, they still have their ring.
Miami Marlins (A-)
Resigned stars RF Avisail Garcia, IF Miguel Rojas and P Sandy Alcantara to long-term contracts
Received C Jacob Stallings and 3B Joey Wendle through trades
The trades for the Marlins have had a history of being bad, but this year they made sense. Resigning their best players doesn't hurt either. Good for Miami!
New York Mets (A+)
Traded for pitcher Trevor Williams from the Cubs
Signed ace Max Scherzer to a three-year deal, with an MLB record $43.3 million per year
The Mets seem to always bring drama wherever they go, but this signing didn't need any. Just a good signing of a great player to one of the biggest contracts in sports history. 
Philadelphia Phillies (D+)
Signed IF Johan Camargo and P Corey Knebel to one-year deals
Traded for pitcher Kyle Gipson from the Rangers
For a team that needs to surround their MVP, they have done nothing at all. Bryce Harper is a once-in-a-lifetime talent and needs to have support, and right now, he's not getting it.
Washington Nationals (F)
Signed 2B Cesar Hernandez to a one-year contract.
Juan Soto might be the best hitter in the world, and they haven't helped him at all. Getting rid of Scherzer and Turner at the same time during the season shows that the Nationals are rebuilding, but they haven't added any new, exciting prospects. What are they doing?
NL CENTRAL
Chicago Cubs (B)
Signed C Yan Gomes, P Marcus Stroman, and OF Clint Frazier to multi-year deals
Shortstop Andrew Romine retires
Traded for OF Harold Ramirez
Stroman and Yan Gomes are good additions to the team, especially for a massive rebuild like the Chicago Cubs. I think they know that they can't be the 2016 Cubs again, so they decided to start anew.
Cincinnati Reds (D-)
Signed reliever Justin Wilson (player option)
Just a nothing year for the Reds. They haven't done anything. Hopefully their ROTY Jonathan India will give them a playoff chance next year.
Milwaukee Brewers (A)
Signed P Pedro Severino, 1B Rowdy Tellez, C Brett Sullivan, 2B Jace Peterson, P Jandel Gustave
Traded for IF Mike Brosseau, RF Hunter Renfroe, and P Jean-Carlos Mejia
The Brewers had a disappointing playoffs this year, and have changed their outlook on players. Resigning their players and trading for power hitting fielders are a great move for them.
Pittsburgh Pirates (B)
Signed P Jose Quintana, OF Yoshitomo Tsutsugo, C Roberto Perez
Traded for pitcher Zach Thompson from the Rays
The trade for a submariner in Zach Thompson is a good move, especially with the resigning of some promising players in Tsutsugo and Perez. Not many new moves, though.
St. Louis Cardinals (C+)
Pitchers P Jon Lester and P Brett Cecil retire
Signed P Steven Matz and P T.J. McFarland
The retirement of veteran Jon Lester is sad news, but the signings of pitchers Matz and McFarland add to an already stacked rotation that could make the Cardinals a World Series contender.
NL WEST
Arizona Diamondbacks (B-)
Signed closer Mark Melancon
Traded for OF Jordan Luplow
Melancon is a good closer, and has made his presence known in the past, specifically in 2020 and 2021 for the Padres. Their rotation has been lacking as of late, so this addition is a big plus (no pun intended).
Colorado Rockies (C-)
Signed catcher Elias Diaz and pitcher Jhoulys Chacin
Their catcher situation isn't great, so this signing is fine. Nothing super special here. There's not a lot of signing money going around in the Rockies organization, ever since that trade with Arenado.
Los Angeles Dodgers (D-)
Signed pitchers P Andrew Heaney, P Daniel Hudson
Heaney has fallen off of a cliff, and Hudson hasn't been good since 2019. For team that's trying to get back to the World Series, these are pretty weak signings. Especially Heaney.
San Diego Padres (C+)
Signed pitchers Luis Garcia and Robert Suarez
Not bad signings, especially the young relief pitcher in Garcia, but nothing major. This is the same case as the Dodgers, where it seems like they don't want to sign anyone major. If you want to win, you have to sign big. That's the facts of the league now.
San Francisco Giants (C)
Signed pitchers Alex Cobb and Alex Wood, along with Anthony DeSclafani
Resigning DeSclafani and Wood are great choices, especially for a rotation such as the Giants. Cobb has also been good the past few years, being one of the few bright spots in the Angels rotation.
These signings came to an abrupt halt following the meetings between the MLB Players Association and the MLB Commissioner, Robert Manfred, where agreements were not reached and a lockout was put into effect. 
This stopped teams from trading, signing or even advertising players. The response from players was almost immediate. 
Players like Jameson Taillon, Jarred Kelenic and Lucas Giolito all joined in the protest against the MLB by changing their profile pictures to the blank, faceless profile picture on the MLB's website which was put into effect after player's likenesses were banned.
What will this mean for the season? Will it be another 1994? Hopefully not, but with a great season behind us, and young stars like Seiya Suzuki, Adley Rutschman and Gabriel Moreno on the way, a 2022 campaign could be even better than this one.
Leave a Comment
About the Writer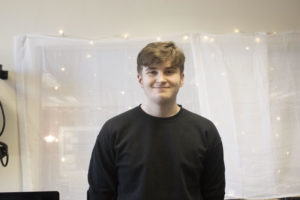 Bennett Palmer, Copy Editor
Bennett Palmer, Copy Editor

Bennett Palmer is a...