Boys Swim and Dive Meet Recap
On Jan. 9, the BVN Swim and Dive team hosted the Boys Varsity Swim and Dive Triangular against the Blue Valley Southwest Timberwolves and Olathe South High School Falcons. According to the swimmers and divers at the meet, mixed emotions were felt about this meet.
Junior Theodore Kupper, who swam a 50 freestyle at Thursday's meet, said he felt that he did well and was motivated having his friends on the team supporting him.
"What motivates me is getting to compete with my teammates and just trying to do the best I can do," Kupper said.
Senior diver Jackson Siegman stated that his performance at the meet was, "very bad, it was rough for me, I failed a couple of times." Nethertheless, Siegman said he has plans to work harder and practice more to hopefully have a better performance at the next meet.
Freshman swimmer Oliver Zhan, said that he had a good feeling about how BVN would do at this meet and that the other schools competing were not as much of a competition for them.
"Well, both Southwest and [Olathe South] aren't really a challenge for us," Zhang said.
Sophomore diver Spencer Eyen took first place at Thursday's meet with a score of 253.8 overall. BVN divers also took second, fourth and fifth place. Eyen said he felt like he did well at the meet and competing with his friends pushes him to work harder.
"I see all my friends doing really well and it's just the camaraderie of having friends there doing hard dives too," Eyen said. "You say, 'Okay, I am going to do it, it's going to look really cool and I can show my friends later."
The next swim and dive meet for BVN will be Feb. 1, swim starting at 9:30 AM, dive starting at 10 AM against multiple schools at SMSD – Natatorium.
View Comments (1)
About the Writer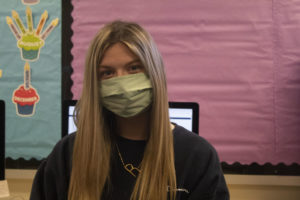 Reece Bachta, Social Media Editor
Reece Bachta is a senior and is the social media editor...