BVN Goes Gold
The week of September 20-24th was Go Gold for St. Jude week at Blue Valley North. The charity St. Jude's Team Up for Kansas City raises funds in support of St. Jude's Research Hospital. The charity, founded by Tatum Trysla, was started in support of child cancer patients at St. Jude's.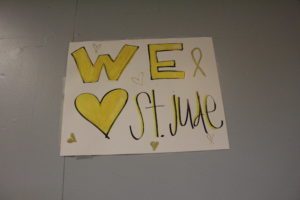 "My little brother was actually treated there, and that's why my sister [Tatum] founded this organization in 2016," President of Team Up for St. Jude Cimone Trysla said on The North Star Podcast, "Because it was just one way we could give back to the hospital."
Team Up for St. Jude's is a district and state-wide, organization that helps to raise money for St. Jude. Schools such as St. Thomas Aquinas, Bishop Miege, Pembrooke, and more all have branches within their school to raise money and awareness for childhood cancer and St. Jude.
"St. Jude's depends on the volunteering and organizations of programs similar to Team Up for St. Jude's Kansas City to fund the program. We're helping to raise awareness and money for St. Jude's so we can help as much as we can." Co-chair of the committee for Team up for KC, Brenna Coleman said. 
Funds for the charity are primarily raised through Gold Out shirts, which all schools participating in Team Up for St. Jude's sell. These shirts are worn by students, cheerleaders, dance team, and band members during their respective games. 
BVN events from the week are the Gold Out football and volleyball games where there are options to donate to Team Up as well as spread awareness.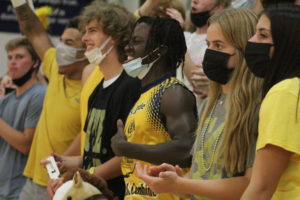 "Students can get face paint, pom-poms, cowbells, St. Judes apparel before the game as a way to support the program," Coleman said. 
The Gold Out game is a large source of fundraising for Team Up and will be a large part of them reaching their goal this year.
"We're just looking to raise as much money as we can and we don't necessarily have a specific goal but in the last three years we raised $150,000 but by now it's probably closer to $200,000. This year we're aiming for upwards of $5,000," Coleman said.
To learn how to donate and get involved with Team Up for St. Jude, click the link below:
https://www.stjude.org/get-involved/find-an-event/team-up-kansas-city.html
Leave a Comment