BVN Singers Receive Recognition for Original Song Performance
Seniors Lily Canent and Sydney Kaphusman were asked to sing at the Blue Valley Education Foundation Annual Breakfast. Their choir director Jason Sickle chose the two of them to perform because of their passion for music and Canent's ability to write original songs. The Education Foundation wanted an original song for the breakfast, and Canent and Kaphusman delivered.
Both Canent and Kaphusman have been passionate about singing since they were young. Canent has been singing since she was a young child, and she has been writing songs since age 12. Kaphusman, however, has only recently started singing and has never written a song of her own.
"I haven't done any songwriting, so it was cool to get to watch Lily do that," Kaphusman said. "We did the harmonies together, so that was really cool because I've never created my own harmonies in that way."
The girls were asked to write the song before the summer break began, giving them the entirety of the summer and the start of the school year to work on the song. 
"It was honestly hard to be able to see each other all the time and collaborate. So [what] we kind of did was I kind of wrote and did lyrics and played around with it. I'd send her the ideas and we kind of just go back and forth," Canent said. "We had different versions of songs, finally it came together and then we could finally come together, actually practice, and do the harmonies,but I think it was definitely a different process than we expected."
For Canent, the writing process was similar to her other songs. She had to rewrite the song before she got the version she and Kaphusman wanted to sing. The whole writing process took her a majority of the summer. 
"I wrote a version of the song, I do it usually within a day and then obviously go over it for a little while and tweak it and totally change it like we did. So I would say this whole process was a few months, just because of the summer but I didn't work on it every single day," Canent said. 
The long process paid off for both of the girls. On Thursday, September 2nd, they performed their original song in front of over 1000 people. Despite the large crowd, they were not nervous at all. The girls enjoyed performing at a meaningful event, as there was constant fundraising for the Education Foundation
"I think we both thought it was really fun," Kaphusman said, "I wasn't nervous, either. But it was really fun and it was a really big crowd so it was really cool to see all those people and it was really cool to be a part of that event."
Listen to the song here: https://drive.google.com/file/d/1XZRQIFSFtf5YmODmJd-OI-hs_saWmxbT/view?usp=sharing
Leave a Comment
About the Writer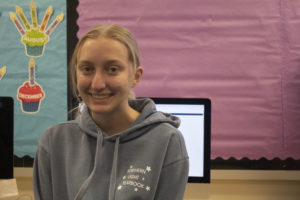 Adelaide Edwards, Staff Writer
Adelaide Edwards is a senior and Staff Writer for "The...