Clue Comes to BVN Theatre Oct. 15 and 16
As the kids file into the dark, empty, room just outside the auditorium, excitement fills the air. The air is exploding with chatter and buzz for the work these kids have done. Papers shuffle behind the curtain, and the talking stops. The show is ready to begin.
This excitement is for Blue Valley North Theatre's first production of the year: Clue. A comedy based on the famous who-done-it board game. 
There are plenty of new and old faces to the theatre program performing in this production, with 13 students of all grade levels showing off their talents. Ellie Goldberg, a junior and treasurer for the BVN Theatre, is ready to show off her comedy skills.
Goldberg will play the part of three different characters- the cook, the singing telegram girl, and an auxiliary role as Miss Scarlet, usually played by Sarah Navarez. Goldberg has been acting outside of school for almost 8 years and has been a member of the school theatre program in previous productions.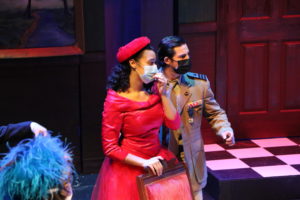 "It's a very funny show," Goldberg says. "It's just a lot more comedic; using your bodies; weird, physical stuff."
The comedy aspect is heavily relied on in the story, with slapstick and physical comedy all throughout. Goldberg said that she was not experienced with physical comedy, but was ready and excited to show her new skills.
"It's overall really, really funny and silly," Goldberg says. "You kind of just have to commit to what we're doing in order to enjoy it, have fun, and laugh."
This production is one to be excited about, according to those who are working on it. In rehearsals, it is clear that chemistry is a focal point in their group.
"We're all really good friends, and we weren't all really close from the start," Goldberg says. "Over the past month, we've been in rehearsals, and we've all gotten really close."
The show will premiere on Oct. 15 & 16 at 7 pm in the Little Theatre. Goldberg believes that Clue is worth watching, and urges students to see it.
"We've worked really hard on it," Goldberg said. "It's gonna be really fun. So you should come!"
Leave a Comment
About the Writer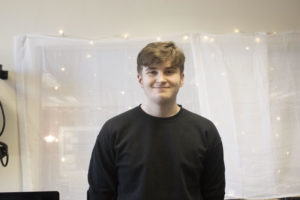 Bennett Palmer, Copy Editor
Bennett Palmer, Copy Editor

Bennett Palmer is a...