Competition Cheer Places Ninth in Nationals
From the beginning of the school year, the competition cheer team had practiced a routine they had hoped would get them to the Universal Cheerleaders Association National High School Cheerleading Championship in Orlando, Florida. Not only did their routine land the team a spot in prelims, but allowed them to place ninth among 36 other teams in their division. 
Sophomore Campbell Claflin worked with her team to perfect their routine. As it was her first year at nationals, Claflin had no idea what to expect, but she was blown away by her trip to Orlando.
"I just had no idea what to expect. But there were a lot of teams, it was very crowded…it was amazing," Claflin said.
Claflin said that she was very nervous to perform, especially at the preliminary round. However, by the time she performed at finals, her nerves had eased. 
"I was really nervous and then we got behind [the] stage and I wasn't that nervous anymore and then they [the officials] were like 'you're the next to go' and that's when I got really nervous," Claflin said.
Claflin, along with the majority of her teammates were satisfied with their prelims performance. According to Claflin, the team felt cautiously optimistic about the prelims results. 
"We felt really good about it and it was just such a great feeling because we had the confidence going into our announcement to see if we were going to make it to semifinals and a lot of us had the confidence that we would [make it]," Claflin said. "So when they announced us, everyone was just so excited they were just freaking out because that doesn't happen a lot."
According to Claflin, the team was less confident after their semifinal performance and she was nervous about making it into the finals. The team did make it into the finals, and the cheer team was ecstatic. 
"Everyone was not expecting our name to be called for finals so when they called our name it was the best moment ever," Claflin said. 
Another sophomore, Arielle Morgan, was excited about the results the team had gotten after their final performance. 
"My favorite memory was when we made it to finals and then got ninth, that was my favorite one because no matter what, we would've been happy with whatever place we got," Morgan said. 
As a sophomore, this was Morgan's first time participating in a cheer national championship. She found herself nervous, similar to other competitions, but she also enjoyed the atmosphere.
"This is my first time doing nationals so it was really fun, kind of chaotic, but it was really fun," Morgan said. 
Throughout the competition, Morgan was proud of how her team performed. She had certain expectations, but at the end what mattered most was that the team made it as far as they did. 
"I'm pretty satisfied, there was a lot that happened so I'm pretty satisfied," Morgan said. "I feel like my team is satisfied, I don't really know, but I feel like everyone's satisfied with what placement we got and everything."
Cady Koffman was a senior competition team captain on this year's cheer team. During the final performance, a flyer fell, resulting in the lowering of the team's score. Rather than dwelling on this, Koffman encouraged the team to move past this hiccup. 
"On that finals performance we did have a stunt fall which did lower our score, and that upset a lot of my teammates," Koffman said. "But I felt that it was important to look past that and realize that our routine really was really good."
Like others, Koffman was happy with the performance of her team and felt that the team had performed the best they ever had. Koffman prefered to focus on the team doing their best in the routine that they did, rather than the scoring and placements.
"I am so invested in the routine that all I care about is what I think of it, not what the judges think of it or how we get scored because all we can do is our best. So if I think we did as well as we can do then I'm happy with that," Koffman said. "As a captain, I put a lot of work into corrections and making everyone look as perfect as possible so if things look pretty good to me then I feel like I did my best."
The team's performance outweighed Koffman's expectations and goals. 
"Our team's goal was to make it to semifinals because that alone is hard to do; and we made it to semifinals, and then finals, and then we placed ninth," Koffman said. 
Leave a Comment
About the Writer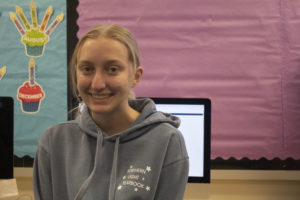 Adelaide Edwards, Staff Writer
Adelaide Edwards is a senior and Staff Writer for "The...