Diversity in the District
A deeper look at inclusion and diversity in the Blue Valley district staff.
How is the issue of inclusivity approached within the district and higher-level jobs at Blue Valley? The Blue Valley community is advocating for a more inclusive system. However, in order to do this, those who wish to diversify the Blue Valley District must collaborate with those in higher power educational positions. This includes board members, principals, and other district-level employees. 
Tyson Ostroski, the Blue Valley North High School head principal, has been involved in district-level discussions about diversity and elaborates on one of the recent efforts to encourage diversity in the district.
"The Blue Valley District has put together a diversity equity inclusion board committee made up of principals, board members, students, parents- Dr. Merrigan, the superintendent, is part of it", Ostroski said," We need real actions to get better about diversity and part of that is through the hiring process."
The diversity equity inclusion board committee is a district-level organization that consists of anyone in the Blue Valley community who is interested in diversity in the Blue Valley School District. It is an effort made by the BVUSD to improve diversity-related problems relating to the BV students and staff that were brought to their attention this summer. 
The Black Lives Matter movement, numerous protests, and increased community discussions about diversity were just a few events over the course of the summer that have created conversations about diversity in the Blue Valley School District. On June 3rd, after the recent rise of activism in the BLM movement, the BVUSD Instagram posted a message acknowledging the issue of diversity in the district. In return, current students, alumni, and BV families voiced their experiences with the lack of diversity and many microaggressions in the faculty, and they received over 1,100 public comments of backlash. 
"Feedback about microaggressions and racist behavior that students and parents in the district have gone through and that was a big point of discussion across the board," Ostroski said. "Our staff, I don't think, accurately represents the student population. We want to make sure people of color feel comfortable working at or applying to our schools and that feedback really told us a lot".
According to the Kansas State Department of Education, the BVUSD is nationally considered a diverse district, because there is no one race or ethnicity that makes up 75 percent or more of a school, yet the board fails to reflect this. Research done for the Kansas Report Card for the KSDE shows that roughly 30 percent of BVN students are POC, yet all the current BVUSD board members are not. 
Sheryl Stein, a math teacher at Blue Valley North, has been involved in the school's individual DEI board that functions similarly to the district-level board. Through monthly meetings,  students, teachers, administrators, and parents discuss ways to "better help all students at the school" in Stein's words.
When discussing the possible reasons for the lack of diversity at BV schools, Stein says that the district, while seeking out diversity, does not always get it.
"I have heard over and over that the administration at the district level wants to hire more diverse teaching staff, but those candidates are not coming to Blue Valley. Many believe that BV is very "white" and therefore don't apply here, they want to teach in a school where their students will look more like them".
Expressing that the explanation for the lack of diversity in the BV district is a multifaceted ordeal, Stein continues.
" I think [an issue is] the experiences, nationally, that many non-white students have. There is a lot of research that shows that discipline for non-white students is much higher than it is for white students. If this is the case, why would students who have negative experiences in school want to go into education?"
Junior Sydnie Sikes is an advocate who's involved in the BLM movement, and as a student at BVN, she offers her thoughts on why the lack of diversity in the BV district exists. 
"I'm not exactly sure why there aren't very many people of color in blue valley's staff… It feels like a lack of diversity in staff may stem from systematic prejudice more than anything", Says Sikes. "Another argument that likes to be made, is that there are not very many people of color that would be qualified enough for these positions. It's funny because even making this statement shows that there is prejudice there".
Stein implies that while it is undeniable that there is a lack of proper representation and diversity in the district currently, this pattern may soon change.
"So many of those potential job candidates do not represent the diversity we see now. I would expect that over the next 10 years as more and more of our more diverse students come back to Blue Valley for jobs, we will see an increase in diversity", says Stein.
Students seem to mirror this hope, which is reflected through Sydnie Sike's words.
" I think change is slowly happening. As the pockets of diverse discussions and cultural exchange grow bigger, they will encompass more people. Gradually more and more things will change, but as students, we have to facilitate and welcome it".
Leave a Comment
About the Writer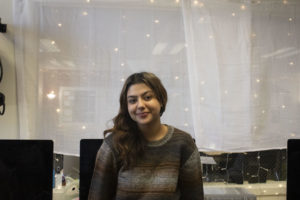 Arshiya Pant, Editor in Chief
Arshiya Pant, Co-Editor-in-Chief

Arshiya Pant is...