Five Charities You Can Get Involved In This Holiday Season
The holiday season is known as a time spent celebrating an assortment of holidays with family and friends, but it's also a great time to lend a helping hand to the local community. In the Kansas City Metropolitan area, there are numerous charities that work year round to help those in the community. Listed below are a handful of charities to get involved in this holiday season.
Salvation Army Red Kettle Campaign
The Salvation Army's Red Kettle campaign is easily recognizable by its volunteers' red aprons and bells outside retail stores across the country. According to the Nonprofit Times, the Red Kettle campaign raised 118.9 million in the 2020 holiday season. That money goes to people in need during the holiday season and throughout the rest of the year. Anyone who wishes to raise money for the campaign can volunteer as an individual, as a group or even volunteer as a virtual ringer and create an online fundraiser for family and friends to donate to. 
Volunteer at the Salvation Army here: https://www.registertoring.com/Default.aspx?
Children's Mercy Toy Drive 
For this holiday season, Children's Mercy Hospital is hosting a virtual toy drive that allows people to donate easily. These donations can be placed online and allows children to celebrate the holidays while staying at Children's Mercy. According to the hospital's website, the donations to the virtual toy drive support the Child Life Fund and will be used to purchase toys, games, crafts, electronics and more. For those who would prefer to make a direct donation to the Children's Mercy foundation, that is available on the website as well. Another option is to create a fundraiser and reach out to friends and family to support the hospital.
Donate to Children's Mercy here: https://support.childrensmercy.org/campaign/champions-for-kids-virtual-toy-drive/c356626
Kaw Valley Center Kansas Holiday Heroes  
KVC is a private, nonprofit organization that serves 30,000 children and adults in a variety of different ways each year. According to their website, KVC's goal is to enrich and enhance the lives of children and families by providing them with medical and behavioral healthcare, social services and education. The Holiday Hero program provides children and teens in the welfare system with their holiday wishes. People interested in supporting KVC's mission can sign up to donate items from a general gift list or choose to pick something from an Amazon shopping list to send directly to KVC. Gifts can be dropped off through December 17th in various locations, detailed in the link below. 
Information on signing up and donating here: https://kansas.kvc.org/get-involved/holiday-giving/
Toys for Tots 
This holiday season, the Overland Park convention center is serving as a donation center for the local Toys for Tots drive. According to the Toys for Tots website, their mission is to collect and distribute new, unwrapped toys from the community and help send a message of hope to America's less fortunate children through the gift of a new toy. In the Kansas City Metropolitan area, Toys for Tots has distributed 56,488 toys to children in need. Anyone who wishes to help the organization meet their goal can do so by donating new toys to an official donation site. If anyone is unable to donate a toy, individuals can also donate money online to their local campaign. 
Donate new toys or money to the cause here:
https://kansas-city-mo.toysfortots.org/local-coordinator-sites/lco-sites/default.aspx?nPageID=100&nPreviewInd=200&nRedirectInd=3
Children International 
Children International is an organization fighting to end child poverty. According to their website, they invest in the lives of children and youth by building the healthy environments they need to thrive and empowering them to create lasting change in their own lives and communities. Anyone intrigued by Children International's mission can use the link below to donate, or can get creative and send a card to a child living in poverty. Those who wish to make a card can start by picking their favorite design, then write a personal note and even add a photo before you send it off.
Donate and send a card here: https://www.children.org/make-a-difference/donate/christmas#DonateNow
Leave a Comment
About the Writer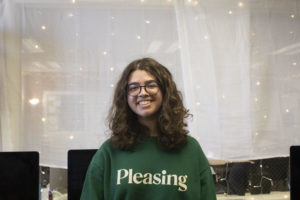 Ruby Bierman, Copy Editor
 Ruby Bierman , Copy Editor 

Ruby Bierman is a...