Local Clothing Brand Created By BVN Students Promotes Mental Health
Blue Valley North juniors Katherine Koplik and Rachel Braun wanted to work to reduce the stigma around mental health. As high school students, they know the stress many teens are under so they came up with the idea of "Rach and Kath Customs" to create a visible reminder of the importance of mental health.
Braun and Koplik officially launched their clothing brand on Dec. 22, 2021, after six months of planning and have since then expanded to custom designs. 
"We want to create a more inclusive environment for people who've struggled with mental health and sort of reduce the stigma around it," Koplik said.
What sparked this idea was their mutual love of Etsy and shopping at small local businesses. However, they noticed that a lot of clothing brands had trite and unhelpful sayings about mental health. They felt a disconnect between this kind of apparel and apparel that was appropriate for mental health. A lot of the cuter, more trendy clothing items they found tended to be full of toxic positivity or were harmful towards mental health.
"Toxic positivity is dismissing negative emotions and responding to distress with false assurances," Braun said. "Some examples of that are like 'you are okay, think about the positive, stay positive, don't think about it.'" 
Both Braun and Koplik's involvement in Sources of Strength at BVN influenced their passion for spreading awareness about mental health. They hope to open up the conversation and make it easier for people to talk about their struggles. Included on their website is a resource page for people to reach out and get help. They don't shy away from the seriousness or legitimacy of mental health challenges.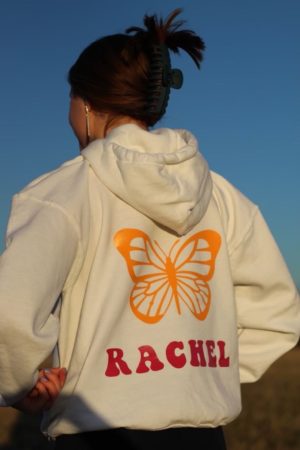 "I want people to feel surrounded by good resources," Braun said.
On their website there are a variety of sweatshirts with helpful and encouraging words and an option to customize a sweatshirt. Coming soon are more designs as well as t-shirts and stickers. 
"What really sets us apart is the small nature of it. It's all handmade by us, every single one of our designs, and we also just really care about our customers," Koplik said.
Prior to their brand release, they created an Instagram account to share the progress of RachandKathCustoms with their followers and to announce exciting news such as switching from iron-on vinyl to screen printing for their sweatshirts. Included on their Instagram is an explanation of the unique size guide they created in order to be more conscientious of people who struggle with body image.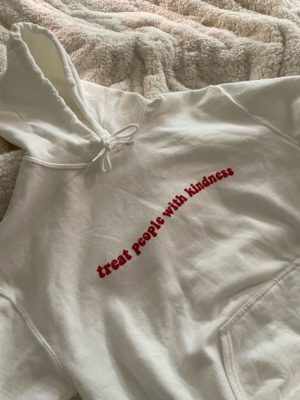 "Instead of seeing your size in there, you see a tree and the idea is that you forget what size it corresponds to, especially because a lot of people want their sweatshirts big. Also, it's just a really cute reminder of Kansas ecology and our native trees," Koplik said.
Braun and Koplik initially started with the goal of spreading mental health awareness and creating a safe place for people to reach out. They plan on maintaining this message and hope to continue their line after graduation. What started as a simple project between two friends has turned into a successful and impactful brand in their community. 
Leave a Comment
About the Writer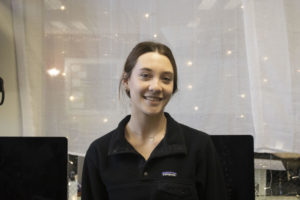 Calla Jordan, Web Editor
Calla Jordan, Web Editor

Calla Jordan is a senior...