Making All-District
Tightly holding the instrument, having a final glance at the music they have been practicing for months, musicians at BVN await their audition. Every year students in choir, orchestra, and band audition to make districts, which will decide eligibility for the state. 
Every year, the stress level varies from student to student. This can be the result of not practicing enough or stage fright. 
Stage fright is something that Junior Aadhya Bhatia has been confronted with, as she auditions for a spot in the trumpet section. 
"I'm stressed because I have terrible stage fright. I have to go in the room alone because the judge turned around me and I have to play in front of that person, Bhatia said. 
Bhatia recounts that last year was very different due to the auditions having an online submission instead of life. 
"There are no retakes, especially not being virtual. You go in the room, play your music, come out the door, and whatever happens, happens. There's nothing that you can do about it," Bhatia said. 
Knowing the competition in the violin section, Sophomore Joshua Shin is also stressed and agrees that last year was much easier. However, he remembers having more stress last year. 
"I'm stressed a little bit because, but I did it last year so I'm a little more ready. Last year at state auditions I practice pretty well but I messed up a lot at the actual audition," Shin said. "So I think just the nerves at the actual audition are probably the hardest part."
Anxiety at the moment of the audition is less of a problem for veteran Riley McConnell as she enters her 4th audition year. Being used to the process, she enjoys the experience. For McConnell, the hardest part is finding the time to practice as well as the sight reading portion of the audition. 
The hardest part is probably going to be the sight reading portion of the audition because that's on the spot, and it's hard to practice for. Every year. It can be harder or easier. It's also hard to find the time every day to prepare for it, McConnell said. 
McConnell recommends that all students should audition as it helps expand their passion. 
"My advice is always to try auditioning because I know a lot of people don't want to because it sounds scary. it's just it's really fun and it's easy to do because it is a blind audition so you don't have to see anyone," McConnell said.  "I think it's a good experience to further your love for music."
Leave a Comment
About the Writer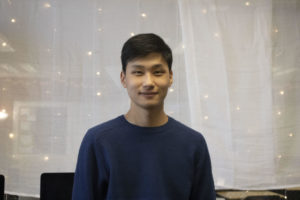 Sejin Hahn, Web Editor
 Sejin Hahn, Web Writer 

Sejin Hahn is a Junior...