Mask Choice 4 Kids Rallies Outside BVSD Board Meeting
The local Johnson County group Mask Choice 4 Kids rallied outside of the Blue Valley School District's board of education meeting on Monday, September 13. The speakers for this rally included Mask Choice 4 Kids spokesperson Tana Goertz and Blue Valley North Junior Peri Schumm. 
The group was founded by Jacob Cleary, 19, a former student in Blue Valley School District. Last Tuesday, September 7th, Goertz took over as spokesperson. 
Goertz, a senior advisor of former President Trump's 2015 campaign team, has been using Mask Choice 4 Kids to inspire students. 
"My role is to provide motivation for students who don't want to go to school anymore," Goertz said. 
Goertz said that the group is intended to provide community to students who felt alone. This is organized by students wearing Mask Choice 4 Kids t-shirts every Wednesday and pulling down masks during their 1st hour of every Tuesday, as a way to "peacefully disrupt the educational system [in order] to see change." per The Shawnee Mission Post 
Some may feel concerned about students contracting COVID-19 as a result of not wearing their masks on Tuesdays, but Goertz said that the movement wasn't about the effectiveness of masks. 
"It's not about the masks working or not working, it's about providing a community for students who feel alone," Goertz said. "In my opinion, they [masks] don't work." 
As the rally continued, Goertz mentioned that Mask Choice 4 kids is meant to be a peaceful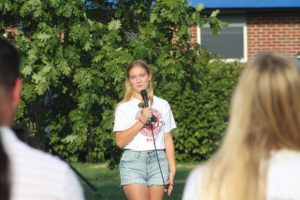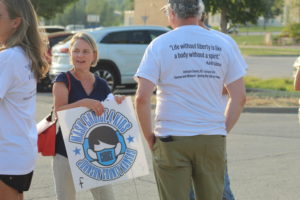 group and that she was speaking at a peaceful rally. 
"We're not saying 'Go protest, go crazy, go spit in people's faces,' We're saying 'Let's have an honest debate about what is really happening here," Goertz said. 
BVN junior Peri Schumm also spoke at Monday evening's rally. She spoke about feelings of isolation with her receiving an exemption for health reasons to not wear a mask last school year. 
"I got a health exemption to not wear a mask last year, and the school didn't like that," Schumm said at the rally. "They wanted to put me in a plexiglass cage in the back of the class."
This year, Schumm received a health exemption again, allowing her to not wear a mask. 
"This year I am one of few people at my school [BVN] who does not wear a mask," Schumm said. "I have received some backlash, but I wouldn't trade it for the world." 
Goertz continued on to say that people who follow Mask Choice 4 Kids are strong, and leaders who peacefully disturb the school setting. 
"These [people] are the lions among sheep who will not be told what is best for them by someone else," Goertz said. "We're rallying to let people know that we're here and we're not going away."
Mask Choice 4 Kids intends to eventually have chapters in all 50 states.
Edited for clarification, 8:30 AM, 9/14/21
Fact Checked: 9:14 PM, 9/15/21
View Comments (1)
About the Writer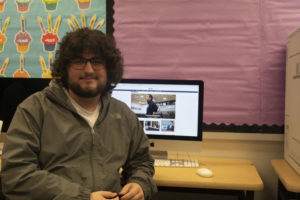 Max Wolf, Web Editor
Max Wolf is a Senior and Web Editor for "The North...