Meet the 21-22 Freshman Student Council Officials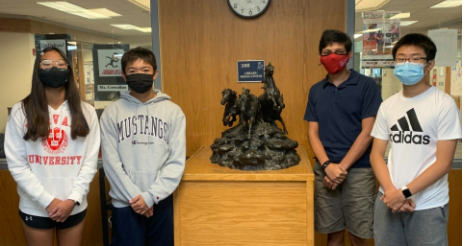 Freshman Student Council results were announced on Tuesday, September 7th. They [Freshman Student Council members] have many plans to guide the freshmen student body toward a great high school experience.
What are your responsibilities and plans for this year?

President Athan Tran (Inside left):
"As the president, I want to make people excited to come to school every day and represent the freshman class at BVN."
Vice President Paritosh Patel (Inside right):
"I'm going to focus on more of the behind-the-scenes stuff in StuCo. I would like to encourage more student involvement in activities and more school spirit."
Secretary Micaella Gamboa (Outside left):
"I take notes at meetings and keep everything organized for the Student Council, and I'd like to see more involvement at BVN apart from just football games."
Treasurer Max Zhang (Outside right):
"I manage the funds for StuCo and this position involves math, which I enjoy doing. I also want to see more school spirit, similar to what everyone else said. Like more school events, assemblies, and spirit days."
What do you enjoy doing in your free time?
President Athan Tran: 
"I'm a competitive swimmer for the Kansas City Blazers and a proud Marching Mustang percussionist at BVN."
Vice President Paritosh Patel: 
"I play the cello in the school orchestra and I like to listen to music."
Secretary Micaella Gamboa: 
"I run cross country for North and I enjoy reading and learning new languages."
Treasurer Max Zhang: 
"I plan to swim for BVN in the winter this year and I play the trumpet for the BVN Marching Band."
Leave a Comment