New Board Members Sworn In at Jan. 10 Meeting
With modern issues such as masking, banned books and critical race theory concerning the Blue Valley Schools community, an election for three new members was meaningful for many of its residents. Issues such as the much mask mandate became the deciding factor for many residents, and campaigns for Blue Valley School Board candidates centered around these mandates gained lots of traction. 
Kaety Bowers, Gina Knapp and Jim McMullen are the candidates who all emerged victorious in the school board elections last November. These new members for the Blue Valley School Board will be sworn in come Jan. 10. 
So, who are these candidates?
Bowers is a mother of six children in the Blue Valley School District and has been living in Overland Park since 2009. 
Bowers has dealt with homelessness and domestic abuse issues in her past, leading to her focus on women's empowerment and her kids' lives above all else. She owns a tattoo business in the Kansas City area and is very involved in the surrounding community. Bowers has been a large supporter of an optional mask mandate and has been endorsed by the 1776 Project.
Gina Knapp is a mother of three, all of which attend Blue Valley Schools. 
One of her children is a student in special education programs, and she has made a point to include and work with special education departments. Knapp has also prioritized safety during the pandemic by social distancing and wearing your mask in school and mental health awareness for students in the district. 
Jim McMullen is a father of five children, four of which have attended Blue Valley Schools.
He is a former teacher who now owns an investing firm in Overland Park, KS. McMullen is a strong supporter of small class sizes and teacher compensation. He has pushed for the elimination of "Identity-Based" politics, such as racial and identity issues being taken out of the equation of schools. McMullen has also made the news for his controversial comments on social media.
Bowers, Knapp, and McMullen will be sworn in at the Jan. 10 board meeting. Topics such as the new optional mask mandate will be discussed along with the induction of the new board members.
Leave a Comment
About the Writer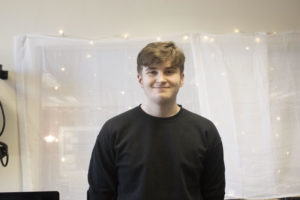 Bennett Palmer, Copy Editor
Bennett Palmer, Copy Editor

Bennett Palmer is a...