North Time Suspended Indefinitely
 Last Monday, Principal Tyson Ostroski announced over the intercom that there will no longer be Friday North Time until further notice.  
According to Ostroski, Friday North Time has been taken away due to frequent instances of students not respecting the time. The school has seen an increase in trash around the building every week along with 'childish' behavior among students. 
 "It wasn't just one day or one incident, but a culmination of seeing more trash around the building and people just not picking up after themselves. Also, we had a lot of behaviors of students who were just running around, and the level of immature behavior creates an unsafe situation," Ostroski said. 
Although most students were not on board with this announcement, many acknowledge that the clubs took the biggest hit. Since most clubs had their meetings during North Time, they now have to find a replacement to have their meetings. 
Krivi Tadakamalla, senior president of the Badminton Club, is unhappy about losing North Time which is the only time for the club to meet. 
"I'm actually really upset because Friday was the only time we can meet. If we lose Friday North Time, then we have to postpone it an entire month and then make one [meeting]," Tadakmalla said. 
According to Tadakamalla, the biggest challenge for the club would be gathering the members in one location.
"I think [the biggest challenge is] just getting everyone in one place because you have to deal with giving out passes and setting up the equipment," he said.
Jason Smajda, teacher sponsor of the Political Science club, believes even without losing the North Time, this school year has damaged clubs due to limited time available. 
"Honestly, losing the Friday North time, all it does is take away that one little window of time, which was a good little window of time, but that was the only window of time all week we really had any. I feel like clubs were half dead anyway, because it was so hard to find times to meet. You had to get creative and innovative to make clubs work. I guess my point is, why did we only have that one little window to begin with?" Smajda said. 
The administration addressed the issue by stating that clubs could still meet during the Academic Support Time on Tuesdays and Thursdays. However it may not be as practical as it sounds. 
Avi Sliverberg, senior leader of Cinema Club, mentioned that during AST, sponsored teachers will have to deal with both the students in the class, and the members. 
"Sponsored teachers have classes in there at the same time and not everybody in those classes is going to want to be in the club. I know that my sponsor, Mr. Huette, has an expanded room and so there's other areas I can join the club, but I know that not every teacher has a room that big and has that privilege, Sliverberg said."
The absence of North Time has taken a toll on clubs. In the meantime some teachers are discussing finding a replacement for North Time for clubs to meet. 
Social Studies teacher Jason Jones, along with other teachers hosted a meeting to discuss finding alternative times for clubs. One idea mentioned was making AST a time for clubs to meet one of a few times a month. 
"One idea that's been brought to the table is to have one or two times a month, where academic support time would be a time where students could attend club meetings," Jones said. 
There was also a discussion about making clubs mandatory for everyone. 
"Maybe make it [clubs] mandatory, where everybody has to be a part of a club to try to get kids more involved in school activities. The idea would be that they would pick a club, attend that club for a semester, and then next semester, they can choose another club," Jones said.  
Nothing has been decided for sure, according to Jones. 
"It also has not been tabled and it's still something we're discussing. We just want students to be involved because we think it makes school more meaningful and gets teachers and students interacting outside of the classroom," Jones said.
Leave a Comment
About the Writer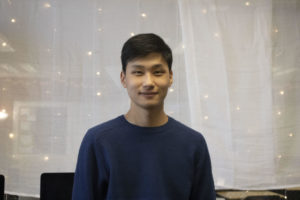 Sejin Hahn, Web Editor
 Sejin Hahn, Web Writer 

Sejin Hahn is a Junior...