Now Playing: Red (Taylor's Version)
"Red (Taylor's Version)" was Taylor's Swift's second re-recording of her albums, after "Fearless (Taylor's Version)." After dropping several teasers, Swift announced on June 18, 2021, that she would be releasing the album on Nov. 19, 2021. Later, fans learned this would be a 30-track album, including the much-anticipated 10-minute version of "All Too Well," a fan favorite. On June 18, Swift announced the album would be released a week earlier, on Nov. 12. "Red" was my favorite album growing up, so this re-record makes me feel extremely nostalgic and very happy. It was all I hoped it would be and more. Taylor left us (and by us, I mean Swifties) all on the edge of our seats by not releasing any singles for the album, or any sneak peeks, as she did with the previous re-recording. She did, however, hype up the album by going on late-night talk shows the week of its release. In total, the album is 2 hours and 10 minutes long, so it's quite the commitment to listen to. Like many Swifties, I was up at 11 p.m. on Friday to experience the album for the first time all over again. 
Track One: "State of Grace (Taylor's Version)" (7/10)
This is the opening to the album. After listening to the lead singles on the radio, this was the first song I listened to when I bought the "Red" CD from Target in fourth grade. The intro is iconic and is extremely similar to the old version of the song. Immediately, you can hear the growth in Swift's voice. Much of this song is in her lower register, which fits for her maturing voice. While most of the album is full of heartbreak and recovery from a hurtful relationship, this song represents the first part of a relationship, the falling in love. In this song, Swift describes the fear, the excitement and everything else that comes with falling in love. 
Track Two: "Red (Taylor's Version)" (7/10)
The title track holds a lot of weight and is expected to set a precedent for the album. This one definitely lives up to the hype. "Red," the song, shows Swift looking back at this relationship and going through the emotions she's feeling, reflecting on what love in that relationship felt like. She describes losing him as blue and loving him as red — giving the album its name. Lyrically, the song doesn't consist of much variety, but it is effective in its delivery. Out of all of the songs in this new album, this song sounds most similar to its older version, but not in a bad way. Of course, Swift's voice sounds mature and less breathy, but other than that, it is very similar to the 2012 version.
Track Three: "Treacherous (Taylor's Version)" (8/10)
The intro and the rest of the music is very similar to the old version, but the maturity in her voice is immaculate. There are certain parts that sound different, which is really cool to notice — just the slight tone differences in her voice or how the instruments sound just a little different than before. I love listening to this song because it is one of the songs on the album that is slow and sad, but the meaning is simply cautious. Placed at the beginning of the album, it describes the beginning of the relationship, when it seems treacherous to move on. Just like how it's at the beginning of the album, it's at the beginning of the relationship, and it's seeming treacherous to move on. The lyrics in this song offer intense imagery and, as a listener, I can really picture myself in the song, in the relationship. 
Track Four: "I Knew You Were Trouble (Taylor's Version)" (7/10)
The guitar in the intro is evidently different, and her voice is smooth throughout the entire song. The most noticeable change in the song is during the chorus at the simple lyric, "oh." In Taylor's Version, it is sung more, and sounds more like an emotional cry, while in the 2012 version, it is more of a high-pitched yell. No hate to the 2012 version, I loved it for nine whole years, but this simple change in "Taylor's Version" adds so much more emotion to the song, and I really appreciate it. The song is strategically placed after the breakup in the album, and simply by the name, the audience can tell what it's about. The cool thing about this song, and this topic in general, is that no matter what type of relationship it is — a friendship, a romantic relationship or a family relationship — I think most people can relate to this idea of knowing that this person just wasn't a good idea. But, in the previous song, "Treacherous," we see Swift struggling with this concept of wondering if she can take this risk with a man who seems complex and dangerous, and here we see she made the wrong decision. The conflict in that relationship was that the risk drew her in (as we hear in "Treacherous"), but ultimately caused the relationship to fail. I personally love that Swift puts Treacherous right before this song, just so that listeners can see that she knew he was trouble. It's a subtle trick, but I think about it a lot. 
Track Five: "All Too Well (Taylor's Version)" (10/10)
This song is just amazing. The best track five in Taylor Swift history. It is five whole minutes of pure gold. Taylor's version is even better than imagined. The instruments in it are softer, yet more powerful throughout the song. Swift's voice also just sounds completely effortless and angelic — it's incredible. The lyrics depict powerful imagery, continued throughout the entire five minutes of the song.  Even though she is in a happy relationship, she was able to add raw emotion to this song, which I find quite impressive. If you did not already know, this album is [rumored to be] about Swift's relationship with Jake Gyllenhaal. This song is perhaps the most infamous on the album, especially among Swifties, and depicts the relationship between Gyllenhaal and Swift. To truly understand the song, you just have to listen to it — although I would recommend you listen to the 10-minute version (Track 30). It's a lyrical masterpiece and is seriously amazing.
Track Six: "22 (Taylor's Version)" (9/10)
This is such a bop and is extremely danceable. It sounds pretty different from the 2012 version, even though she didn't change much, and I think the difference is just in the smoothness in her voice, especially in the high notes. It is evident that she has a lot more control over her voice than she did when she originally recorded "22," and although both versions are wonderful, "Taylor's Version" just has a special something about it. The nice thing about this song is that it takes a break from somber songs and the songs about her relationship and just celebrates her age. Overall, it's a great song that anyone can jam to.
Track Seven: "I Almost Do (Taylor's Version)" (7/10)
This one sounds very similar for the most part, with only subtle differences between the 2012 version and Taylor's Version. Like the rest of the songs in "Red (Taylor's Version)," her voice sounds more mature, which is to be expected. Overall, the song is set after a relationship has ended and is about wanting to contact the person you used to be in a relationship with. Similar to many of Swift's songs, I can picture this song vividly and can imagine myself in that scenario. 
Track Eight: "We Are Never Getting Back Together (Taylor's Version)" (6/10)
Alright, Swifties, don't come for me on this one, but I do have a slight constructive criticism for blondie. So, we start off with the song sounding slightly different than the 2012 version, with minor instrumental and vocal changes here and there. And then we get to the "we-e." If you don't know which "we" I'm talking about, it's the two-syllable one at the end of each chorus. In the 2012 version, the "we-e" almost faded so that it wasn't as loud as the rest of the lyrics and it definitely fits into the song and was pleasant to the ear. "Taylor's Version," and I mean this in the best way possible, was a bit of a shock the first time I heard it, simply because of just how much it stood out. It is super high-pitched and just loud. It could be that I am just used to the 2012 version, and need time to adjust to this not-so-subtle change, but it's the only change that I haven't enjoyed. Again, no hate, it just surprises me every time that I hear it. Other than that, the song is an absolute classic. I loved that she still did all of the speaking parts, it was so fun to hear the difference between 2012 and 2021 Taylor's speaking voice. It was initially released as a single, so it's extremely popular, and rightfully so. As the name implies, the song is about not getting back together with an ex. So, although it's contradictory with the track before it, it is likely relatable for most that have been in a relationship.
Track Nine: "Stay Stay Stay (Taylor's Version)" (8/10)
Overall, the song sounds similar to the 2012 version, but the instruments sound a little different and the clarity in her voice is insane. Also, I have to note that at the end she does the little laugh and says "that's so fun," which is just amazing because we can assume that it was just an unwritten part that was recorded in the 2012 version, but she kept it in "Taylor's Version." I just love it. This song is also special because it doesn't exactly fit with "Red," in that it isn't about heartbreak or a troubled relationship. It's a super sweet song, and very easy to dance to, might I add. It's also very cool to hear Taylor sing it now, when she's in a happy and stable relationship, unlike the one she was in when she wrote "Red." 
Track Ten: "The Last Time (feat. Gary Lightbody) (Taylor's Version)" (9/10)
The biggest difference in this song is both of their voices, which is honestly to be expected. Gary Lightbody is the lead singer in the band Snow Patrol and was originally featured in this song in 2012. His voice sounds different than it did in the 2012 version of the song but sounds a lot like it does in his other Snow Patrol songs. Their two voices harmonized nicely and were very smooth. The background instruments had only subtle changes, not enough to really note. The subject of the song is kind of sad, but I love that Swift decided to make it a duet, so you can really see both perspectives. The song is set after the end of a relationship, when both people keep wanting to crawl back to each other, insisting it's the last time.
Track Eleven: "Holy Ground (Taylor's Version)" (7/10)
This is literally such a good song. The instruments actually sound very similar to the 2012 version, but her voice doesn't break at all in "Taylor's Version." She probably used to let her voice break on purpose, because it sounded really good, but now that she has more control over her voice, she can reach that higher register without it breaking. This song reflects back on a relationship, mostly looking at the good. Swift is looking back positively on a relationship, which is different from most of the other songs in this album.
Track Twelve: "Sad Beautiful Tragic (Taylor's Version)" (10/10)
If you don't shed a tear after listening to this one, there's something wrong with you. Taylor's voice is pure perfection throughout the entire song. The 2012 version was great, but "Taylor's Version" just hit different. The song is literally about a sad, beautiful, tragic love affair. The lyrics in this are absolutely insane and very poetic. It's a must-listen, for sure, especially if you're getting over a breakup. 
Track Thirteen: "The Lucky One (Taylor's Version)" (9/10)
First, I would like to note that this is track thirteen and it's called "The Lucky One," Miss Swift does nothing by accident ladies and gentlemen. There are only subtle differences between "Taylor's Version" and the 2012 version of this song, which I enjoy because it's a very good song to begin with. Although personally, I cannot relate to this song, I can really picture myself under a spotlight position because of this song. It describes a person who loses herself because of fame. It captures the idea that society views celebrities as lucky, when really their fame has made their lives extremely difficult to live.
Track Fourteen: "Everything Has Changed (feat. Ed Sheeran) (Taylor's Version)" (9/10)
This is such a sweet song, and Ed Sheeran and Taylor's voices mesh so well together. Both of their voices sound very similar to the 2012 version, and there are only small changes in the instruments. The song as a whole sounds really good and I love it. It perfectly depicts love at first sight, and even though it's a cliché, I think lots of people can relate to meeting someone and knowing, or hoping, that everything has changed.
Track Fifteen: "Starlight (Taylor's Version)" (6/10)
This song is super upbeat and very fun. "Taylor's Version" sounds fairly similar to the 2012 version, aside from some very subtle changes. This song is near the end of the regular edition of the 2012 version of "Red," so I really like that it's an upbeat song, rather than the other heartbreaking songs in this wonderful album. It's almost similar to "22," where it's a fun song about living your best life. It's a nice change from the rest of the album, but it doesn't have a deep meaning and the lyrics are slightly bland. 
Track Sixteen: "Begin Again (Taylor's Version)" (9/10)
"Begin Again" is definitely the sweetest song on the album and I love it so much. "Taylor's Version" differs only a little from the 2012 version, and the most noticeable differences are in the intro. One of my favorite things about this song is the placement of it on the original album: the regular edition of the 2012 version only had sixteen tracks, this being the last track. It gives a beautiful closure to the album, showing that after this horrible mess of a relationship there is still hope for a new and better one. The lyrics are incredibly poetic and tell the story of a woman finally being treated right, after being treated like dirt by the man before her. It's the song on "Red" that everyone wants to relate to and deserves to relate to (except Jake Gyllenhaal, you suck).
Track Seventeen: "The Moment I Knew (Taylor's Version)" (9/10)
Just like many of Taylor's Version's songs, the only major difference between this and the 2012 version is the smoothness and maturity in her voice. The song tells a story of someone not showing up to an important birthday party (In the 10-minute version of "All Too Well," we learn that it was her 21st birthday party). Swift describes being surrounded by close friends, but not the man who said he'd be there. It's honestly a really sad song, because it shows how she relied on this man (yucky Jake) to be there for her, and he didn't even care to show up. All she wanted was this one moment with him, but she never got it. The best, and most real, part of the song was the conclusion: "You called me later/ And said, 'I'm sorry, I didn't make it,'/ And I said, 'I'm sorry too,'/ And that was the moment I knew."
Track Eighteen: "Come Back…Be Here (Taylor's Version)" (9/10)
In this song, you can really hear the maturity in Taylor's voice. Her voice sounds cleaner in both the higher and lower notes. It is evident that she has much more control over her voice than she used to. The song itself is beautifully written and captures a long-distance relationship. It's honestly heartbreaking, especially for a song that was originally on the deluxe version.
Track Nineteen: "Girl at Home (Taylor's Version)" (7/10)
Out of all the original songs, "Girl at Home" is by far the most different. Although the song was pop originally, "Girl at Home (TV)" fell further into the pop genre compared to the original. It sounds almost synthesized, to the point where her voice sounds like it's played over a synthesizer too. She definitely did something different with it, and it was a cool idea. I'm not sure if I like Taylor's Version or the 2012 version better yet, but I love that she tried something different with it. The topic of the song isn't sad as much as it's sassy. She basically says, "Don't look at me, you've got a girl at home." 
Track Twenty: "State Of Grace (Acoustic Version) (Taylor's Version)" (7/10)
Once again, her voice is much stronger in this version and less breathy. It's a strong song, and serves as both an amazing opener and closer to the album, as it is the last song on the 2012 deluxe edition of "Red."Although I like the acoustic version, I don't understand the meaning behind making it acoustic, because it's not exactly a super sad song. A song like "Holy Ground" would serve very well as an acoustic song, but I also love what she did with this one. 
Track Twenty-One: "Ronan (Taylor's Version)" (10/10)
Don't even get me started on how much I've cried to this song. You have no soul if this song doesn't hurt you. Ronan wasn't on "Red", originally, but rather a single that was released in 2012 as a part of the Stand Up to Cancer fundraisers. The song is based on a tragic true story of a young boy who died of cancer. It is truly heart-wrenching, and an illustration of what it is like to lose a loved one. 
Track Twenty-Two: "Better Man (Taylor's Version) (From the Vault)" (10/10)
If this song sounds familiar, it's because you've probably heard the country band Little Big Town sing it. When Swift originally wrote the song and didn't include it on the album, she gave it to Little Big Town, but now she has her own version and I am absolutely loving it. This song perfectly portrays what it is like to leave a manipulative relationship, but wishing the one you loved and left was better. Anyone who has been in a manipulative relationship can easily understand this song and feel the meaning behind it. Knowing you need to leave a manipulative relationship is extremely sad and painful, and this song is just about wishing that the one you had to leave was "A better man." Every lyric in this song is so powerful and is worth the whole five minutes of listening.
Track Twenty-Three: "Nothing New (feat. Phoebe Bridgers) (Taylor's Version) (From the Vault)" (10/10) 
Aside from "All Too Well (10 Minute Version) (Taylor's Version) (From the Vault)" this is probably my favorite vault track at the moment. Just by the way it opens, you can immediately tell it's going to be a good song. Phoebe Bridgers was the perfect artist to collaborate with for this song. This song is similar to "Folklore's" "Mirrorball", in that it illustrates how the female artist struggles to keep the attention of her audience. It's both devastating and beautiful that she wrote this in her early 20s, when she was in the early stages of her career. Since then, Swift has put out seven more successful albums. It's interesting to see her re-recording her old albums, the opposite of doing something new, and still being extremely successful.
Track Twenty-Four: "Babe (Taylor's Version) (From the Vault)" (8/10) 
If you've heard this song before, it's because it was originally performed by country band Sugarland. Personally, I like Taylor's Version better, but I'm not here to compare the two. "Babe" is a really fun country song that is pretty danceable too. The song reflects on a relationship and blames its unhappy ending on the other person.
Track Twenty-Five: "Message in a Bottle (Taylor's Version) (From the Vault)" (5/10)
I'm not going to lie, this song definitely threw me off-guard the first time that I heard it because musically it's unlike something that Taylor has written before. It is a very childish type of pop and almost reminds me of Hannah Montana, in a good way of course. It's a fun song that is super pop-y, but I can see why it wasn't put on the original album. I do like the lyrics in it, though.
Track Twenty-Six: "I Bet You Think About Me (feat. Chris Stapleton) (Taylor's Version) (From the Vault)" (9/10)
This vault song takes us back to Taylor's country roots, and in the best way possible. The song features Chris Stapleton as a background vocalist, providing a nice complement to Taylor's voice. The lyrics are pure genius, telling an ex that she was perfect for him, but he was too snotty for her. She paints their differences in a graceful way and gives the Swifties subtle hints that she's talking about their favorite "Red" villian, Jake Gyllenhall. 
Track Twenty-Seven: "Forever Winter (Taylor's Version) (From the Vault)" (9/10)
If you're looking for a deceivingly sad song, this is the one for you. Although we don't exactly know who Swift is talking to in this song, she illustrates loving someone with mental health issues. She is desperately trying to fix him, telling him it will get better and that she would fall to pieces if he leaves. It's a tragic song and likely relatable for many listeners.
Track Twenty-Eight: "Run (feat. Ed Sheeran) (Taylor's Version) (From the Vault)" (9/10)
This is such an elegantly sweet song, and once again their two voices pair so well together. When they harmonize, it's so beautiful. I love that this is a duet, especially between Sheeran and Swift, almost as if it's a sequel to "Everything Has Changed (Taylor's Version)" and their relationship is still successful. It's this magical thing, it creates this perfect ending to a perfect story. 
Track Twenty-Nine: "The Very First Night (Taylor's Version) (From the Vault)" (6/10)
I'll admit, my first impressions of this song were not great, but it's growing on me. It's more on the pop-side of the vault track, but I'm loving the variety. This song is mostly about missing someone from a past relationship and the topic leans toward the sadder side compared to the music it's paired with. Regardless, it gives you the feeling that you should be dancing and singing along to it.
Track Thirty: "All Too Well (10 Minute Version) (Taylor's Version) (From the Vault)" (13/10) 
Ladies and gentlemen, Swifties around the world, this is the song we've all been waiting for. It's the ten-minute version of perhaps Swift's most iconic song; and let me just say, it did not disappoint. It starts with the same intro as the five-minute version, though the instruments sound somewhat different. Then, a little after two minutes in, there is the first lyric change, and Taylor comes out swinging. These lyrics are powerful. I literally fell over onto my bed the first time I heard them. This song is labeled as explicit, so listeners beware, this is where the f-bomb is dropped. Sadly, this is the only time it's dropped. She continues the song by going back and forth between old lyrics and new lyrics. If you thought the five-minute version of "All Too Well" was good, this will knock your socks off, and fuel your hatred for Jake Gyllenhaal. Every single line and lyric in here was carefully and beautifully written with so much meaning, and it doesn't go unnoticed. It's literally a work of art. The fact that a song can tell the story of a relationship from start to end, and vividly, is absolutely incredible. If I only had ten minutes to live, I know exactly what I would do with that time, and I wish I was joking. This is definitely my favorite song on the album and in her entire discography. If you haven't listened to it, or still like Jake Gyllenhaal, please give it a listen. It's crucial to watch the masterpiece that is the "All Too Well" short film, which is truly a work of art.
Leave a Comment
About the Writer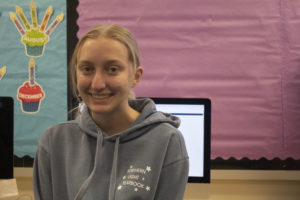 Adelaide Edwards, Staff Writer
Adelaide Edwards is a senior and Staff Writer for "The...