Olivia's Oscar Opinions + Predictions!
As a guest writer, Senior Olivia Miller shares her predictions, opinions, and hopes for the Oscars. See how she does by tuning in to the awards' program tonight, at 7 PM CST.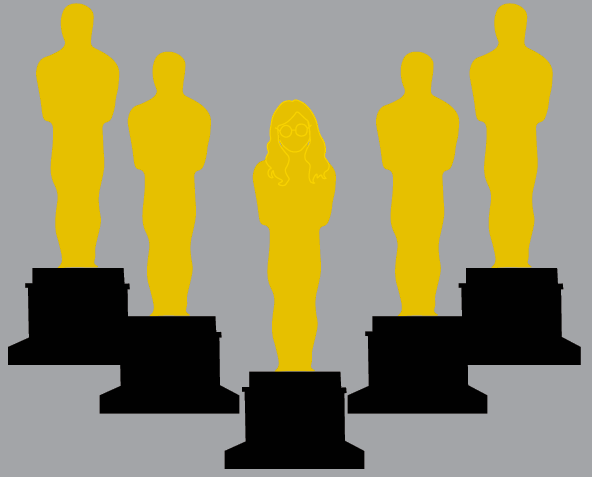 In my quest to become the most prepared for any awards season yet, I am attempting to watch every nominated movie I can from the three streaming services I can afford: Disney+ (because Disney), Hulu (because it comes with the phone plan), and Netflix (just for kicks). This means I can't tell you much about the nominees not on these platforms, except from a few select trailers I have watched and what I have heard. The following is a list of the films I have watched and where to stream them, along with a short summary for fun, and my opinions. You can click here to find the complete list of Oscar nominations for 2021. 
"Mank"- Netflix
Just like in "La La Land" and "Once Upon a Time in Hollywood," the Academy of Motion Picture Arts and Sciences has proven they love a movie about themselves in the incredible number of nominations "Mank" has received (10 by the way), including Best Picture and Directing. This film chronicles the writing of the famed "Citizen Kane" by Herman Mankiewitcz- Mank- amidst the backdrop of the Great Depression, political turmoil, and the remaining decadence of the Roaring Twenties. 
There are many intense characters portrayed here, but you'll have trouble knowing who is who because they are all white men in a black and white movie. One of whom is Upton Sinclair, author of The Jungle and California Democratic gubernatorial candidate, who is discussed throughout the film, but only portrayed in one scene. I don't know how Netflix did it, but they brought Bill Nye the Science Guy out of acting retirement to play Sinclair. I can't underscore the astonishment I felt once the camera panned to Nye's face; I think I actually shrieked from shock. I didn't even know he was a legitimate actor, considering most of his appearances these days are begging people to take action against climate change. His addition to the film is fun, but just so surprising.
"Mank" is also nominated for production design and cinematography- rightfully so, I believe. The movie is composed of sets of old Hollywood that look genuine but feel fake, just like real movie sets. As you watch, you can sense something about the buildings and walls, maybe their impermanence or Styrofoam feel. This movie was made to resemble old films from the period, and it succeeded. The scenes are clearly defined by slow blackouts, and cue marks, also called cigarette burns, periodically flashing in the upper-righthand corner. 
In all its advertising, Netflix won't let you forget they nabbed Gary Oldman in another award favorite. For a man nominated for Best Actor, you would think he wouldn't be laying horizontally for half the film from a broken leg injury. In my opinion, his performance in his most recent critically acclaimed film "Darkest Hour" was far better because the script gave Oldman more emotions to portray Churchill.
Amanda Seyfried, who I haven't seen since "Mamma Mia," is nominated for Best Supporting Actress. In this movie, she is more of a supporting, supporting actress, because the film expectedly focuses on its title character. She portrays a Brooklyn actress in a fantastic wig and costumes but does not do much even as a side character. 
Overall, not a great amount happens in this movie, but it is incredibly interesting to watch, even just for its fairly accurate (I believe) depiction of the Golden Age of Hollywood.
---
"Trial of the Chicago 7"- Netflix
This film also leads the pack with its nominations, though slightly behind "Mank" at six. I have watched this movie twice actually because I discovered it with my parents through scrolling on Netflix (we love a good, based on a true story movie), and then we forced my sister to watch it basically a week later because we loved it so much. 
"Trial of the Chicago 7" is nominated for Best Picture, Original Screenplay, Original Song, Film Editing, Cinematography, and Actor in a Supporting Role. It chronicles the court proceedings of the 'Chicago 7,'one of the most notorious trials in American history, in the aftermath of what was supposed to be a peaceful protest of the Vietnam War turned into a violent clash with the police at the 1968 Democratic National Convention (relevant much?). However, this isn't your average movie trial, as it isn't told linearly, which I loved. It doesn't tell you the entire story all at once, and it doesn't just focus on court proceedings. The movie starts at the beginning of the trial, and slowly reveals the events of the summer of 1968 as they really happened, not as the government prosecutors tell it. 
This movie has everyone: Eddie Redmayne (with an American accent for once), Joseph Gordon Levitt, Michael Keaton, Mark Rylance, and Sacha Baron Cohen, who is nominated for Best Supporting Actor. Cohen portrays Abbie Hoffman, and he bears a striking resemblance to the real man, as revealed by real-life pictures at the end of the movie. The screenplay, written by director Aaron Sorkin, is actually predominantly based on actual court records of the proceedings, which as you watch, will actually shock you. The trial, politically motivated, is unfortunately pre-decided, but the messages the defendants make still have modern-day implications. As I've said, this film is amazing. It deserves all the awards it wins.
---
"Ma Rainey's Black Bottom"- Netflix
This movie is actually based on a play of the same name, which I did not know as I started it. I only figured it out after wondering why one particular scene seemed to be never-ending. Because it's a play, that's why. As one of Chadwick Bozeman's last performances along with "Da 5 Bloods," his performance gives the film a somber and melancholic feel. Bozeman is actually nominated for Best Actor in a Leading Role, a surprising contrast from his nomination and win of Best Supporting Actor at the Golden Globes for the same character. Viola Davis as Ma Rainey is nominated as well for Best Actress. This movie is nominated for Costume Design and Makeup and Hairstyling for its amazing portrayal of characters in Roaring Twenties Chicago. The brilliant acting of Viola Davis as singer Ma Rainey and others as her musicians and music producers makes this play turned movie feel real.
---
"The United States vs. Billie Holiday"- Hulu
Another based on a true story movie, this film received only one nomination, that of Best Actress for Andra Day. She portrays legendary singer Billie Holiday- yes, the one from Clueless ("What are you listening to?" "Billie Holiday" "Oh I love him."). 
Holiday's provoking song, "Strange Fruit", not so subtly written about a Southern lynching, is beloved by her fans, but not so much by the federal government, which begins a campaign to convict and frame her for her drug addiction to force her to stop singing it. 
Every time Holiday sings in the movie, it is actually Day's voice, which sounds remarkably similar. Even as Holiday lay dying from liver cirrhosis from excessive alcohol consumption in the hospital, the government claimed to have found 'evidence of drug use in her room and chained her to her bed. 
This movie is a heartbreaking story about racism, prejudice, addiction, love, friendship, abuse, and resilience. I really hope Andra Day wins Best Actress, because she truly deserves it. Day gave everything she had into her performance, and you can tell.
---
"Nomadland"- Hulu
Landing six nominations, including a historic nomination of Chloé Zhao as the first woman of color to be nominated for Best Director, along with nominations for Best Picture, Best Actress, Best Adapted Screenplay, Film Editing, and Cinematography, this movie has it all, except for a plot (but that's not a bad thing in this case). 
Frances McDormand plays Fern, a 'nomad,' one of a group of Americans who have left their traditional homes and mainstream society for the freedom of life on the road. The movie is based on a book, but the story of Fern is a unique one written for the film. The character of Fern actually echoes McDormand's life in a way; in her 40s McDormand promised her husband that when she turned 65, she was going to change her name to Fern and live out of an RV. 
"Nomadland" takes you across America from an Amazon warehouse in California to a nomad camp in Arizona to an RV park outside of the Badlands in South Dakota, all during the 2008 recession. The movie actually stars several non-actors, real nomads written about in American Nomads that play themselves. During the movie, the character of Fern migrates across America, living in her van, going from job to job, and forming meaningful relationships along the way with other nomads. As the character herself says, she is "not homeless, just houseless." If you are one who watches movies to escape your reality, this one is not for you. McDormand's performance aggressively grounds you and pulls you back to the harsh reality of a difficult way of life.
---
"Soul"- Disney+
I watched this movie the day after it came out on Disney+. It's an interesting one for sure. Everyone I have discussed it with agrees with me that it is not at all a kid's movie, as it was marketed. It is incredibly existentialist, asking viewers tough questions like what is their purpose in life, and can anyone have only one purpose? 
The movie centers on Joe, a middle-school band teacher, and aspiring Jazz musician. On his way home from getting a gig, he is critically injured, and his soul travels to another realm. To get back to his body, he has to help Soul 22 find their passion for life, but not everything goes according to plan. 
Naturally, given it is a movie about music, it has earned nominations in Sound and Best Original Score, along with Best Animated Feature Film. "Soul" has already won Best Animated Film at the Golden Globes, because Disney movies always win, but I hope the Academy will allow other movies like "Over the Moon" to be in the limelight for once. This movie was so close to revealing its true message about life and someone's purpose, but they stopped one-sentence short, and that has been the thing that bugs me about it. They tried to make a point but forgot the full thesis.
---
 "Onward"- Disney+
Another Disney movie, "Onward" was only nominated for Best Animated Film, and I think everyone is kidding themselves thinking it even has a chance of winning. It's just not good.
This movie takes place in a world where fantastical creatures like unicorns, centaurs, fairies, and mermaids all coexist, but for some reason, none of them are magical anymore. Their world is similar to ours in that they have smartphones, cars, yoga videos, and social awkwardness, but the 'difference' is that this one has elves. I think the story writers may have been trying to say something about how we have evolved into a society of convenience, but the message did not get across; either that or they are just obsessed with Dungeons and Dragons.
Brothers Ian and Barley must embark on a quest to spend one last day with their father who died when they were both very young. They both learn important life lessons and grow closer than they ever have been before until they have an inevitable argument. For me, the movie was quite predictable and had a very unnecessary ending fight scene.
"Onward" is like the male equivalent of "Frozen," the two main characters go on a magical adventure, discover important things about themselves, and learn about the power of brotherhood. For such a huge film with stars like Chris Pratt and Tom Holland, it was not at all impressive. I've only seen it once, and I don't need to see it again. I expected a lot more.
---
"Over the Moon"- Netflix
This movie is also nominated for Best Animated Film, and it absolutely deserves it. This is one of the best animated films to come out in recent years, good enough that I could even compare it to "Spiderman: Into the Spiderverse" for its new kind of animation. 
The story centers on Fei Fei, a girl whose parents own a bakery specializing in mooncakes. Netflix seems to have followed the Disney tradition of killing off parents early as not even ten minutes in, Fei Fei's mother dies from (presumably) cancer, leaving her and her father alone. One of the best memories Fei Fei has before her mother's death is learning about the Chinese goddess of the moon, Chang' e. When her father starts dating another woman (with a different family mooncake recipe!), complete with an annoying son and soon to be step-brother, and her family challenges her belief in Chang' e, she sets out to build a rocket to fly to the moon to prove them all wrong (Girls in STEM! Yay!). Of course, once she gets there, hijinks ensue.
This movie explores emotion and loss better than any movie I have ever seen as Fei Fei deals with the death of her mother and the perceived threat of a woman trying to replace her and Chang' e mourns the forever loss of her love. It will make you cry- in a good way.
---
"Mulan"- Disney+
Ah, the eternally controversial live-action "Mulan." Just like any other Disney live-action, except 2015 "Cinderella" (which is perfection), this one doesn't even compare to the original. The movie is devoid of fun- they got rid of Mushu! – and song. Instead of a delightful travel-sized dragon for convenience, all we get is a lame phoenix that shows up once. 
Along with "The Emperor's New Groove," the original Mulan is one of the comfort movies that I used to own on VHS until we broke it from over watching. I can practically quote every word from the original, but this new version is serious and unfamiliar. As opposed to learning who she is and how to face her reflection, this Mulan is already special and learns nothing about herself in the army except for 'girl power.' 
"Mulan" (2020) is nominated for Costume Design, which, and I'm not an expert on ancient imperial China armor, seems fair. It is also nominated for visual effects, but it doesn't have many, and those that it does have aren't fantastic. This new Mulan is more historically accurate but sucked of an ounce of fun.
---
"My Octopus Teacher"- Netflix
I normally don't pay attention to nominated documentaries with the exception of "Period. End of Sentence." (also Netflix) from 2018, but this one is absolutely fascinating. This documentary chronicles a South African man and his relationship with a wild octopus living in a kelp forest near his home. An award-winning photographer and documentary-maker himself, he chronicles everything he learned from his experience of visiting this octopus every day for nearly a year until the end of her life. As he says in his narration, he learned something new about octopus behavior nearly every day. He was able to film her playing with fish and actually emerging from the water to escape a shark.
What is truly fascinating about this man's experience is that the octopus remembered him. They formed a connection, and she could recognize him. She knew she could trust him and felt safe enough in his presence to be out in the open. He reveals how his visits with the octopus brought him back to nature and helped him form a better relationship with his son. I don't know what to say other than you should watch it. It's only an hour and 28 minutes. Go watch it.
---
"A Love Song for Latasha"- Netflix
Nominated for Best Documentary (Short Subject), this film of a mere 19 minutes is incredibly emotional and its events resonate, even in 2021. Latasha Harlins was murdered on March 16, 1991, at the age of 15 by a shop owner who suspected her of stealing a bottle of orange juice worth only $1.76. She was shot in the back of the head and died holding the two dollars intended for the orange juice in her hand. Her close family and friends are interviewed and describe her as the most warm-hearted and caring person they had ever met. She wanted to be a lawyer and create programs for children in her Los Angeles neighborhood.
This documentary is beautifully tragic, or tragically beautiful, take your pick. It shows mainly B-roll, with only the narration of those who loved her the most. You see brief shots of her old neighborhood and girls wearing flower crowns, and in the middle, as the tragedy unfolds, only blue and purple tears on a black background. With the renewal of the Black Lives Matter movement in 2020, this short documentary comes as a bitter reminder of the history of discrimination in this country.
---
"Da 5 Bloods"- Netflix
Now, I'll be honest with you; I haven't seen the entirety of this one. I watched half of it during the summer of quarantine, but I got food poisoning from some fried rice and went to the bathroom to throw up and my bedroom to lay on the floor. I never actually finished it, because it was kind of (very) depressing. 
The movie centers on four Vietnam War veterans, all of whom have extreme post-traumatic stress disorder, traveling back to Vietnam to recover the remains of their friend, played by Chadwick Bozeman. What they don't tell the Vietnamese government, however, is that they are there for more than human remains. They are there to recover millions of dollars of gold stolen from the Viet Cong that they buried instead of turning into the army. But because money complicates everything, it doesn't go as smoothly as they thought it would. 
This Spike Lee film is nominated only for Best Original Score, but it deserved more nominations, at least some for Best Supporting Actor for any of the characters. The score, composed by Terrence Blanchard is beautiful, but I didn't really notice it as I was watching. I much more greatly enjoyed watching Lee's "BlacKkKlansman" from 2018, maybe just because of the catfishing of the Ku Klux Klan, who's to say?
---
"Eurovision Song Contest: The Story of Fire Saga"- Netflix
Those of you who don't know what Eurovision is, because you either aren't European or haven't had a European exchange student, will have trouble understanding how immensely popular it is. Eurovision is like Europe's, along with Israel and Australia for some reason, Olympics of singing. Every country picks a group to perform an original song in the semi-finals, and the countries which receive the most points through votes and country-specific committees proceed to the finals. The performances are crazy intense, with extreme visual effects and usually fire. 
In this cinematic Eurovision, two Icelandic small-town singers, played by Will Ferrell and Rachel McAdams, are selected by luck to compete to become Iceland's pick. Through a fluke, they become the only ones left and Iceland is forced to let them compete. There are several characters, not Dan Stevens of course, that are actually played by real-life Eurovision contestants and winners. 
This movie is nominated for Best Song for "Husavik," which is actually a very beautiful song. What's rather special about it for it to be in a movie about Eurovision is that parts of it are sung in Icelandic. In the official contest, every country has the option to sing in their official language or in English. Most contestants sing in English because English songs usually do far better, so it is a rare occasion when a Eurovision song, even one in a movie, is sung in a language other than English. 
I have to say, this is a very silly movie. Very, very silly, but it's very fun to watch. If you want a movie that's funny and not about anything important, this one's for you.
---
"If Anything Happens I Love You"- Netflix
I made my mom watch this one, and I honestly have no idea why. In her words, it is "brutal," which is very accurate. You might have seen challenges circling around on social media to film yourself watching it, because it is incredibly sad. 
I can't exactly summarize this one as it would basically ruin the emotional effect, but I'll try. This story shows the strained relationship between a couple that can only result from the tragic death of a child. They live through happy memories, now tinged with sadness, in a grey landscape, and the only color present is in the physical reminders of their daughter. 
This one is nominated for Best Animated Short Film, and I hope it wins (even though I've only seen one of the other shorts nominated). Unlike most shorts, this one is actually about a very important topic in our society, as opposed to the typical cuteness of shorts.
---
 "The One and Only Ivan"- Disney+
This movie is based on a children's chapter book of the same name. Unlike in Disney's live action "Lion King," the visual effects in this are actually very good, which is why it is nominated for them. 
Ivan is a silver-back gorilla who has lived in a mall zoo for almost his entire life, and he is happy there, but along comes Ruby, a baby elephant bought by the owner in an attempt to increase revenue. Ivan makes a promise that he will help her escape from captivity, but to do so means he has to leave his home and his friends forever. 
This movie is filled with stars: Helen Mirren, Danny Devito, Angelina Jolie, and Bryan Cranston, but the visual effects are what really give charm to this movie. They are just so incredibly lifelike. If you didn't know any better, you might even think they actually trained real animals. I can't stress enough how amazing of a job they did creating these animals. The effects in addition to the phenomenal story-telling really set this movie apart. This is an excellent kids movie, but I think everyone can enjoy it.
---
"Crip Camp"- Netflix
This isn't your average documentary about disability. Somehow produced by Barack and Michele Obama, because that's their job now apparently, this film is composed of informal black and white home videos made in the seventies along with narration of interviewees. 
Before the Americans with Disabilities Act and other laws enforcing school integration between disabled and able-bodied students, disabled people had no place really to fit in and be themselves, except at Camp Jened. A groundbreaking summer camp built on giving disabled campers a normal summer experience and allowing them to just be teenagers, it galvanized a group of them to create a movement for civil rights. 
The story of the disability revolution started at Camp Jened, and was led by many of its campers and counselors to demonstrate and even occupy a federal building for 23 days to protest the non-enforcement of an anti-discrimination bill. Through the efforts of many people associated with Camp Jened, the Americans with Disabilities Act was created and has been an important step in bringing those with disabilities more into the mainstream of society.
This was really interesting for me to watch, mainly because they interviewed so many of the original campers, some of whom met there, fell in love, and have been married for decades, which is simply adorable. The home video approach really makes you feel as if you are there, experiencing summer camp with the interviewees. It makes it feel more informal, yet somehow more powerful. Watching this really changes how you think about disabled people; yes, they can have brightly colored hair, yes they can have sex, yes they can be social activists and occupy federal buildings for 23 days. With all the civil rights movements and protests of the 60s and 70s, it can be easy to look over the disability revolution, which is truly tragic, because what they accomplished is just inspiring.
---
"The Mole Agent"- Hulu
This documentary is an interesting one because the first part doesn't feel like a documentary. The setup feels like the beginning of a movie. Nominated for Best Documentary, it chronicles the work of an 83-year-old man as he poses as a resident in a Chilean nursing home to investigate signs of abuse. First of all, this man is amazing. He just continually spits out wonderful phrases about love and grief to everyone he meets. This man has done nothing wrong in his life, ever. 
Bit of advice: something I didn't know when I began watching was that all the speech is in Spanish, obviously because it takes place in Chile, so it is a reading subtitles kind of movie. Even as someone in AP Spanish, there is a lot of slang spoken in very soft voices, so even if you take Spanish and want to give this a go, you will end up relying on the subtitles.
The film crew is set up in the building telling everyone they are shooting footage for a movie, allowing them to document Sergio as he explores the home for signs of neglect. For the short time, he is there, he manages to befriend everyone with his kind words and spirit. In the end, this documentary is not focused on Sergio's adventure as a spy, it emphasizes the loneliness and difficulty that society's elderly go through once we decide we no longer need them. Many of these people have been abandoned by their families, and have no one left in the outside world. The ending is not satisfying. It leaves you to think about what we do with the aging people in our society once it is determined that they can no longer be contributing members.
---
"Pieces of a Woman"- Netflix
This movie is good. I mean it is good, good. You will not enjoy watching it, but you won't be able to deny, this movie is incredibly good.
After a heartbreaking homebirth leaves a woman grappling with the emotional fallout and a chasm of grief that separates her from everyone who cares about her, she must come to terms with her loss and figure out how to move on. She is forced to process her emotions under the threat of the different interests of her family and her partner as the trial against her midwife unfolds. Told through the progress of the construction of a local bridge, Martha has to come to terms with the fact that nothing will bring her daughter back, not love, not support, not even a prison sentence, in order to be able to cross her own bridge of despair back to living a semblance of a normal life.
This movie is incredible because unlike practically every movie on Earth, it doesn't skip over the difficulty women face in the aftermath of a pregnancy- successful or not. This film's ending is heartbreaking, but also incredibly beautiful. Along with incredible acting performances, this movie's soundtrack perfectly encapsulates tragedy and emotion.
Vanessa Kirby, nominated for Best Actress, goes from a happy expectant mother to one in incredible pain during a difficult labor, to a woman forced back into her old life once her unpaid leave is up. She perfectly portrays every emotion you can imagine her character is feeling. I can't describe enough how beautiful, if tragic, this movie is. I can't tell you it's my favorite because of how agonizing it is to watch, but if you watch it, you won't be sorry.
---
"A Shaun the Sheep Movie: Farmageddon"- Netflix
It's been a long time since I've seen a new claymation movie, like a long time. I actually watched this one with my dad, who had somehow never heard of Shaun the Sheep. Apparently, Netflix has a lot of Shaun the Sheep content. If you are not familiar with Shaun the Sheep, he is an English sheep who likes to have fun and cause trouble with his sheep pals. 
In this adaptation, Shaun meets a mischievous alien and must help her to return to her home planet while the nearby town has UFO-fever. This movie was very entertaining. It was cute and heartwarming. This movie does not have any dialogue, because sheep can't talk. You might think that it would be a noticeable issue, but instead, they just used fun songs. Normally, I would hate that, but in this case, it just made the movie more endearing. This is a very funny movie to watch, and it is great for all ages.
Although it is nominated as a Best Animated movie, I'm not sure if it counts as an animated movie considering it is claymation. Nevertheless, this is a great family-friendly movie if you don't want anything heavy. Anyone can enjoy watching this one.
---
"The Life Ahead"- Netflix
This movie is incredibly heavy. It tackles love, beauty, happiness, forgiveness, trauma, and grief. Be warned, its ending is very sad and bittersweet. Somehow, this movie is only nominated for Best Original Song, despite the touching performances by everyone involved. I don't remember watching a movie in which every character is so well-acted like this one. 
This movie focuses on Momo, a Senegalese orphan living in Italy, trying to find his way in the world. In the beginning, his primary guardian gives him to Madame Rosa to be taken care of. She is a Holocaust survivor and survives by taking care of abandoned children. What begins as a tense relationship, turns into a wonderful friendship built on hardship. 
I think the kid who plays Momo, Ibrahima Gueye, definitely deserves some award for his acting performance, because it was beautiful to watch him grow and develop as a person, learn to take responsibility for himself, and finally form connections with people who care about him. I do wish the movie had more content between Momo and Madame Rosa because they hate each other for most of the film. They aren't given many scenes to show their friendship and closeness. I also wish the movie had better explored Madame Rosa's trauma from surviving the Holocaust because it is mentioned twice and never again.
The one thing about this movie is that it is in Italian. You will have to depend on subtitles, but they really didn't affect my experience of the movie. I don't know how to express it, but this movie is just so good. I'm really glad I took the time to watch it.
---
"Another Round"- Hulu
This movie is rightly nominated for Best Foreign Film and Best Directing. In my opinion, it should also have been nominated Best Original Song for What a Life. Starring Mads Mikkelson, this film is about a group of teachers testing if increased alcohol drinking leads to better job and relationship performance. Along the way, they each learn about themselves and how to better connect with those around them. It is incredibly well-directed and I really liked watching it. 
The movie is in Danish, so you have to read the subtitles, but the characters don't talk fast enough for that to be a problem. Mikkelson's character is the one followed the most closely, but I don't think he did the best job of acting. He just looked really bored and tired the whole time. For a character who is supposedly invigorated by his increased alcohol intake and life coming back together, he doesn't change much in terms of his disinterest.
I don't know why, but Hulu described this one as a comedy. It is not. It was stressful for me to watch because I was afraid the entire time that they might get fired for drinking on the job. The ending is a bit sad, but also pretty weird. The sad thing happens, (I'm not spoiling, don't worry), and then all the main characters kind of just go and crash the graduation celebrations of their students. It is very strange, because I was one of their students, celebrating graduation by driving through town in a graduation truck (that's something they do in Denmark apparently), causing a ruckus, and being loud with my friends, the last thing I would want would be for my history teacher to come and start doing a dance routine.
---
"The Midnight Sky"
Earth in the year 2049 is uninhabitable, but this movie never tells you why, which I hated. Directed by, and of course starring, George Clooney as an old guy in the Arctic, very little happens in this movie. Clooney's character is tasked with sending a message to a space crew headed back after a mission to Jupiter's moons to not come back to Earth. That is the only thing that happens the entire time, except for an almost comical amount of things that go wrong. The ending does have a twist, but you know it is coming. 
I expected this movie to only focus on George Clooney walking around in a snowstorm, but it also heavily focuses on the crew of the spaceship. The captain of the crew is pregnant, but they never give details about you know, why she is pregnant in space and whose baby it is. I just had so many questions about the baby thing, and it really distracted me the whole time. 
The only reason this movie isn't dreadfully boring is that there is a random little girl who just kind of bothers Clooney's character. Their interaction makes the movie less boring, but it is still boring because as I said, nothing happens. George Clooney kind of just wanders around being sad, and the crew members in space wander around being sad too, but at least they get to float around being sad because, you know, space. They tried to make the ending touching, but it didn't work, and I was just mad they never told us why the planet is uninhabitable (which seems like an important point). They tell you it's uninhabitable, and you kind of just have to roll with it.
This movie is nominated for best visual effects, and they were good, but nothing special. The effects were about the same as any space movie like "The Martian" or "Interstellar." "The One and Only Ivan" is far more innovative with its visual effects. Overall, I could have skipped this one. 
---
"The White Tiger"
Balram was born into a lower caste in India. When he sees an opportunity to become a driver for the richest family in his village, he doesn't hesitate. Working for this family means extreme loyalty, even admitting to things he didn't do and consistently being taken advantage of. 
At the beginning of the movie, Balram reveals that he is now wealthy (you can tell by his fancy moustache), so you are left waiting the whole movie to wonder when he is going to get rich. There isn't much of a plot in this movie, Balram is just driving the son of the man he serves to different places until something important happens, and then he goes back to driving people around. 
The entirety of the movie is narrated by Balram in an email to a Chinese ambassador visiting India to meet some new entrepreneurs. The number of times he says an entrepreneur is almost impossible to count. He seems to just throw it in when he makes a personal aside to this guy he has never met. I understand the best way to narrate Balram's inner thoughts is in this email, but at what cost? This is a ridiculously long email, and also, he doesn't seem to realize that government officials don't actually check their emails; they have staff to do it for them.
This movie has incredible acting from the lead actor, Adarsh Gourav, portraying Balram, but also everyone else involved (Priyanka Chopra actually plays a minor role). Watching this makes you learn to question the dynamics of class, crime, and politics. Nominated for Best Adapted Screenplay, this one is really good. It is at times, funny, thrilling, and terrifying.
---
Now comes the segment where I tell you who I want to win in the order they will appear during the awards ceremony, along with who is most likely to win. Each category will have a fraction corresponding to the number of movies I have seen compared to the total number nominated this year for you to judge my expertise.
Actor in a Leading Role- ⅖
I'm not exactly an expert in this category given the number of nominated movies I haven't seen because they are not available to me, but I'll try my best. Given what I've heard of Anthony Hopkins' performance in "The Father," I believe it is most likely that either he or Gary Oldman from "Mank" will win this Oscar. I do hope that Chadwick Bozeman of "Ma Rainey's Black Bottom" will win a posthumous Oscar, because his performance was impeccable.
Actor in a Supporting Role- ⅕
Daniel Kaluuya won this category in the Golden Globes for his performance in "Judas and the Black Messiah," and I believe either he or Leslie Odom, Jr. are liable to win at the Oscars. Sacha Baron Cohen in "The Trial of the Chicago 7" was fantastic, but given how few awards the movie won at the Golden Globes, this film is likely to be skipped over award-wise.
Actress in a Leading Role- ⅘
This is a hard one because all these actresses performed so well in each of their movies, but in such different ways. I really hope either Vanessa Kirby from "Pieces of a Woman" or Andra Day of "United States vs. Billie Holiday" win this one. I can't decide between them because the subject matter portrayed is just so varied. Viola Davis as Ma Rainey did very well, but I can't like her performance because the script only allowed her to portray one emotion: mean. If either Kirby or Day wins, I will be happy.
Actress in a Supporting Role- ⅕
Now, I have only seen Amanda Seyfried for this category, but I predict either Olivia Colman from "The Father" or Juh-Jung Youn of "Minari" will win. I hope Youn wins, because Colman has already won many Oscars and I have heard "Minari" is very good. Seyfried wasn't a bad actress in "Mank," she just wasn't given any opportunity to really show her talent. As I said, she is more of a supporting supporting actress in this one.
Animated Feature Film- ⅘
I have very strong opinions in this category. I love "Over the Moon" with all my heart, and I desperately hope it will win. However, in all likelihood, "Soul" will win this one because of the supremacy of Disney movies in this genre. "Onward" has no chance of winning because it is not good, and "Wolfwalkers" is also unlikely because no one has seen it.
Cinematography- ⅗
I don't know much about the art of cinematography, so even though I've seen a majority of these, my opinion isn't worth much. However, "Nomadland" was a pretty movie to watch and it won the Golden Globe in this category so it is most likely to win, and I'm cool with that.
Costume Design- ⅗
I think either "Emma" or "Ma Rainey's Black Bottom" will win this one. "Mulan" did have good costumes, but I don't want it to win anything, so I am heavily biased. The costumes in "Mank" were not incredibly fantastic, but they do have a chance to win because it's a movie about Hollywood and the Academy always eats that up. For me, they were just old time-y clothes from less than 100 years ago. Unlike in "Ma Rainey's Black Bottom," there was no cultural element to Mank's costumes. 
Directing- ⅗
  "Another Round" and "Nomadland" are far better directed than "Mank." There is nothing particularly special about the directing of "Mank." I think it was nominated because the Academy loves itself. If "Mank" wins, I will be very upset because it does not deserve it. In all likelihood, either "Nomadland" or "Mank" will win this category.
Documentary (Feature)- ⅗
It is so hard to compare documentaries because they are all just so different. They are all poignant in their own way. "The Mole Agent" addressed how society deals with its elderly, "Crip Camp" contends with the treatment of disabled people even in the 21st century, and "My Octopus Teacher" focuses on humanity's relationship with nature. In all likelihood, "My Octopus Teacher" will win because it is the easiest topic to talk about without acknowledging pivotal issues in our society.
Film Editing- ⅖
I also do not fully understand this category. To me, it seems very similar to directing, even though I know they somehow are. Of course, I want "Trial of the Chicago 7" to win this one because of the way the story was told in flashes, but "The Father" will probably nab this Oscar.
Makeup and Hairstyling- ⅖
To me, the categories makeup and hairstyling and costume design are intertwined, which is why I have the same opinion on who should win. "Hillbilly Elegy" is nominated and I'm sure they did a great job, but if the movie is supposed to be from a relatively recent era, to me they are just clothes. I think everyone can agree that "Pinnochio" won't win, because if you look up pictures, they are nightmarish. They are genuinely terrible to look at. Not all that is makeup and hairstyling, but the visual effect is so strong that I can't focus on anything else.
Music (Original Song)- 3/5
These songs are all quite good. They are incredibly varied in genre, which makes it hard to pick my favorite. Fight For You ("Judas and the Black Messiah") and Speak Now ("One Night in Miami") just aren't my kind of music, but I love Hear My Voice ("Trial of the Chicago 7"), Husavik ("Eurovision Song Contest: The Story of Fire Saga"), and Io Sí ("The Life Ahead"). I highly doubt Husavik will win, just because it is from an irreverent and comedic movie, though it is a beautiful song, even with Will Ferrell butting in now and then. Io Sí is sung in Italian, so it is unlikely it will win. However, it did win the Golden Globe for this category, so who knows? The lyrics translated to English are incredibly powerful. I really love Hear My Voice. Celeste has a really powerful voice and the song carries an important message.
Best Picture- ⅜
For once, all the nominated films actually deserve the credit of consideration for best picture, except maybe "Mank." I absolutely loved "Trial of the Chicago 7," but unfortunately, it is unlikely to win. With the highest number of nominations this year, "Mank" is very likely to be taking home the Oscar for this one. "The Father" and "Nomadland" also have a chance, but we'll see what happens.
Production Design- ⅖
For once, I truly believe "Mank" should win this one. As I said earlier, the sets feel real but impermanent at the same time, and truly help create an atmosphere for the whole movie. If even I think "Mank" should win, then the Academy and I will most likely agree.
Leave a Comment