On the Way to The White House: the Debates
Students reflect on the 2020 Presidential Debate Season.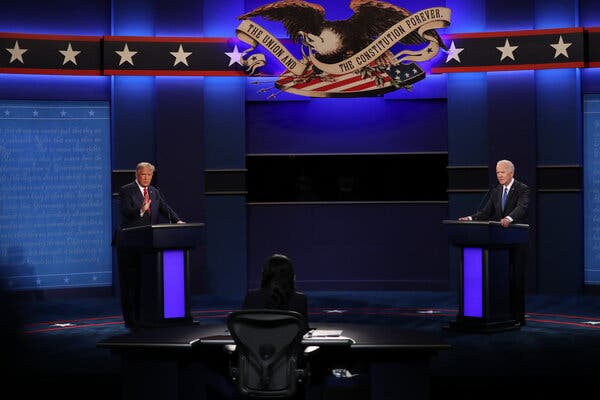 As Election Day nears, Democratic candidate Joe Biden and Republican candidate Donald Trump, and their respective running mates Kamala Harris and Mike Pence, participated in formal debates. The Presidential candidates took part in two debates against one other and one town hall each, while the Vice Presidential candidates went against each other in one debate. 
These events were hosted over the course of the past few weeks, and they've resulted in mixed feelings amongst viewers, contributing to a nation already divided over the election next month. BVN was no exception to this, as indicated by a poll posted on the BVN News Instagram. Out of 157 participants, 127 voted that Biden won the first Presidential Debate on September 29, meaning he had around 81 percent of the vote from Instagram, giving him a significant lead.
Despite the disparity within the poll, both Trump and Biden supporters could agree that the lack of organization in the debate was disappointing. Senior Kelsie Fisher, who voted that Biden won the first debate, believes that while there was an attempt for the order to be maintained, it was largely unsuccessful because of both candidates.
"While the Debate Commission and Chris Wallace had a plan to keep it organized, ultimately the candidates spoke over each other and made it hard to follow. Candidates kept going back to issues from previous sections or bringing up talking points that were not supposed to be discussed in that segment." 
For Fisher, a big takeaway from the night was not only how many times the candidates spoke, but how many times they spoke over each other. According to the Washington Post, there were 90 interruptions during the debate with Trump taking responsibility for 71 of them. 
"While part of Trump's political strategy is to seem tough and in control, interrupting Joe Biden hindered him more than it helped him," Fisher said. "This distracted from some of Trump's good moments in the debate. It also made Trump look too harsh and unpresidential in many undecided voters' minds." 
Although Trump accounted for a majority of the interruptions, there were still many interruptions from Biden, which only incentivized Trump. Senior Will Shertenlieb, who believes Trump won the first debate, said that both Trump and Biden were frustrating to watch during the first round of debates. 
"Trump sounded like a whiny kid on stage for half the debate. It was frustrating to watch, and I would have liked to hear more about his policies," Shertenlieb said.
Biden and Trump used those interruptions to throw insults at one another, disappointing both candidates' supporters. Biden turned to name-calling, referring to Trump as a 'clown' and even calling him 'the worst president we've ever had', while Trump launched more personal attacks against Biden, bringing up the military death and drug addiction of Biden's two sons, Beau and Hunter, respectively. 
"I don't think Trump's comments [about Beau] were acceptable," Fisher said. "It made Trump look worse than it made Biden look. Trump's personal history is full of scandals, so he shouldn't be bringing up Biden's past."
Shertenlieb, on the other hand, believes that neither candidate's comments were inappropriate. 
"I think Biden was right in telling him to shut up and he was definitely acting like a clown," Shertenlieb said. "I also think Trump never said anything about his son Beau. On the debate transcript, the only time that he ever mentioned Beau was when he said, 'I don't know Beau'. I also don't think that Trump bringing up Hunter was inappropriate, and I believed it was acceptable because his son Hunter's actions shine directly on what type of father Biden was for him. It was appropriate to bring up the potentially illegal work that Biden was doing for Hunter in Ukraine as well, because the American people should know that."
Both Trump and Biden were able to support their viewpoints and establish their grounds as a candidate.
"Trump did a good job of touting his pre-COVID economic gain, while Biden made good points when talking about Trump's handling of the COVID pandemic," Fisher said.
Trump and Biden were questioned about six topics during the debate: the COVID-19 pandemic, race in america, leadership, American families, and climate change. Both candidates were clear about their stances, and Shertenleib found himself agreeing with ideas from Biden, as well as Trump.
"I agreed with Trump on his economic ideas like tax cuts and pandemic economic plans," Shertenlieb said. "I also agree with Trump's views on COVID-19 as well as his environmental statements with California and, lastly, I like what he has done for the Black Community, excluding the part that he said he has done 'almost as much as Abraham Lincoln'. I agree with Biden's ideas on race issues…  and about his ideas about not defunding the police. I also believe he was correct in getting mad when Trump interrupted him and said Trump panicked when the pandemic hit." 
Despite firmly supporting their chosen candidates, both Fisher and Shertenlieb could agree that there were some parts of the debate that didn't sit well with them. Fisher said that some of Biden's claims may not have been liberal enough for his target audience, while Trump wasn't strong on defending himself well.
"Biden didn't sound the best when he said that the police force just 'had a few bad apples,' Fisher said. "Many on the left want broader criminal justice reform and a massive defunding or abolition of the police, on the other hand, Trump did not do a good job of defending COVID" 
Sherteinlieb's main concerns were about the validity and truth behind each candidate's statements.
"Both candidates lied a lot in the debate and what Biden said upset me because anyone that doesn't go and do their own research will think Trump did poorly with the economy," Shertenlieb said.
During his Town Hall last week, Trump left as soon as he had answered all of the proctor's questions, instead of staying for longer to answer audience questions like Biden did. Shertenlieb didn't see an issue with this.
"I saw nothing wrong with Trump leaving after the Town Hall debate. My initial assumption was that he probably had stuff to do because he is still the President right now and dealing with a pandemic." Shertenlieb said.
A second poll on the BVN News Instagram asked who won the second Presidential Debate on October 22. There were 120 voters, 88 of which voted that Biden won. Biden saw a significant loss of votes for the second poll while Trump gained votes. Biden had 73 percent of the votes this time around which was a ten percent drop from the previous poll.
Shertenlieb found the second Presidential Debate to provide more information on each Presidential candidate and their policies, mainly because of a new feature. In an attempt to avoid letting the interruptions steal the spotlight, the Commission on Presidential Debates established a muting of the microphone which Shertenlieb considered to be successful, as both candidates were quicker to stop talking and there were fewer interruptions during the debate.
"I think that the promise of muting mics did benefit the debate, but I am pretty sure it was only used once or twice, and both times they muted Trump," Shertenlieb said.
Fisher said the presidential candidates could've taken cues from their running mates, as she felt the Vice Presidential debate was much more organized and dignified, which Shertenlieb agreed with her noticing Biden and Harris seemed to be out of sync.
"The Vice Presidential Debate went much better than the Biden-Trump debate," Fisher said. "It was more organized, better focused on the issues, and had less interrupting and arguing. The debate was received much better than the presidential debate and many took it with a larger grain of salt in comparison to the Presidential Debate."
According to the Atlantic, the voter turnout this year is expected to surpass previous records. Part of this could be credited to early voting and mail-in ballots. Election Day is November 3rd, but many Americans are choosing to cast their vote earlier, or in a different method from the polling booth. To register to vote, or learn more, visit any of the sites below:
https://www.vote.org/
https://vote.gov/
https://www.fvap.gov/links 
Leave a Comment
About the Writer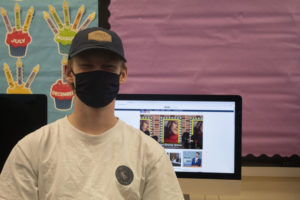 Jack Toal, Web Editor
Jack Toal is a Senior and Web Editor for "The North...