Ready, Set, GO!
Members of the BVN Cross Country team reflect on the changes they've experienced due to the COVID-19 pandemic and share their expectations for the season.
It's the beginning of the fall sports season again and the Blue Valley North Cross Country team is tying their shoelaces to get ready to race. Despite starting off later than expected due to the COVID-19 pandemic, runners are more ready than ever. Industrial Technology teacher Miles Riley is the new Head Coach and he's coming in with high hopes.
"We really want to see our kids be able to go a little farther than regionals and make it to state this year," Riley said. 
Siner and Seeley were both in agreement about the team's strength this year, and Siner credits some of that to the optional team training over the course of the summer as well as the passion of some runners who continued to train on their own as well as in team events. 
 "Over the summer, we had base training and we also have dedicated teammates who were working over these couple off weeks that we had," Siner said, "Our season got postponed a couple of weeks, but in our Captain-led practices we were able to keep working on our running."
The team was thrown a curveball at the end of last year when Head Coach Laura O'Connell said she would be stepping back from coaching. Coming into the new season, runners were met with a whole new set of coaches led by Riley with Hannah Rutherford, Jeremy Winzer, and Michael Beers as the supporting cast around him. Before heading into the season, some runners were nervous about getting to know the new coaches but Seeley said there was nothing to worry about.
"I don't think it has actually messed up chemistry at all and it's brought up our effort levels," Seeley said "They're giving us harder workouts and having us do more after practice exercises,"
It wasn't a first-time introduction for all of the runners, as Siner mentioned how Winzer was a familiar face since he coached at the same club that she plays soccer for which quickened the connection between some of the soccer athletes and Winzer.
The COVID-19 pandemic has already made its mark on BVN sports this year after postponing them for 2 weeks and it continues to show its effects at practices and meets. Players are following guidelines by taking the temperatures of all runners and coaches at every team event and, during warmups, they continue to wear their masks on the earlier parts of the run. 
In meets, athletes are required to wear masks whenever they aren't racing and for the first 400 meters of the race. Even with the adjustments that have been made to reduce COVID-19, not all aspects of a normal season were preserved.
"We had to cancel the bigger meets this year such as Rim Rock and we're trying to spread people out as much as we can to reduce the runners traffic and decrease chances of COVID," said Riley.
COVID-19's effects can be seen both on and off the running path. While taking a toll on the sport itself, it has also placed many restrictions on team spirit, which many of the runners believe to be an important part of being on the team. 
"It seems like we're missing out on a lot of the social aspects of cross country this year, like meeting new people at meets and going to pasta parties," Siner said. 
Seeley and Siner both realized that there were not many freshmen who came out this year and believed the low turnout was due to COVID-19 and the lack of communication they had with freshmen. 
"I think that the freshmen are missing out on a majority of their experience with COVID and we weren't able to get as many of them out this year with such limited contact," Seeley said.
The first cross country meet is this Saturday and the team is expecting a strong season opener. Seniors are looking to wrap up their last season on a high note by bringing the team to state, and the new coaching staff is hoping to round out their first year in the same way and get as many athletes as they can to state.
Leave a Comment
About the Writer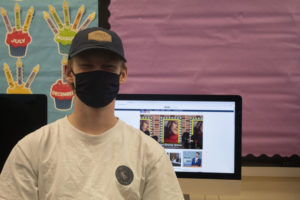 Jack Toal, Web Editor
Jack Toal is a Senior and Web Editor for "The North...