Royal Relocation
Surprising news has already emerged during this MLB offseason surrounding the Kansas City Royals. Royals owner John Sherman revealed plans for a new ballpark in downtown Kansas City before the current stadium's lease expires in 2030. 
This relocation would end the over half-century tenure at Kauffman Stadium, better known as "The K". The stadium opened in 1973, and has seen nine playoff appearances, four World Series, and seven Hall-of-Famers since. It's known for its signature fountains in the outfield, variety of ballpark food, and overall well-rated fan experience. 
However, Sherman reassured that Kauffman would not be replicated in their new ballpark. Sherman publicized this decision via a letter on the Royals' Twitter page.
"Our vision is to not just build a facility that does justice to the spirit of The K," Sherman wrote. "We want to construct a world-class experience – a new ballpark district and all that comes with it."
Reactions have been mixed about the plan for the new stadium. An avid Royals fan, junior Noah Landever, is optimistic about the prospect of a new stadium downtown.
"I think it opens up opportunities for a lot of things to happen (downtown)," Landever said. "It could probably bring in more money through concerts and it would also give them more money to make the team better."
Parking at Kauffman stadium has always been an issue among fans. Even with a new ballpark, parking continues to be the main discussion topic. Some have pointed to the crowded downtown as an issue, although others don't see parking as a serious problem.
"One of the main complaints is that there's going to be no parking," Landever said. "But there's plenty of places to park, and the railcar downtown makes it easy enough to get around."
On the other hand, some see the new stadium as a waste of the Royals' money that could be used better elsewhere in the organization. Senior Ben Jordan sees this relocation as a bad decision for fans.
"I think the money that's going into a new stadium should be used to sign better players to make the team competitive again," Jordan said. "I don't think we need a new stadium right now; we should renovate The K instead."
Royals fans still have a considerable amount of time to wait for the new stadium, as concepts for the relocation haven't been finalized yet, let alone construction. In the meantime, Kauffman Stadium will continue to be the home of Kansas City's baseball team.
Leave a Comment
About the Writer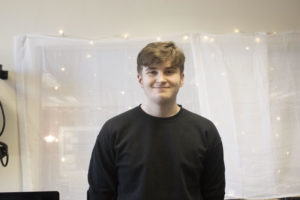 Bennett Palmer, Copy Editor
Bennett Palmer, Copy Editor

Bennett Palmer is a...