Shopping Local: Farmers' Markets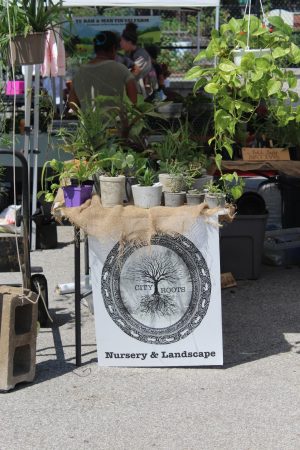 Throughout the Midwest, agriculture is known as one of the biggest drivers of local economies. Kansas City, in the heart of  the Great Plains, offers its citizens both the benefits of a bustling city and a vast community of farmers. Through fresh and local produce offered at places like the Overland Park Farmers' Markets and the City Market, a bridge is built between farmers and the KC Metro area citizens that encourages healthy eating habits and supports the community.
Located just 15 minutes from BVN, the Overland Park Farmers' Market, open Saturdays from 7 a.m. to 1 p.m and Wednesdays from 7:30 a.m. to 1 p.m. throughout the summer and fall, offers a unique experience to shoppers.
"It's a destination market," Overland Park's Market Attendant, Marla Grendel, said. "We have people from all over the country that read about it, and we've been written up in Cooking Light as one of the top markets in the country."
With room for over 80 vendors and in its 36th season, the Market offers many amenities such as live music, a Vegetable Butcher from the Culinary Arts Center and food that is guaranteed local.
"The Overland Park Farmers' Market has really strict standards. We make sure that everything is definitely local," Grendel said. "We have two people that work full time going to the farms to inspect; we like to stick to a higher quality."
  Administrator Adam Wessel, as well as junior Laura Campbell, shop at the Overland Park Market almost every weekend for both the food and the benefits it offers to the community.
"I love coming out and supporting all the local farmers," Wessel said. "I grew up in a small community where there were a lot of people that were farmers who do this very same thing. It's just a cool atmosphere."
From chatting with vendors and reading about their stories, the market offers a chance to better understand the origin of what you eat.
"You get to meet the people that grew the food and know exactly where your food is coming from," Campbell said. "Everyone there is so nice and it is an all-around positive environment."
While the Overland Park Market is closest to BVN, the City Market located in the downtown River Market district, also encourages a healthy lifestyle through various programs and events such as Yoga in City Market Park, a plant-based lifestyle festival and a culinary sampling tour. The City Market additionally advertises on social media in hopes of spreading their messages to wider audiences.
"We focus on exposing families with young kids to eating fresh healthy locally-sourced food, so by the time the kids reach high school, those habits are set," the City Market's Director of Marketing and Events, Sue Patterson, said.
Established in 1857, the Market has more than 30 locally-owned shops and restaurants open daily and is considered the largest Farmer's Market in the region, open year-round on Saturdays and Sundays, with more than 150 vendors from a 500-mile radius.
Although they may differ slightly in their size and environment, both the Overland Park Farmers' Market and the City Market participate in the USDA's Supplemental Nutrition Program (SNAP) that provides financial benefits for shoppers with Electronic benefit transfer cards.
"These programs go a long way to provide fresh healthy food to people and families who could not otherwise afford it," Patterson said.
Produce shopping, for some, isn't just a chore, but a chance to experience a new environment through farmers markets— one some see as not available at the local grocery store.
"Grocery store produce just isn't the same," Campbell said.
Leave a Comment