Students Reflect on Protests in Wake of Joe Biden's Win in Pennsylvania
BVN student activists share their thoughts on their experiences with advocacy in the KS area.
Hours after Joe Biden was announced to be the predicted President-elect on November 7, three groups, all standing for different causes took to the Kansas City Plaza to celebrate, protest, or both. Each group stood protesting in support of different causes, such as the Black Lives Matter movement, the Biden-Harris administration, and the Trump-Pence administration. The juxtaposition of the three groups was not a rare sight that day. Pennsylvania voting blue, ensuring that Joe Biden was the president-elect was music to some ears and a scream to others. It sparked a series of protests and counter-protests all across the United States, and, like in many states, Kansas was no exception to that pattern. 
The groups all had different messages, but the one common factor between them, sticking out among all the differences like a sore thumb, was the demographics. Over half the people in all three groups were teenagers or young adults. Evidently, high school-aged teens play a big role in advocacy today. So what do the students at North think about teen activism in Kansas and the in-state political scene?
"I got into activism because I felt like it would help," Sophomore Niyha Capitman. "The more people spreading the message, the better. I grew up in Kansas and was used to the conservative views, so I never thought twice about the tugging on my hair or the name-calling."
Similar to Capitman, junior Ephren Taylor says that activism in Kansas can be difficult because of the largely conservative views. Especially in the affluent suburbs, he describes it as isolating.
"It's challenging to be a student activist at BVN because of the isolation," Taylor said. "Maybe if I went to a school with a higher black population, it might be more comfortable, but I don't have that option".
The lack of diversity in the community presents itself to be a hindrance, or at the least, an uncomfortable situation to many student activists. According to the Kansas State Department of Education, the African American student population at Blue Valley North in 2019 was at 5%. The demographics of the Blue Valley District and suburban Kansas, in general, make it difficult for teen advocates to find active, impactful groups in the area, Taylor said. 
"Sure going to the protest felt good, I mean, it felt incredible, but did it do anything?" Taylor said. "It didn't. I continued to go to rallies instead of protests to see what organization I might join that's doing stuff besides just protesting. That felt even worse because every organization seemed to be the same, so this last summer, in particular, showed me not to trust every organization with a black face, at least in Kansas".
While it is widely understood that impactful organizations in the Kansas area are difficult to find, other teen activists have a more optimistic perspective on the effects of protesting. Capitman believes she speaks for a large portion of today's youth in activism when she discusses her hopes for the outcome of her experiences in advocacy. 
"When I actually looked around and saw what others were going through, I wanted to help, and I do think being active in the community will make a change," Capitman said.
Leave a Comment
About the Writer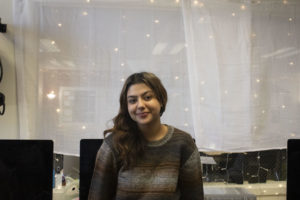 Arshiya Pant, Editor in Chief
Arshiya Pant, Co-Editor-in-Chief

Arshiya Pant is...