Taking it to the Next Level
'I am pleased to announce that I will be continuing my academic and athletic career in college at…' is an announcement for many BVN athletes. Before committing to a school, student athletes must go through the sports recruitment process.
The college search can be the next step for high school athletes. For senior running back and Columbia University football commit Lucas Bullock, this process began early on in high school and carried on through his senior year.
"I originally got into the recruiting process my freshman year," Bullock said. "I took my first unofficial visit to Iowa State before the start of my freshman football season."
On the contrary, for Rockhurst Universitylacrosse commit senior Lars Yarkosky, recruitment wasn't as prevalent until later on in high school.
"The process started spring of my junior year, that's when recruiting deadlines open," Yarkosky said. "So for the most part I was just on recruiting apps, trying to get noticed by coaches."
According to Bullock, social media and online recruitment programs are playing bigger and bigger roles in athletes' abilities to get recruited.
"Social mediums were essential in the recruitment process. Specifically Hudl and Twitter," Bullock said. "Without them I can't see a way in which, football players specifically, could get recruited. It's rare to see [recruitment] happen any other way."
These social mediums often use statistics and game film in order to help athletes get attention from college coaches. Because of this, athletes must go to new lengths to get the proper film and recognition.
"Making videos was difficult because it's hard to get clips from the right angles and putting all of that together into what you think coaches want to see…" Yarkosky said. "You have to have film from good tournaments, you can't just send them film from League games in Kansas… so I had to go to the competitive tournaments and get good film."
Throughout this process, athletes often seek advice from mentors. Head football coach Adam Pummill is one of many staff members at North who help their athletes navigate recruitment.
"Here at Blue Valley North, one of the things we're pretty fortunate at with many sports, especially football, is the connections that we have at the collegiate level," Pummill said. "It becomes easier to get [coaches] attention. So the biggest thing I do is reach out on behalf of each player to the personal contacts I know."
The recruitment process is different for each student. Many athletes commit early on in high school. However, for senior basketball player Mary Crossland, the process is still going on.
"I haven't chosen a place yet because I'm really hoping I can get a spot on [a] Division Two  team because they have a good nursing school too," Crossland said. "They have what I want all together so I'm waiting for them before making a decision."
Alongside athletic opportunities, student athletes consider academic offerings at potential schools. For Bullock, academics became a driving force in recruitment as he chose to take the Ivy League school route.
"[Academics] ended up being more important than I had originally planned on. I would say nobody is going to want you if you're getting all C's and D's. Coaches don't want to see that, it makes them uncomfortable," Bullock said. "You should want to do everything for yourself to make yourself look more attractive on paper. That said, grades definitely are really important."
According to Crossland, the recruitment process has many ups and downs in a normal year. However, recently the process has become even more difficult because of the pandemic.
"Getting schools' attention and being able to get recruited [has been a challenge] because of COVID-19, some coaches don't know who is coming back to play a fifth year yet," Crossland said. "They don't know who will graduate, so it's hard for coaches to open up spots for next year."
Besides COVID-19, other struggles presented themselves for Yarkosky as he tried to get recruited. 
"In the Midwest it is different because there is not a lot of lacrosse here…" Yarkosky said. "…to get a lot of those East Coast coaches to see your film [can be difficult]…you really have to travel a lot to get seen by coaches."
From a coach's perspective, there are varying reasons as to why many schools do or don't offer certain student athletes spots on their teams.
"If you get an offer from a fairly large school other schools will know that they [the school offering] did their due diligence and their homework…" Pummill said. "So the other coaches aren't going to take as much time. They might just offer somebody because they know another school did and they want to throw their hat in the ring."
Bullock feels that despite the hardships, the recruitment process is rewarding and is worth all of the struggles.
"Have endurance. There's a lot of points in the recruiting process where you want to give up and focus on something else," Bullock said. "… but if you stay with it there is a home for everybody."
Leave a Comment
About the Writer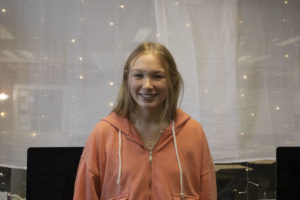 Anna Sandage, Social Media Editor
Anna Sandage, Social Media C0-Editor

Anna Sandage...