The Baseball Soapbox: World Series
One of the most exciting World Series of the past decade has finally ended. The perfect end to a historic playoffs, the bout between the Philadelphia Phillies and Houston Astros made for an entertaining series above all else. This series had it all: back and forth blowouts in Games 3 and 4, the first combined no-hitter in World Series history, and the home plate umpire correctly calling every pitch in Game 2 (Congratulations Pat Hoberg!). This battle between the most and least likely contenders respectively has proven to be one of the best we've seen in a long time. For a season with so many ups and downs, heartbreak and jubilation, this back and forth slugfest of a series made for the best ending we could've asked for.
Congratulations are obviously due to the Philadelphia Phillies, who made the playoffs for the first time in a decade. They have gone on an unpredictable and amazing run no other underdog has had in the past few years. Their pitching staff was unbelievable in the playoffs, accented by Aaron Nola, Ranger Suarez and Zach Wheeler, who had spectacular performances throughout the postseason, respectively. Their lineup picked up tremendously before the playoffs, and the momentum of that continued into October. Kyle Schwarber, Byrce Harper, JT Realmuto and Rhys Hoskins' bats exploded in October, each of them hitting multiple home runs and batting well above average. In the end, they came up short, but it doesn't mean they didn't perform at an outstanding level. Some will say it was a fluke playoff run, but I would disagree. From their performance, it's clear that they have at least playoff potential next year. 
There are plenty of things to be excited about if you're a Phillies fan, but excitement, at least for the moment, is concentrated entirely on Houston, Texas. The Astros are champions once again, establishing their modern-day dynasty one World Series at a time. During the season, they accrued over 100 wins, housed 5 All-Stars and dominated the American League. It wasn't a question of IF the Astros were going to the World Series, but when. They swept each series they played going into the World Series, sporting one of the best postseason bullpens in baseball history. Their lineup was unreal this season, headed by breakout superstar Yordan Alvarez and accented by the bats of Jose Altuve, Jeremy Pena and Alex Bregman. They crushed the ball this postseason, respectively, contributing heavily to the postseason run by scoring more runs than any other AL team. Houston couldn't be stopped this season, and they might not be for a while. It's safe to say that these Astros have become a modern-day dynasty, winning a second World Series alongside the four AL Pennants they've won in the past 5 years. Astros fans should be very excited about the future because the present is already very bright.
As a whole, this season has been one to remember- whether it was Aaron Judge hitting 62 home runs, (breaking Roger Maris' 61-year-old AL record of 61 Albert Pujols joining the elusive 700-home-run-club, or the Mariners ending their 21-year playoff drought with a walk-off home run. What records and feats will next season bring? What players will break out in a big way? Which baseball stars will become superstars? Only time will tell.
Spring training is only 4 months away, meaning there will be no MLB games played until February. In that time, however, news and transactions will occur throughout, and you can be sure it will be covered by The Baseball Soapbox. Until then, enjoy the offseason!
Leave a Comment
About the Writer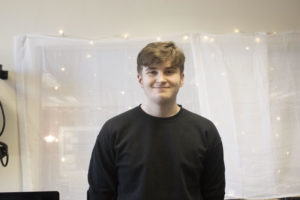 Bennett Palmer, Copy Editor
Bennett Palmer, Copy Editor

Bennett Palmer is a...