The Future of Diversity at North
As Black History Month comes to an end, BVN wants to ensure the door is not closed on diversity and cultural education. 
Coalition is a club at BVN, run by sponsor Krista Chugg. The club focuses on connecting Kansas City youth as well as educating students on black history and inclusivity. Coalition works with Race Project KC, an organization that brings students from different schools and backgrounds together for a metro-wide symposium where issues of racism are addressed. The program attributes its beginnings to the book, Some of My Best Friends are Black: The Strange Story of Integration in America, written by Tanner Colby. Colby has attended the symposium alongside other reputable speakers. 
"By taking white students from east of Troost and bringing black students west of Troost and across the state line for the first time, it educates people and illuminates the world to them in a remarkable way," Colby said. 
Race Project KC has taken a year long sabbatical for the 2022-23 school year in order to expand. Coalition, however, continues to implement and strive for the same principles. 
"The overall goal is to educate kids about the history of racism in Kansas City," Chugg said. "Giving them vocabulary to talk about issues of race, and to help them meet kids from other parts of the city that they wouldn't otherwise." 
Coalition has been meeting during club day once a month. This month, Black History Month, is an important month for Coalition. Although they have only been able to meet once this month, they spent time making posters highlighting real estate and architecture around Kansas City found on Race Project KC's Dividing Lines Tour. The Dividing Lines tour is a bus tour throughout Kansas City that students would typically take with the club. The tour makes stops at landmarks that represent the history of segregation in Kansas City. The tour centers around KC's "dividing line," Troost Avenue. While Coalition members were unable to take the physical tour this year (year long sabbatical), they made sure to take time for this program that is important to Race Project KC. 
Chugg is excited for the future of Coalition. The club has plans to work with the theater department over the next couple of months. Members will have the opportunity to collaborate with another student group as well as provide educational opportunities for BVN students. The club will play off themes in the theater department's upcoming production and focus on criminal justice reform. 
"We're going to do a thing about criminal justice reform," Chugg said. "In the lobby or some kind of handout."
In the upcoming months, other student organizations will be hosting inclusivity events. The Diversity Club's annual Diversity Assembly will be held in the fourth quarter. The assembly will feature performances from different cultures. While Coalition will not be participating in the assembly, Chugg and other members are fond of the event. 
"We like to help out in any way," Chugg said. "And we promote it, hardcore. We love it."
Students can submit applications to perform in the assembly and represent their culture. Aside from performing, students can become more educated on the racial history of Kansas City by taking the Dividing Lines Tour found on the Race Project KC website. 
Coalition, like many clubs at BVN, is an opportunity for students to get involved and create a positive impact on the community. Coalition members have the opportunity to address racial issues as well as meet new students from around KC.
Chugg said Coalition may be a club to consider joining, "If you're someone who wants to see any kind of racial barrier be brought down if you're open to meeting new people, and if you're passionate about making North a more accepting and inclusive place," Chugg said.
Leave a Comment
About the Writer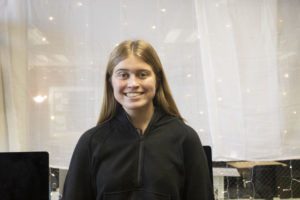 Alex Robertson, Staff Writer
Alex Robertson, Staff Writer

Alex Robertson is a...