Three Autumn Recipes to Fall in Love With
For students, baking can seem like a waste of time better used for homework and other activities. Time does not have to be an issue, however, with these quick bakes perfect for autumn weather. Whether it be crispy oatmeal muffins, warm pumpkin bread or sweet applesauce cake, each of these three fall recipes takes little time to create and is perfect for any hungry BVN student. 
Oatmeal Muffins
Great for picnics and small gatherings, these muffins are simple and delicious. Running late to class? Oatmeal muffins have your back.
Preheat your oven to 400°F. You'll also want to butter your muffin pan before you begin mixing. To start off, get a bowl and start to combine your flour, sugar, baking powder and salt. In a separate bowl, stir your eggs, milk, and butter into the oatmeal. Stir each until they are well blended. Next, combine the two mixtures and mix well. Once you've mixed enough, pour your batter into the muffin pan, spooning and filling about ⅔ of each of the muffin cups. Bake this for about 20 minutes. The inside of the muffins should be dry once finished. (You can use a broom-straw to test this). This recipe will make 12 delicious muffins, ready to serve for any good October morning.
1 ½ cups flour
2 tbsp. sugar
4 tsp. baking powder
½ tsp. salt
½ cup milk
1 egg, well beaten
2 tbsp. melted butter
1 cup cooked oatmeal
Boston Pumpkin Bread
A traditional "New England" take on pumpkin bread, this is perfect for a weekend breakfast or a late-night snack. A sweet and savory loaf that makes an ideal dish for your next group study session.
Preheat your oven to 350°F. Get a 9"x5"x3" loaf pan, and butter it well. You'll want to first mix the flour, salt, sugar, and baking soda together, and in a separate bowl, mix the pumpkin purée, oil, eggs, water, and spices. You'll then combine the dry ingredients with this mix, but don't mix the ingredients very thoroughly, as you want to keep its shape. (If using nuts, stir these in now.) Finally, pour the mix into the well-buttered loaf pan, and bake it all for 50-60 minutes. You'll know it's ready if you insert a broom straw and it comes out clean. When ready, take it out of the pan and let it cool on a rack. Now you have a perfect loaf of sweet, lightly spiced pumpkin bread for a nice fall treat.
1 ½ cups flour
½ tsp. salt
1 cup sugar
1 tsp. baking soda
1 cup pumpkin purée
½ cup vegetable oil
2 eggs, well beaten
¼ cup water
¼ tsp. nutmeg
¼ tsp. cinnamon
¼ tsp. allspice
(Optional) ½ cup chopped nuts
Applesauce Cake
After a tough week at school, why not indulge yourself and some friends in this warm, gooey double-layer cake? This recipe just tastes like autumn.
Preheat the oven to 350°F. First, you'll want to butter and lightly flour two 8-inch round cake pans or one 9"x13" cake pan. Cream the butter, add the sugar gradually, and
beat well. Add the applesauce and blend. Beat in the eggs and mix thoroughly. Mix
together the flour, baking soda, salt, cinnamon, and nutmeg, add to the first mixture,
and beat just until mixed. Stir in the raisins (and optionally, nuts). Spread the mixture in the pan and bake. 25-30 minutes for the layers, 35-40 minutes for the rectangle. Test to see if a
toothpick/broom-straw comes out clean. Cool in the pans for 5 minutes before turning out onto a rack. This recipe is the perfect, warm treat on a cold autumn night. It keeps well and fresh- perfect for long trips.
¼ pound butter
1 ½ cups sugar
1 cup applesauce
2 eggs
2 cups flour
1 ½ tsp. baking soda
½ tsp. salt
2 tsp. cinnamon
½ tsp. nutmeg
½ cup raisins
(Optional) ½ cup chopped walnuts
Leave a Comment
About the Writer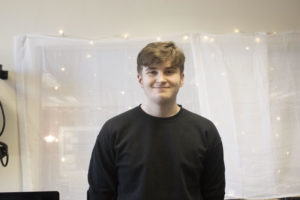 Bennett Palmer, Copy Editor
Bennett Palmer, Copy Editor

Bennett Palmer is a...