Took State
Friday, Oct. 29 through Saturday Oct. 30, the Blue Valley North Girls Volleyball team attended the state championship tournament in Salina, Kansas, where the young, female athletes accomplished something that has never been done in BVN history; winning the 6A volleyball State Championship.
According to junior libero Nora Carlsen, the team had been creating a plan for state since the beginning of the season. 
"Winning was the goal since day one.. We were in a classroom and writing down all of our goals on a whiteboard, sub-state being one of them," said Carlsen.
Matt Allin, BVN's volleyball coach of 25 years, says that this year's team attained composure and dynamic that he had not seen during his previous years of coaching. 
"The big difference is composure. At state, we held our composure during the semi-finals. We were down at the very end and won the last four points," Allin said. "Having that composure and maturity to win a close match, and then continue that into the finals." 
On the first day of the tournament, the team participated in pool play, where they competed for their seeding for the next day. 
"We played Blue Valley West and beat them in three sets. Then we played [Lawrence] Free State and beat them in two sets and last we played Wichita Northwest and won in two sets," Carlsen said.
Going into the tournament with a regular season record of 34-2, the girls were confident, but nerves began to kick in once they realized they might actually make history. 
"It was 21-16 [in the championship game] and we were all in the huddle saying we knew we were going to win this," Carlsen said.
The volleyball team ranked first in their pool heading into the second day, where they first played Olathe Northwest. 
According to Freshman outside hitter Jenna McClure, the team was overwhelmed with all kinds of emotions. 
"Once we won the tournament, I felt like all the hours we put in in the gym finally paid off. I was so excited and couldn't really believe that we actually did it," McClure said. 
Senior and middle blocker/hitter Clara Benskin, felt the same way.
"It was honestly so wholesome and I felt so relieved," Benskin said.
The volleyball team played their longtime rivals, BVW, during the championship game on the second day. According to senior and middle blocker/hitter Morgan Debow and senior and outside hitter Jasmine Dulan things were supposed to play out differently for the final game. 
"It was supposed to be us and Washburn in the finals, but Washburn got destroyed by Blue Valley West, so we ended up playing them in the championship game," Debow said.
Heading into the final game, Jasmine was confident that her team could pull out a final win against BVW. 
"It's hard to beat a team twice in 24 hours, but we did it with ease," Dulan said.
Seniors Dulan, Benskin and Debow plan to bring their athletic talents with them this next fall, where Benskin is committed to the University of Colorado at Colorado Springs and Debow is committed to the University of Nebraska at Omaha. Although Dulan is uncommitted, she does plan on playing volleyball at the collegiate level next year. 
Allin also has advice to pass down to the senior volleyball players who may or may not be playing in college. 
"Use the lessons you've learned through high school volleyball and magnify them in college," Allin said.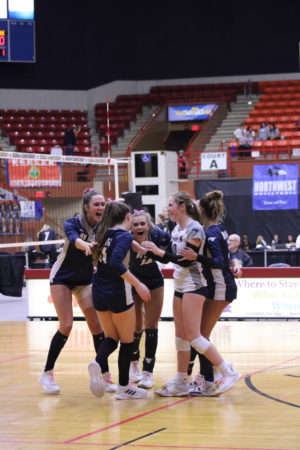 Even though this may be the end for the seniors, they do have advice and memories to share and pass on to the future generations of Mustang Volleyball. 
"High school volleyball has also taught me that you can't only play for yourself, but your team, meaning that you can't take on challenges alone," Benskin said.
Leave a Comment