Why Doesn't Volleyball Get Attention?
Although volleyball is a high action, intense and fast-paced sport, it never seems to attract the attention of students. Senior and outside hitter Jasmine Dulan has never seen a large showing for the team for people's own enjoyment.
"Freshman year at the St. James Slam was the largest crowd I've seen for a game. Football players were required to go so there were at least 75 people," Dulan said. "A small percentage really went on their own or because their friends were there." 
Senior and right side Emery Shaw feels as if the volleyball team are the only ones truly promoting the game.
"With football, [promotion] naturally happens, but for us we have to ask people to promote us, which doesn't always make sense because it's not like volleyball isn't a fun game to watch; it's fast paced and they're fun to watch," Shaw said. 
Both Shaw and Dulan noticed that students and fans tend to leave only after one set or fifteen points when there is plenty more of the game left. Volleyball games usually last an hour to an hour and a half — compared to football games where a majority of the student section finds a way to stay for the whole three-hour game. 
"I think since there are less people who talk about the games, because the team is smaller, less people hear about when the games are or where they are," Shaw said. "For example with football there are a ton of players, the band talks about it because they're going to play during halftime, cheer talks about it because they're cheering there, and it's like everyone knows that it's Friday Night Football." 
Although the volleyball team continues to ask for more representation it's hard not to see the disparity between the male sport attendance versus the female sport attendance.
"You have to fight to get people to go to games. For volleyball it's always like 'Oh, should we go?' versus football it's more like 'Yeah, we are going to go,'" Dulan said. "I also think that since it's a woman's sport there is less attention towards the sport, kinda like with basketball, the girls go before the boys, but they barely have anyone [in the stands]. 
Although throughout the year so far advertisements for the games have marginally increased attendance it's still disappointing in a way to see the lack of spirit for volleyball.
"I think Seniors are putting in more effort to notify people when games are, which is nice to see," Shaw said. "We usually start off with a good crowd, but then half the people leave after the first set," Dulan said. "We're doing the most right now, and if this isn't enough I really don't know if there will be enough."
This season, the volleyball team is undefeated so far with a 4-0 record and look to continue their streak against St. James Academy and Blue Valley West this Thursday, Sept. 9 at St. James Academy.
https://bvnathletics.com/teams/3182420/girls/volleyball/varsity/schedule 
View Comments (1)
About the Writer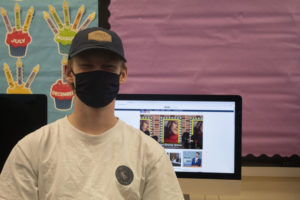 Jack Toal, Web Editor
Jack Toal is a Senior and Web Editor for "The North...