BVN Defeats BVNW as Fans Return to Stands
The Blue Valley North boys varsity soccer team defeated Blue Valley Northwest with a score of  3-2 on Aug. 27. This is the first game that students have been able to attend since the start of the COVID-19 pandemic. 
In comparison to last year, some students missed being able to attend games which created a large turnout in the student section for the game.   
"It [not attending games] was really depressing," spirit club member Anna Kaiser said.
As fans packed themselves into the stands, the student section picked up right where they left off. With a rollercoaster from Michael Chong and Forrest Jacobs to start, baby powder filled the air and the student section and the soccer team were ready to go. 
"We use the roller coaster at the beginning of every game," Chong said, "It's tradition." 
The Mustangs got going early, scoring first in the 36th minute of the first half, now leading 1-0. 
The BVN student section continued to fill the field with cheers throughout the game, jeering at BVNW's soccer team and having spirit competitions with the opposing team's student section. 
At the end of the first half, BVN led 1-0. 
As the sunset fell, the Mustangs still went on, taking a 3-1 lead in the 29th minute of the 2nd half. 
"When we went up 3 to 1 that's when I really felt like we took hold of the game." senior captain Jonny Emerson said.
As the final whistle blew, the Mustangs defeated the Huskies 3-2. 
Students returned to the stands for the first time in nearly a year and a half, and that made a difference for players and students alike. 
"I can really feel the energy when we have fans and it really gives me a rush of adrenaline," Emerson said. 
"It [fan attendance] just makes everything more fun and exciting," Kaiser said.
Edited for clarification on 8/31/21
Leave a Comment
About the Writer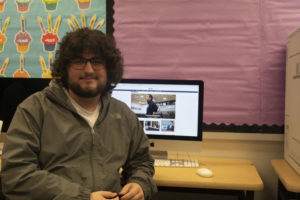 Max Wolf, Web Editor
Max Wolf is a Senior and Web Editor for "The North...