Boys Varsity Basketball Takes Loss Against Blue Valley Northwest
The BVN boys varsity basketball team was defeated by BVNW on Jan. 17, with a score of 67-64. The team's season record stands at 6-2.
This game against Northwest was the first official "big game" on home court according to some of the players.
"With the big game atmosphere it's kind of hard for some people to get going early," senior point guard Jack Sheplak said.
Struggling to score in the first half and getting themselves into foul trouble, the Mustangs were down by 11 points at the end of the first half.
"I think we kind of dug ourselves into a hole to start out," Sheplak said.
By the end of the third quarter, the Mustangs were down by two points. The Huskies committed 10 fouls in the second half, giving the Mustangs multiple free-throw opportunities to close the gap.
Following a fastbreak dunk from junior guard Nikko Taylor, junior forward Isaac Patterson hit a three-point shot on the next possession, to make a two point score difference.
"Honestly, I just wanted to do a layup but I thought that the dunk would bring us more momentum and get the crowd into the game," Taylor said.
When Patterson got the ball, he said he trusted his coaching.
"It went by pretty quickly but I just caught the ball and I trusted all the work I've put in before and all the shots I've put up and it just went in," Patterson said.
The Mustangs and Huskies traded blows as time wound down to the last two seconds when the Huskies hit two free-throw shots, securing the win over the Mustangs.
The next BVN boys varsity basketball game will take place against Metro Academy at BVN on Friday, Jan. 28, at 7 p.m.
Leave a Comment
About the Writer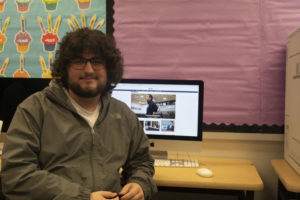 Max Wolf, Web Editor
Max Wolf is a Senior and Web Editor for "The North...