Celebrating Women's History Month at BVN
This March was Women's History Month, a celebration that highlights the contributions and achievements of women in world history. The event has been celebrated since 1982 when it was originally designated as "Women's History Week", until 1987 when it was officially authorized as a month of celebration by Congress.
At BVN, there has been an effort to promote women's accomplishments throughout the school. Through posters and signs which celebrate famous women and their accomplishments like Sally Ride, Harriet Tubman and Maya Angelou. 
These efforts to display women's accomplishments have been put together by the school's Gender Equality Club, which raises awareness of gender equality and advocates for the rights of women and girls.
The club is headed by Erica Benson, a social studies teacher at BVN. Her approach to Women's History Month is one where women are celebrated by not only women but anyone who has an interest in a topic.
"If you're a math or science person, seek out the research and books written by women," Benson said. "If you choose to study somebody, consider picking a woman- many people don't do that."
Members of the club, such as senior Maya Parmet, have been vocal about the importance of Women's History Month, and specifically women's history, which they describe as being an unfortunate subcategory of world history.
"Having a Women's History Month is important to inspire younger women to be successful," Parmet said. "It is important to celebrate accomplishments that are just as important and significant as what men have done in the past."
This past Women's History Month had many events in and around Kansas City celebrating and honoring women. These include a monthlong celebration of women's art from the Nerman Museum of Contemporary Art, a display of books and media promoting women and their accomplishments throughout history at University of Missouri-Kansas City, and "Mujer: A reflection of stories", an exhibit focusing on commemorating latin women through art, which was shown at the Mattie Rhodes Center in Kansas City, MO.
The month, and women's history in general, is significant to Erica Benson and the rest of the Gender Equality Club. She provides another look at the month and how anyone can celebrate it.
"It's not just a self celebration from women," Benson said. "It's a chance for everybody to learn about women's history.
Leave a Comment
About the Writer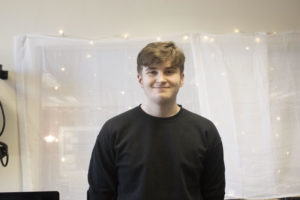 Bennett Palmer, Copy Editor
Bennett Palmer, Copy Editor

Bennett Palmer is a...