Tatted Up
Senior year is filled with making decisions, but for some students, it's a permanent one. Many students at BVN have gotten tattoos as a way to express themselves. 
According to Kansas law, minors cannot get a tattoo without a parent's consent and a parent must be present during the tattooing procedure. Senior Brendan Gantman, went through this process to get a tattoo. Gantman said he agrees with this process because minors could get something they will regret later.  
"The tattoo artist that I went to is a family friend, and she does not like tattooing under the age of 18, because a lot of people, a lot of teenagers, regret it later but I don't think I'm gonna regret this because I like it a lot," Gantman said. 
When Gantman was 17, he got a tattoo on his right thigh. The tattoo is visible when he wears shorts, and according to Gantman this causes some mixed reactions. He said people ask him what it is and are curious about it, while others give him dirty looks. 
Gantman's tattoo is a hamsa hand and a Ukrainian Trident with roman numerals above and below it. The roman numerals above are the date his mom came to the U.S. and the date below is the date his dad came to the U.S. 
According to Gantman, the hamsa hand protects from evil, brings good luck and is a prominent symbol in his family. 
"My family always had some type of hamsa hand in the family. My sister has a tattoo of it. My dad has a necklace of it and my mom has a necklace and a tattoo of it. So it's just really important in our family," Gantman said. 
Unlike Gantman, senior Elton Dye waited until he turned 18 to get his tattoo. Dye thought about his tattoo for 4 years before he got it. He has a butterfly under his elbow on the back of his left arm. 
"I got it on my 18th birthday to symbolize freedom and also I think the creatures really cool," Dye said. 
Dye recommends TyOs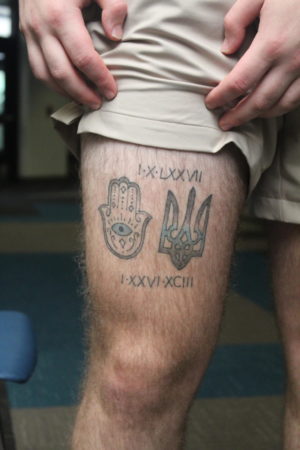 thinking about the tattoo for a while before getting it. 
"Make sure you're really sure. Think about [getting a tattoo] for more than a day at the bare minimum, and just there's no going back once you get it," Dye said. 
According to Dye, he has thought about what his next tattoo would be. 
"I want Crius from Greek mythology, and just the Greek sleeve because I really like Greek mythology," Dye said.
Principal Tyson Ostroski also has a tattoo. His tattoo is a drop making a ripple right above his elbow on his left arm. 
"It is signifying past, present and future. And it's a symbol of mindfulness. And so it's really about staying present and, you know, making distinctions of not dwelling on and dwelling on the past or worrying about the future but staying present," Ostroski said.
Ostroski said he does not mind when others ask what his tattoo means. 
"I got it for a reason and people are just kind of curious, so [when people ask about it,] it allows me to kind of share what it means to me," Ostroski said. 
Leave a Comment
About the Writer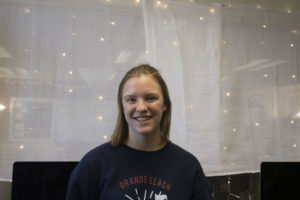 Kelsey Chellberg, Staff Writer
Kelsey Chellberg, Staff Writer

Kelsey Chellberg...