Traveling With Tankel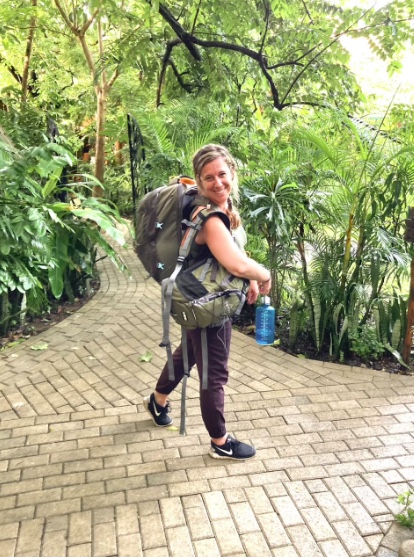 From studying abroad in Argentina to staying in hostels in Costa Rica and Ecuador, Senorita Tankel has done it all. The Spanish teacher turned traveler has been shaped by the experiences that she has had throughout her exploration of different countries and cultures. 
Tankel became a traveling connoisseur when she first studied abroad in Argentina. Although it was her first time flying, it was the end of her perfectionism and the beginning of a new spirituality. 
"Before traveling to Argentina, I was a perfectionist and all I cared about was my grades. But once I got there, I realized that there is so much more out there and so much more that matters about being a human in this lifetime," Tankel said.
After graduating from UMKC, Tankel believed that she should broaden her horizons by traveling to other Latin American countries in order to provide a better cultural atmosphere for her students.
"When I graduated from UMKC, I'd only studied abroad in Argentina, and that's why I decided to go to Ecuador; I felt like I needed more experience with other cultures if I was going to truly provide a learning experience for students," Tankel said. "I think it's helped provide a more well-rounded view of what happens in Latin America."
Not only has traveling given her a new perspective, she also believes that exploring these new locations brings remarkable people into her life. 
"I think that it [traveling] strengthens my connection with myself. When I'm traveling, especially if I'm traveling alone, I have to really listen to my instincts. I think that that has made me a more confident person," Tankel said. "The second thing is the people that I meet. I've met incredible people, they have changed my life and changed my worldview, it's totally worth it."
Tankel values the experience of staying in hostels (similar to dorms but with up to twenty people) while exploring these diverse destinations. 
"The thing about living in a hostel is that you never know what you're going to walk into and find, you don't know what kind of people you're going to meet," Tankel said. "You meet some weirdos for sure. But mostly it's just incredible people that love traveling and are very like-minded."
Tankel believes that the culture in Latin American countries is something that words could never explain. She has seen, firsthand, the values and traditions that are expressed in these cultural environments.
"There's so much warmth, people in love with life, and the people there are so welcoming. The people prioritize being with one another. They take care of each other and I feel like that's a lost art here in the United States," Tankel said.
To all fellow explorers, Tankel recommends a visit to Ecuador, which she believes is extremely appealing and provides a large sum of attractions. 
"I will say that I think Ecuador offers a lot in a very small country. Some people say that you can eat breakfast on the coast of the beach, eat lunch in the mountains or the Amazon and then eat dinner in a whole other climate. It's all packed into one," Tankel said. 
Tankel's traveling story does not end just yet. She plans to embark on her next adventure in the near future with hopes to travel to Spain.
"I think it's time that I hit Spain. I have done Latin America and South America and my heart is still tied there, but I think it's time for me to visit Spain," Tankel said.
Leave a Comment