BVN Cheerleaders Head to Nationals
The BVN competition cheer team heads down to Florida to compete at Cheer Nationals.
The BVN cheer team has flown to Orlando, FL, to attend the annual Cheer Nationals. The competition team cheerleaders are flooded with excitement and nerves as they prepare for the trip.
The cheerleaders will first compete on Friday and hope to show off their skills and growth since the last national competition where they placed ninth. If the team makes it past the semi-finals, then they will compete again on Saturday. After the semi-finals comes the final competition that will determine the highest placements. 
Senior Abby Bleish has been a part of the BVN competition cheer team all four years of high school. This will be her third and final national competition, and hopes to end it on a high note and to see all of the team's hard work pay off.
The team is hoping to make it to finals, but if not, they are more than happy to spend the remainder of their trip at Disney World. Bleish expressed how going to Disney World is very rewarding for the team and brings everyone together, despite the stress of competing.
  "After the final competition day, they close off all the Disney parks just to reserve them for all the cheerleaders that competed," Bleish said. "It is a really good bonding moment for the team."
Junior Stella Bliss stated that competing brings the team together. During their trip, all of the cheerleaders have to work together in order to have a positive experience at nationals. Bliss expressed that nationals can be very stressful for the girls, but having each other there makes the whole experience worth it. 
"There is a good team dynamic. We all support each other and lift each other up, and we rely on one another to make the changes and apply them," Bliss said. 
The senior cheerleaders have not had consistency throughout their cheer seasons, due to having new coaches each year. This has caused the senior girls to grow a lot closer and to grow into leaders for the team. 
"We definitely have to rely on the cheerleaders a lot because we have had so many different coaches, which I think is why the cheerleaders are all pretty bonded," Bleish said. 
Nevertheless, the cheerleaders have persisted and choose to focus on the excitement of competing and supporting each other. From helping underclassmen with their hair to pep talks before stepping out to compete, the team bond is what allows the team to succeed.
"We are all connected through our passion for cheer," Bleish said.
Leave a Comment
About the Writer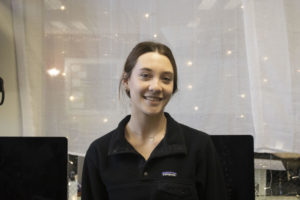 Calla Jordan, Web Editor
Calla Jordan, Web Editor

Calla Jordan is a senior...