10 Must-Visit Coffee Shops in KC
Staff writer Caroline Haines, a self-proclaimed coffee enthusiast, recommends her ten favorite coffee shops in KC and her favorite order at each one.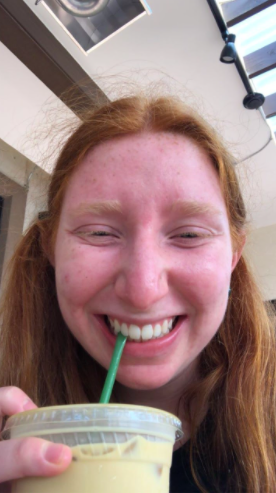 1. Hi-Hat Coffee: A quant shop with a homey atmosphere and friendly staff. They have unique beverages and flavors that you can't find anywhere else. 
Menu Recommendation: Iced butter bean latte
I love Hi-Hat because it looks like a mini-castle and the staff loves talking to customers while crafting their beverages. It is like the Trader Joe's of coffee shops. 
---
2. Martin City Coffee: The perfect spot for studying or catching up with friends. They have every drink imaginable, as well as a drive-thru for when you are in a hurry. 
Recommendation: Iced Sugar Cookie Latte
Martin City Coffee is awesome because of its accessible location. I also love the space and they have a sunroom that is just the perfect place to enjoy the fresh air and a fresh cup of coffee. 
---
3. Blackdog Coffeehouse: Not only do they have incredible coffee, but they also have delectable bread and pastries from Ibis bakery that are to die for. 
Recommendation: Shatto cold brew and the avocado tartine
Although the coffee is delicious at Blackdog, the fresh baked goods from Ibis Bakery are what make it so special. It is impossible to not purchase a pastry from there. 
---
4. Mildreds: Known for having "the best breakfast sandwich in the city" by Food Network, they really live up to the hype. No better way to start your day than with a breakfast sandwich and some coffee.
Recommendation: The Standard Sandwich and the Milly's iced au lait
The standard breakfast sandwich will have your mouth watering. You can also enjoy all the deliciousness by their fire pit. 
---
5. Pour Coffeehouse: An adorable coffee shop with delicious pastries and fun coffee drinks. 
Recommendation: Tuxedo latte
There is not much curb appeal to this coffee shop, but once you're inside, you are transported to a coffee wonderland. The shop has a very niche aesthetic and brand and it is hard to not snag a photo. 
---
6. Hattie's Fine Coffee: Serving up coffee, tea, seasonal beverages, smoothies, and fresh juices, Hattie's has it all. 
Recommendation: French Vanilla latte
Hattie's is cozy, warm, and simple. It makes you want to bundle up with your warm beverage on a rainy day. 
---
7. Oddly Correct: Committed to producing the best coffee, as well as making sustainable choices. When you buy a coffee you also receive a glass to-go jar. Not only are you treating yourself, but you are also treating the environment.
Recommendation: Bourbon Vanilla Latte
I love Oddly Correct for not only the care they put into a cup of coffee but how they treat their employees and their care for the community. The company values all its employees. On the first Wednesday of every month, they get to enjoy a day off as the company prioritizes the mental health of their employees. 
---
8. Cafe Corazon: Specializes in serving up a classic cup of joe as well as bringing Latinx flavors to KC. They also specialize in making delicious traditional Yerba Mate.  
Recommendation: Mate de Leche
Cafe Corazon is a unique shop and brings in a whole new culture to KC with authentic flavors and a deep connection to family roots.
---
 9. Second Best Coffee: Priding themselves in constantly improving the coffee game, Second-Best Coffee is most definitely not second best.
Recommendation: The Chocolate Orange
My love for Second Best stems from having the most perfect latte I have ever consumed. The flavors are perfectly blended, and it was not too sweet or too bitter. 
---
10. Mud Pie Vegan Bakery: Scrumptious coffees, pastries, kolaches, cookies, and they are all vegan!
Recommendation: Chai latte and a pumpkin chip muffin
I love how inclusive Mud Pie is. No matter who you are with, someone will be able to find a beverage or pastry that will be thoroughly enjoyed. 
Leave a Comment