DeafNation Expo Comes to Kansas City
DeafNation Expo, a touring trade show for, by and about deaf people since 2003, recently set up shop in Kansas City on Apr. 2. Different booths advertising clothing, video relay services and college applications all accommodated for the deaf community are spread all over the convention center. 
The exhibition is run by Joel Barish, the founder of DeafNation, who has been traveling the world and expanding the deaf community's outreach. He started the exhibition to bring the deaf community together.
"Our language is very cherished, our communication is very important, and we find value in that, and we understand each other. From any deaf person to another deaf person," Barish said.
Barish's life story has shaped his company's mission. His experiences in a deaf family has shaped his communication skills and helped him find value in understanding one another.
"My parents are deaf. My brother is deaf. I was born deaf," Barish said. "We live in a speaking world, but we don't speak. We use a visual, cultural sign language. Our language is very cherished and our communication is very important."
The convention is focused on deaf activities, with booths surrounding the convention center, advertising businesses and products for the community.
"The expo itself has mostly booths. We have all kinds of vendors here that show different products or services," Barish said. "And some of the times we'll have interpreters that will be working, you'll have some businesses, handicrafts made by deaf people, you might have video relay services and products for the deaf community."
Jason Curry, co-creator of the UbiDuo, a communication device to better communicate with deaf or hard-of-hearing individuals, could also be found at the convention talking about the importance of communication devices and diversity in the deaf community. Curry spoke about diversity in sign language, and how sign language is similar to any other language
"There are accents in sign language," Curry said. "Each person has a different way of moving their hands, how they might speak to an interpreter, and the fact that there are multiple types of sign language."
Barish also runs his own show, "No Barriers with Joel Barish," which takes him all over the world to find and explore deaf communities and experience their cultures. He takes pride in knowing that his experience with deaf communities around the world makes a difference.
"A long time ago, there was no socialization, it was all just kind of standard for deaf people to just be deaf people," Barish said. "We were very strong together, as a group. So we find our culture and our deafness is a very valuable thing to our culture."
Leave a Comment
About the Writer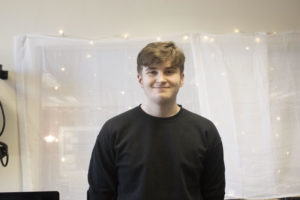 Bennett Palmer, Copy Editor
Bennett Palmer, Copy Editor

Bennett Palmer is a...