Midnights (Madisyn's Version)
With the change of seasons, this month also brought a change in music. As the clock struck twelve on October 21st, fans of Taylor Swift across the country tuned into her newest release of "Midnights," marking her first album in two years. Eventually breaking countless records in a few hours. The tracklist referenced not only her previous songs and struggles but the future of the music industry and how Swift continues to embrace it. 
With "easter eggs"  hinting at the album release even months before it came out, "Midnights" symbolizes different aspects to different fans, including Sophomore Caroline Place.
"I think regardless of what Taylor Swift does, it's always been just absolutely phenomenal." Place said. "I have been a fan of Taylor Swift since I was three or so. The first American Girl doll I had, I named Juliet Because of 'Love Story' by Taylor Swift. It's still my favorite song now, and it's been 10 years." 
While the lyrics may have been life-changing for Place other individuals feel the opposite, "I prefer her old music better, even though I'm not the biggest country fan." Junior Will Ledgerwood said. Regardless of one's opinion, it does not change the records broken by Swift's newest album.
Released around the same time as several other albums from artists such as the Arctic Monkeys and Rihanna, "Midnights" rose in popularity. It broke more than seventy world records and surpassed more than one million units sold in its first week, as stated by Billboard Writer Keith Caulfield. Becoming one of the most successful and highest-ranked albums hours after it was released, many wonder why "Midnights" claimed so much success. Reviewed by Ledgerwood, many do not support its popularity. 
"I thought the new album was okay. I could see myself using the album to study but it's not something I'd play with my friends in the car," Ledgerwood said. "The beats weren't the most hype, and Taylor isn't the best artist to turn to for high energy songs. Her album was definitely soothing but not exactly what I was hoping for."
While not everyone can agree on whether the album warrants this much worth, the same can be said about Swift's entire career. It is admitted by many that the obstacles Swift endured helped them through their own. Yet Place claims that individuals fail to "… notice the sexism found in the…" music industry and that it leads to the very hate that Swift obtains. 
"I think that Taylor has managed to handle sexism within the industry super well. One of the most prominent examples of that is Scooter Braun. He bought her music and he wouldn't let her buy it back even when she had the money and the ability to do so," Place said. "So she did a big power move and re-recorded her own albums. This helps shape us as people because it shows that regardless of how many obstacles or road bumps are put in the way for you as a woman, you can still overcome any of those issues," Place said.
While societal issues cannot be singlehandedly diminished, singers attempt to limit them, as seen in "Midnights." Songs such as "You're On Your Own Kid," "Anti-Hero," and "Would've, Could've, Should've" exemplify those motives via lyrics discussing Swift's personal experiences as a successful, young, and female singer in a male-dominated field. 
Aside from perspectives belonging to BVN students, the "Midnights" album statistically appealed to many, and for most likely similar reasons. The factors leading to so many records broken, as stated by Ledgerwood and Place, consisted of Swift combatting not only gender but professional norms. Unusual lyrics led to unique opinions from both spectrums, from those who admire Swift, and those who have hated her from the beginning. Regardless, "Midnights" remains a successful release and its listeners continue to analyze it on the daily.
Leave a Comment
About the Writer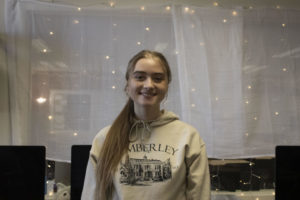 Madisyn Stogsdill, Staff Writer
Madisyn Stogsdill, Staff Writer 

Madisyn Stogsdill...