Now Showing: Spencer
"Spencer" Overall Ranking: 8/10
"Spencer," directed by Pablo Larrain and written by Steven Knight, offers a fabled version of the life Princess Diana led behind closed curtains and takes place in 1991 over Diana and Charles' last Christmas together. Marrying a prince may seem like the perfect start to a storybook ending but this tale is tarnished by isolation and tragedy. 
The first glimpse of Diana we see in the film shows her driving down the open roads of her childhood home, near Sandringham Palace, where she would be staying for the holiday. Although inaccurate considering the unlikely chance Diana would be allowed unaccompanied in a public place, this first shot shows more of Diana's personality compared to when she is surrounded by the royal family and reveals how uncomfortable she is in her current situation. 
The movie parallels the lives of Anne Boleyn, the second wife of King Henry VIII, and Diana, as they were both royals with an image to uphold and unfaithful husbands. Diana frets of becoming like Anne Boleyn, dismissed for not meeting the impossible standards thrown at her. Anne Boleyn died an unfair death so Henry VIII could marry his mistress; Diana did not worry about being killed, but rather destroyed by the royal family, the public, and herself as she was convinced she was going mad. 
What kept her going was, of course, her children, but her depression continued to take a toll on her. Rumors were constantly thrown around about her visions, self-destruction and her trips to the bathroom between each meal. The loneliness and loss of control she felt almost drove her to end her life.
"Spencer" does an excellent job of revealing both the faults of the royal family, as well as  the flaws of Diana, unlike the press, which often showed Diana as a martyr with grace and elegance, especially after her death. The relationship between Diana and her firstborn, William, portrayed in the film gives us a glimpse of the pressure on William to emotionally support his mother at such a young age. Diana does not attempt to hide her sorrow in front of her children, giving them conflicting views of their father's side of the family. 
This interpretation of Diana's private life with her family takes a dark turn early on in the film, making it impossible to turn away from the big screen. Moments of dullness and mundane acts were turned into suspenseful, possibly disturbing, points in the film. 
Instead of focusing on the factual portrayal of Diana's life, the movie focused on Diana's emotional experience of being a part of the royal family. By interpreting her life into a psychological thriller, the viewer is able to empathize with her while simultaneously being perplexed by her choices. Who would have thought that a two hour movie with a single location and such little dialogue would have been so engrossing? 
Kristen Stewart was cast in the role of Diana, although many people doubted her ability to take on such a difficult and complex character. Diana was notably shy and awkward, and Stewart clearly took those characteristics to heart when filming, considering how uncomfortable it was to watch Diana interact with others in the film. When she first appeared, it was difficult to not be reminded of Stewart's previous roles, yet she quickly became Diana, Princess of Wales, and captured the audience with her performance.
With little conversation, including with her peculiar husband Charles and the obdurate queen, the viewer is still able to get a perception of who they were and the effects they had on Diana's mental well-being. The simplicity of the storytelling only strengthens the story and makes it more powerful. 
For those of us who have idealized Diana, this movie was a little hard to watch because it strips down that image and shows a more imperfect and damaged person, creating an effective way to tell the story. It may ruin your perception of her and leave you confused on what's fact and what's fiction. The movie's abrupt change from a simple storytelling of her life to a twisted interpretation creates a bit of an adjustment for the viewer as well. The scenes including Diana's hallucinations made it more interesting, and without them the movie honestly would have been a bit boring.
 "Spencer" is definitely a must watch, but remember to keep an open mind because it won't be what you expect. It's definitely not for everyone, but personally I really liked how the creators interpreted it and how they brought to life such a notorious story. What really put the movie over the top were the incredible flashbacks, which cause you to sympathize with Diana since you get a glimpse of her life prior to her marriage and you can see how much happier she used to be. The opulence of the royal lifestyle contrasting the dark elements effectively sums up the beautifully tragic story of Diana, Princess of Wales. 
Leave a Comment
About the Writer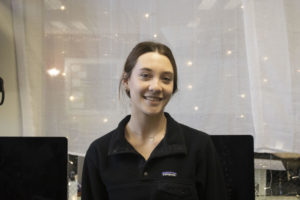 Calla Jordan, Web Editor
Calla Jordan, Web Editor

Calla Jordan is a senior...