Students Make and Impact on the Equal Rights Amendment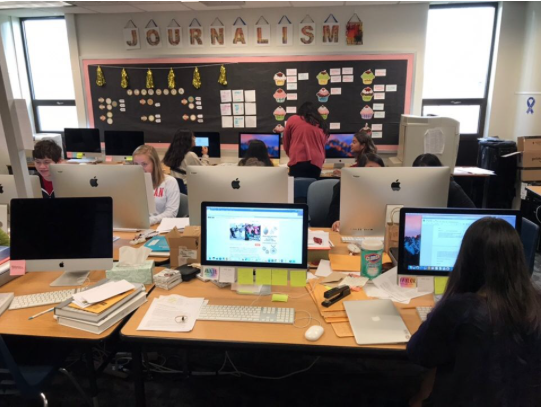 The new wave of Feminism in the 2010's has inspired groups to be more civically engaged and more politically active as they strive to see changes in society and in the government. The Gender Equality Club's Project 28 is a prime example of this as they attempt to help ratify the 28th Amendment of the U.S Constitution.
In 1974, the Equal Rights Amendment was first approved by Congress. However, it was halted in 1979 after a seven- year window having only reached 35 of the 38 states necessary for it to be officially ratified. Missouri is one of the states that is missing, and with their efforts of ongoing Project 28, the Gender Equality Club (GEC) have made it their duty to influence the people of Missouri to make this happen.
"We obviously don't live in Missouri but we're trying to inspire people in Missouri to care and for them to take action. And if enough of people learn about it and care it'll really come from them," Ms. Benson, sponsor of the GCE, said.
For the project, the club meets on scheduled days, usually in room 411, where they split their tasks for the duration of the time. Their first meeting was on Saturday, October 13, in which they established the basis of the project.  
"Right now we're trying to get in touch with representatives and candidates for state legislature
To get them to support the ERA. We're also trying to contact committee members and colleges in Missouri so that the project can be more widespread and more people will become involved," Tabih said.
Being one of the few organized groups in the area that are pushing for the ratification of the amendment does not intimidate the focused, and empowered staff of Project 28.
"There are groups but they're not Missouri based. There are more national groups. These national groups aren't at the point where they are focusing on getting individual states to pass it, rather they're trying to get every state to pass it," senior Reece Melber said.
Project 28 is also a learning experience on political action for those involved.
"You guys will be able to see how our government works, how to target people, how to manage messaging, and how to be obvious. And how when you care about an issue you can impact the government without actually running for office as regular citizens. Rather than just calling your senator, I feel, you are inspiring change in others and that's a whole other level of advocacy," Ms. Benson said.
The main reason that the ERA has yet to be ratified 42 years after it was first passed is due to the number of non-supporters of the cause. Conservative firebrand Phyllis Schlafly from St. Louis, Missouri, is one of the most vocal non-supporters of the amendment. He led the Stop ERA Campaign, claiming that it would go against American tradition, threaten the prominence of housewives and subject women to a military draft.
However, this has not stopped others from continuing their fight.
"It's something we all care about and there's a lot of history to the ERA. And it's also one more step that we can all take towards having a more equal country. I think it's about time there's an equal rights amendment," said Senior, Tara Sabih who is involved in the project.
The effects of Project 28 will not only be reflected on the outcome of their efforts in the government but in the change a small group of high schoolers can inspire on a broader scale.
"I think it's something that everybody in the club is passionate about, and it would protect equal rights in the actual U.S Constitution. It's also a great way to be civically engaged, educate more people about the issue, and if it doesn't happen in Missouri, the network of people that they're trying to educate and inform can have a trickle-down effect in a major way."
View Comments (1)